SXSW Music Day 4 Highlights: Common Holly, Soccer Mommy, Ought, Porches
Also included: Day 3 highlights with Tank & the Bangas, U.S. Girls, August Greene and Sudan Archives
Photos: Adrian Spinelli
Music
Features
SXSW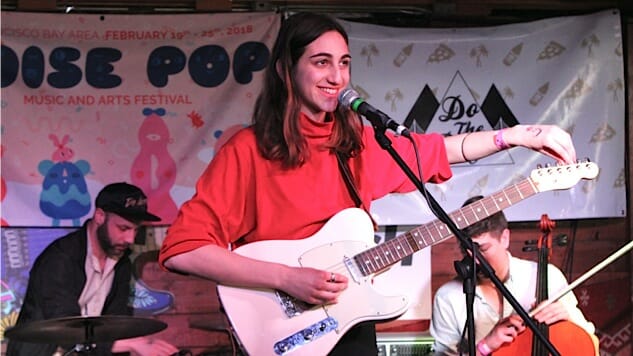 It's hard to believe the 2018 SXSW is already winding to a close—or maybe not, considering how many bands we've seen in the past four days. Here are some of our highlights from the first few days of music. Thursday was spent at the Sidewinder for the sixth edition of After The Goldrush. I MC'd the main stage for the event put on by Noise Pop, Another Planet Entertainment and Do the Bay. Highlights are below!
Fire Marshall and Capacity Issues at Red River Street Venues Prompt Questions
While the Sidewinder, a two-stage venue in Austin's Red River district, can get a bit tight for shows (especially on the indoor stage), it's generally a workable exercise. On Thursday, the venue's staff was working double-time taking a head count every hour both indoors and outdoors. It seemed excessive, but word floating around the festival is that the Fire Marshall has been popping in and out of venues during SXSW to strictly enforce capacity numbers (some of which seem a bit stringent). According to a staffer at another venue, it's all part of a plan to slowly shutter Red River Street venues and continue Austin's development into a condo capital. "They want to just build high rises in their place instead," she said. This would come as little surprise, as much of the chatter among locals this week has been about how tech companies are slowly creeping ever deeper into the Austin fabric. We'll see what happens…
---
Dick Stusso
I only wish that Dick Stusso—aka Oakland singer-songwriter Nic Russo—hadn't played at noon, so I could be appropriately drinking whiskey for his set. This is undoubtedly "whiskey rock," and Stusso's quartet has a quality new quasi-country release, In Heaven, out now on Hardly Art, that is certainly not without its wit.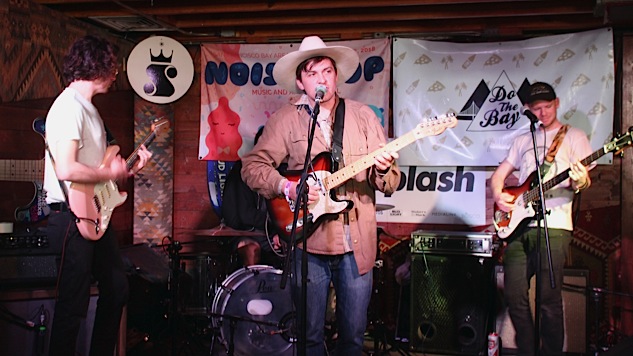 ---
Arlie
The Nashville quintet were fun, if only a little too fun. This is guitar-heavy pop, and the band is primed for a major-label push (they just signed to Atlantic) with a sound that recalls Sunset Rubdown with arena-rock aspirations. In only their second appearance of the week, Arlie were still fresh, flashing tight vocal harmonies throughout their set.
---
Common Holly
The Montreal band led by Brigitte Naggar (pictured top) is as bewitching live as they are on record. Naggar is flanked by a cello player and drummer, and her delivery is dauntless. The songs off her debut album, Playing House are flat out beautiful. Naggar is snarky yet charming at every turn and we're excited for what comes next for her group, which signed with Toronto's Royal Mountain Records this week.
Watch Common Holly play "Lullaby" at her recent Paste Studio session:
---
Snail Mail
Lindsey Jordan has a lot of firepower for an 18-year-old. The Maryland-based Matador signee was stylishly clad with a red guitar in tow and sleek shades. Throughout the set, the band gave way to the commanding Jordan for a powerful 40 minutes in front of what felt like the largest crowd of the day. Something big is brewing here, take note…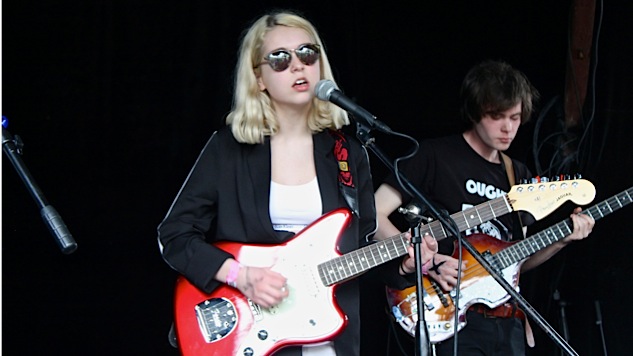 ---
Porches
I'm not sure why I'd written off Aaron Maine's Porches project as of late, but this set showed what a great band they are and how Maine is enigmatic and possessed in the best ways. You'll be hard-pressed to find better synths in an indie-rock band. Porches played a mix of songs off of the newly released The House and 2016's breakthrough Pool.
"We're gonna play "Goodbye" and "Underwater," so you guys can leave now if you don't fuck with those songs," Maine joked before concluding the set. His weirdly endearing stage banter was on full display and the whole unit executed flawlessly.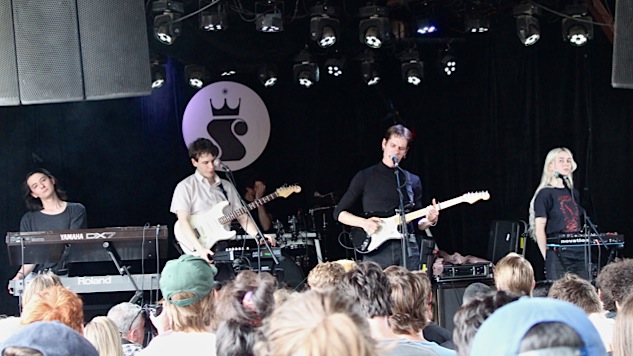 ---
Soccer Mommy
Soccer Mommy, the solo project of Sophie Allison, needed a bigger stage than the Sidewinder's muggy indoor perch, but I suppose it was fittingly intimate for this year's bedroom-pop revelation. Every song off the Fat Possum-released Clean was money and dammit if I can't get "Your Dog" out of my head. Soccer Mommy is one of the buzziest acts at this year's SXSW, and as soon as the fest comes to a close, she's hopping on a nationwide tour of smaller venues and a run of shows opening for Liz Phair. You've been notified.
Watch Soocer Mommy perform "Your Dog" at her captivating Paste Studio session:
---
Ought
Best band of the day. Hands down. Tim Darcy is getting better and better as a vocalist and holds nothing back on the mic. I also marvelled at Tim Keen's work on the drums. "He sorta sings in fills," Darcy told me later of Keen. Ought's Room Inside the World has been on heavy rotation, and tracks like song-of-the-year candidate "These Three Things" and the likewise excellent "Disaffection" were clean and strong. The highlight of the afternoon came when Darcy emphatically delivered Ought's best-known song, the hope-through-despair post-punk masterpiece, "Beautiful Blue Sky." What a jam. Spoiler alert: Look for Ought in next week's round-up of the festival's best bands.
---
Caleborate
The pensive Bay Area rapper managed what Florida's Kaiydo couldn't accomplish at last year's After the Gold Rush showcase: maintain a crowd's attention in a closing hip-hop set following a day of indie- and electro-rock. In fact, in the three-plus years that I've had the pleasure of following this young artist's career, he mops the floor lyrically with most other rappers in his path. He's relatable and laid back, but pointed and fiery. What Caleborate gives away in an emo vibe by conveying personal insecurities through crowd banter, he gains right back with bars like, "Yeah I watch porno/ I'm grown as fuck but still ain't got no dough" over a beat on his eponymous track predicated on The Clash's "Bankrobber." This was a memorable showing for his first SXSW performance.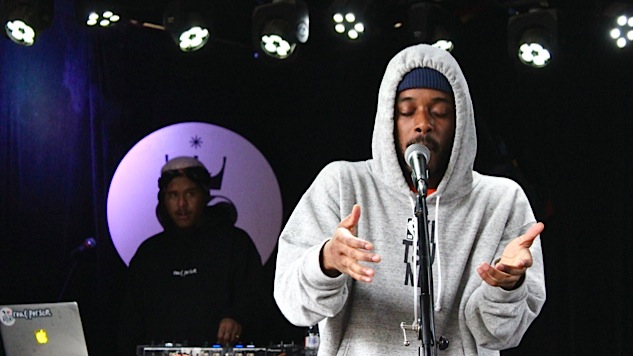 ---
On Wednesday, Day 3 at SXSW came with both highlights and lowlights. Check out our capsules from a jam-packed Wednesday below!
U.S. Girls at Cheer Up Charlie's Outdoor (AdHoc Showcase)
In my five years covering SXSW, this may go down as the best set I've ever seen at the festival. What a band. Maybe it's because I initially expected to see U.S. Girls as "Meghan Remy and her supporting band," but every person on that stage was absolutely impeccable. The band opened with the cinematic "Window Shades," and Remy moved like a disco queen from the start. She's in command of her art and expressionism and moves fluidly in relation to the seven other people on stage with her. Poise is at Remy's core and everything about the way she moves and sings is artistic. Nothing ever feels stale with U.S. Girls, and Remy is making a career out of reinvention and artistic self-discovery. It was all pouring out from the stage here.
The set climaxed with "Pearly Gates," with two backing singers belting on either side of Remy, also singing, her blue eyes flickering as she squinted amidst her gospel. I overheard someone ask "Do we deserve this?" And everyone in the Cheer Up Charlie's crowd seemed to be powerfully affected in a different way. This band is a force. Go see U.S. Girls.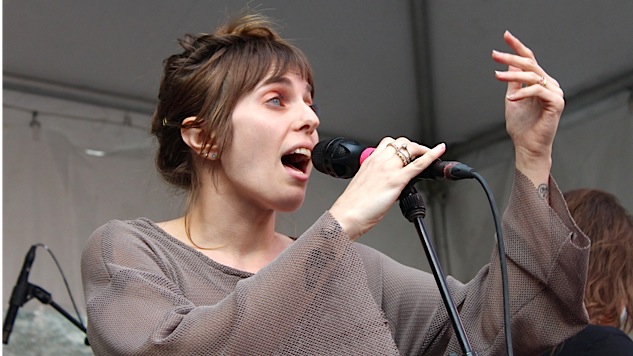 ---
Sudan Archives at Cheer Up Charlie's Indoor (AdHoc Showcase)
The Stones Throw Records singer and violinist (born Brittney Denise Parks) wore an ornate gold outfit in a display that was equal parts physical and musical. Her body contorted as she swayed with violent violin strokes that broke many hairs on her bow, but she had the crowd's attention all the way into set closer "Come Meh Way." Sudan Archives is a unique artist, whom we deemed the Best of What's Next last September. Get her on your radar.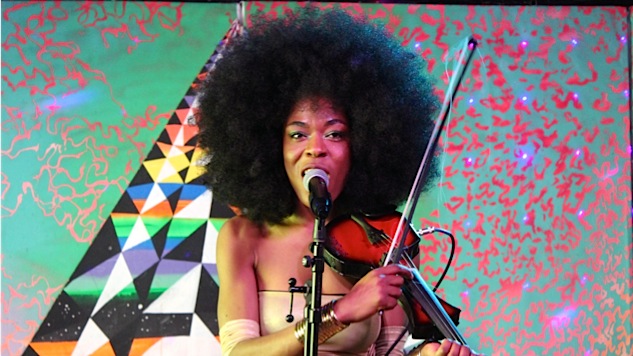 ---
Stubb's and NPR's Blunder Costs Lucy Dacus
The day's biggest disappointment came in the poor venue-entry process for NPR Music's biggest showcase. Doors were set to open at 7 p.m., with Lucy Dacus scheduled to perform at 7:30, but the primary badgeholder line wasn't let in until 7:30 on the dot and Dacus's set time wasn't pushed back to compensate. By the time I finally entered the venue, Dacus was on her fourth song and was playing for a sparse crowd. I want to say that the fans missed out the most, but this was a bigger disservice to the otherwise spectacular Dacus.
---
Superorganism Is….Something
Presenter Talia Schlanger of NPR Music tried to explain Superorganism's formation as a band united by an internet exchange in a strange way. "A lot of people blame the internet for a lot of things, including the death of music." Schlanger said. She then predictably indicated that Superorganism indeed wouldn't exist if it wasn't for the internet [a ha!] and it was an eye-roll moment leading up to a performance by a band that is decidedly overhyped.
Bells and tambourines from a three-piece back-up singer section opened a fun set of songs driven by dots, loops and trappy space bass. Lead singer Orono Noguchi is well under five feet tall, but lacks the fire in her delivery of other similarly short-statured Japanese singers like Deerhoof's Satomi Matsuzaki or the great Miho Hatori of Cibo Matto. Think of Superorganism as if the Polyphonic Spree were formed at the height of meme culture.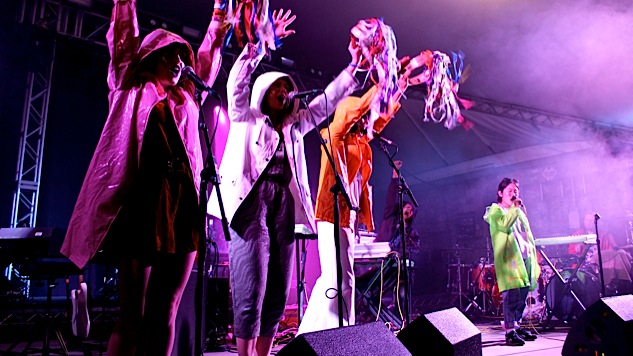 ---
August Greene at VEVO Showcase
When you're waiting for the first ever performance from a hip-hop supergroup led by Common, Robert Glasper and Karriem Riggins, a 45-minute delay will barely faze you.
"We're gonna dedicate this one to my man Craig Mack!" Common said immediately upon taking the stage. News of Mack's passing came on Tuesday and it was a respectful nod from one of the greats towards a fallen pioneer of hip-hop. Riggins and Glasper wasted no time making their presence felt on the drums and Rhodes keys, respectively, as the group jumped into single "Black Kennedy," with Samora Pinderhughes on backing vocals. It's an excellent track and a fine use of all of the members' talents, this set made it quickly clear that this is Common's show. At several points in the set, the MC jumped into his own discography for classic cuts like "Go," "The People," and "I Used To Love Her," all to thundering yells of approval from the fans.
The best part about this group is picking any of the members to watch for a song and being totally amazed. Glasper and Riggins especially, are at the top of their game, just don't get caught watching Pinderhughes try to move for too long. His vocals are polished and tasteful, but his disposition onstage needs work. Although for a guy who's primarily a decorated pianist and composer, we'll give him a pass for shaky legs.
Common, as per usual, was as preachy as ever. There's an interlude to every song with him spewing positive hip-hop musings. He rapped his bars from Black Star's "Respiration," then flowed into a freestyle. When finished, he said: "We just wanna give y'all the August Greene experience. We play what we feel and vibe with y'all all the time!" I chuckled for a second and then turned my head to the left to see what Glasper would do next on that Rhodes.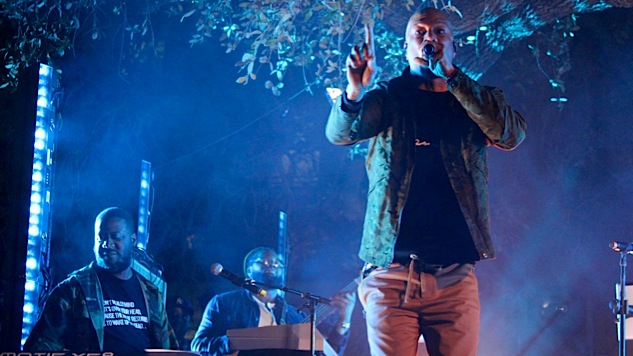 ---
Tank & The Bangas
NPR Music honcho Bob Boilen introduced Tank & The Bangas—the latest winner of the popular Tiny Desk Contest—with a proud glimmer in his eye. "You're about to see what I think is the best live band in America!" Yup, the NOLA band beat out 7,000 entrants to win the coveted award, and make no mistake about it, they're fantastic. Group leader Tank (aka Tarriona Ball) is pure energy and posi-vibes on lead vocals. It's a helluva party with this band, and they exude the spirit of New Orleans with their every breath. Yet through all the musical energy of the group, Tank's beautiful voice pokes through in a live setting. She has real range. The crowd at Stubb's was the most diverse I'd seen in Austin this week.
Check out Tank & the Bangas' stunning Paste Studio session from 2017: