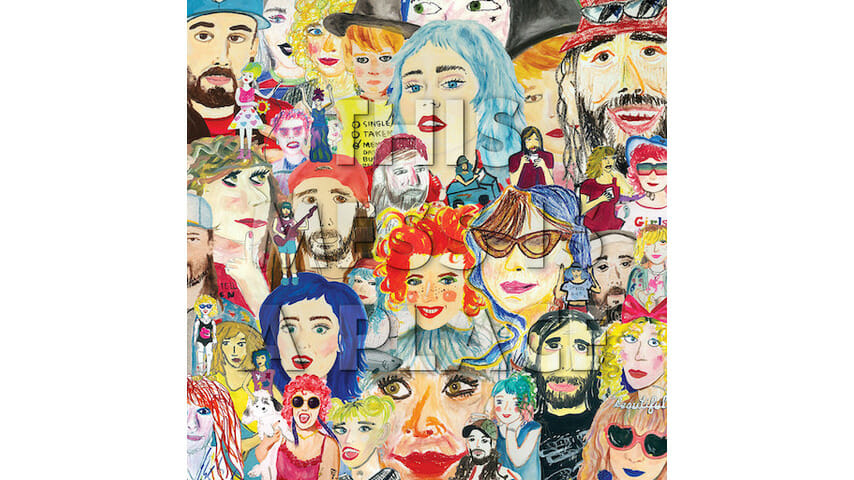 For an album called This Mess Is A Place, Seattle band Tacocat have never sounded more polished. Whether that's a step forward or backward for the group is a matter of personal preference, but time is certainly shaving away the punk outfit's rougher edges, revealing a shinier, clearer sound.
Earlier albums NVM and Lost Time both dealt with feminism by diving into the minutiae of navigating life as a woman, specifically one in the Seattle area. On Lost Time, "Men Explain Things to Me" laments douchey guys who feel compelled to educate you on already-familiar subjects, and "I Hate the Weekend" criticizes 9-5ers (especially tech bros) who feel they have license to act like jackasses on the weekend after zombie-slogging through five days of work.
Tacocat's latest effort, though, abandons their Seattle-specific voice for the most part, evolving into something similar sonically but possessing a more grown-up perspective. Both the opener, "Hologram," and "Crystal Ball" ruminate on the nature of reality itself, with lead singer Emily Nokes proclaiming, "Reality is ripping at the seams" and "Reality is round / Leave it better than you found" on the respective tracks.
But Tacocat really live in the details, with "Meet Me at La Palma" standing out thanks to its evocative picture of a neon-lit "restaurant slash bar" overlooking the freeway and serving "seven dollar margaritas that're bigger than your head." Even these detailed pictures still feel connected to the overall theme of the album, which is surviving and thriving in an era that feels incredibly broken. "Meet Me at La Palma" is a strange form of escapism, one where you know you are in an unnervingly artificial and upside-down place, but you're happy to get drunk on banana daiquiris for a couple hours to forget what's going on outside. Nowhere in this album will you hear doom and gloom, but instead biting condemnation in the '60s girl group harmony-filled "The Joke of Life," winsome musings on what life must be like for the privileged on "Rose Colored Sky" and a prediction of what a "New World" will look like, free from parking tickets and day jobs.
The album's poppy sound and Nokes' singular voice, which launches from throaty depths to soaring peaks, keep things effervescent and upbeat while also chipping away at the systems that bind us. Tacocat expertly sing about everything that makes life difficult for us in this day and age, but the album is not so specifically referential to our time that it'll be outdated in a matter of months. The closing track, "Miles and Miles," is an anthem fit for any time when we need to be reminded of how far we've come, with a lovely little nod at Washington's state motto in the lyrics ("by and by" in the song, or "alki").
These are some of Tacocat's longest songs to date, another indication they are moving slowly towards the pop end of the spectrum and further away from punk. However, there's still plenty that draws on their older sound, particularly "Little Friend", an ode to pets that's just as headbanging as tracks from NVM and Lost Time. Their instruments have ample room to breathe in the extended songs, but it is slightly disappointing Tacocat didn't take advantage of the added time with more daring experimentation. Only on "Grains of Salt" do they add in some synth, otherwise sticking to their vocals-guitar-bass-drums stronghold (which, in fairness, is excellent).
That aside, This Mess Is a Place is exactly the kind of album we need in 2019. It sounds like rainbow sherbert and friendship bracelets. It eschews irony and defeatism. It calls us all to build a brave, colorful new world together—and have one hell of a good time doing it.