The Old Taylor Swift is Alive Again on "Lover"
The title track from Swift's forthcoming album is her best song since 2014
Photos by Bryan Steffy/Getty, Jason Merritt/Getty
Music
News
Taylor Swift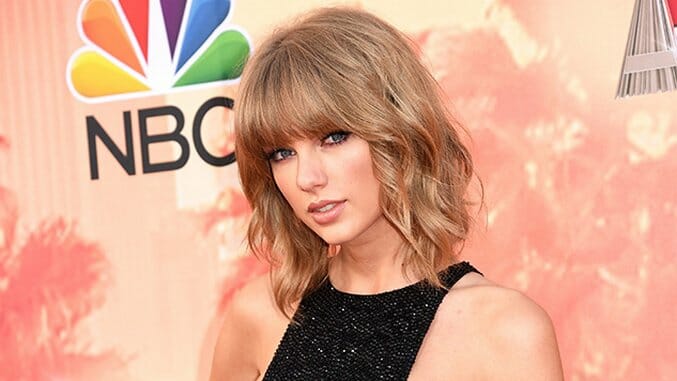 On "Look What You Made Me Do," the first single from Taylor Swift's 2017 pop monstrosity Reputation, the singer announced, "I'm sorry, the old Taylor can't come to the phone right now…Why? Oh, 'cause she's dead!"
Well call me a believer, because the old Taylor seems to have been resurrected. T-Swift released the fourth (and we're assuming final) single from her new album Lover (out next Friday on Aug. 23), and it's the best thing she's released since 2014's 1989 (or maybe "Gorgeous," one of about three salvageable songs on the wreck-of-a-revenge-album that is Reputation).
Our introduction to the Lover era has been thoroughly confusing and messy thus far. First there was the lifeless Brendon Urie collaboration/spelling-bee-anthem "ME!," followed by Swift's puzzling venture into LGBTQ+ activism "You Need To Calm Down." Then things brightened a bit on her introspective invitation to Leo season, "The Archer." All summer long we've been wondering: What the hell is she getting at?
Now, with the Lover title track, it's as if she's fully reformed to the Taylor we all fell in love with circa 2009, a startling left-turn. It's pleasantly blurry and romantic. It has Red's intimacy, 1989's mod sparkle and the pure lovability of Swift's earliest albums—we're talking Fearless and Speak Now, here. Jason Isbell went so far as to say the song reminded him of Sheryl Crow:
Somebody's been listening to @SherylCrow and that is a good thing to do https://t.co/Vqg8hAU8jd

— Jason Isbell (@JasonIsbell) August 16, 2019
And other users, including journalist Marissa R. Moss, even compared it to Mazzy Star:
Taylor Swift's "Lover" furthers my hypothesis that Mazzy Star continues to be one of the biggest influences on current music, fight me

— Marissa R. Moss (@MarissaRMoss) August 16, 2019
They're not wrong. Listening to "Lover," it's easy to picture Swift charging the stage with a guitar in hand, backed by a rock band (not a troupe of glittery back-up dancers). In the 1989 and Reputation eras, we've grown accustomed to Taylor Swift the pop star. "Lover" is a glimpse into her singer/songwriter past. "Ladies and gentlemen, will you please stand?" she sings. "With every guitar string scar on my hand." For the first time since Red, Swift seems to be serving her core millennial audience. For those of us who grew up with Taylor Swift music, we've been desperate for a return to something more down-to-earth.
It feels like forever since we've heard a polite twangy guitar on a Taylor Swift song, but "Lover" is gentle and minimally produced, a welcome change from the marching band drums and troll-y schmaltz of the first two Lover singles. It's actually quite romantic and endearing, with Swift making vows to the "magnetic man" she'll be with "forever and ever." "All's well that ends well to end up with you / Swear to be overdramatic and true to my lover," she sings, before pivoting to PG-13 with the line: "And you'll save all your dirtiest jokes for me / And at every table, I'll save you a seat, lover." Woah, Taylor. You might need to calm down.
But in all seriousness, this is a really great Taylor Swift song, even though her idea of rebellion is leaving "the Christmas lights up 'till January." "Lover" is a reminder that the old Taylor—the one who was willing to risk it all for romance and who dared to venture into new sonic territory without it sounding fake or forced—is still alive and well. But the question remains: Will Lover follow its title track's path of honest, acoustic balladry, beginning a new Taylor Swift era of adventurous pop (she has Jack Antonoff on board, after all)? Or will it land closer to the bubblegum hell of "ME!" and "You Need To Calm Down"? We'll find out soon enough.