Tegan and Sara Take Us Inside Their Tour Bus for Acoustic "Closer" Performance
Images via MyMusicRx/YouTube
Music
Video
tegan and sara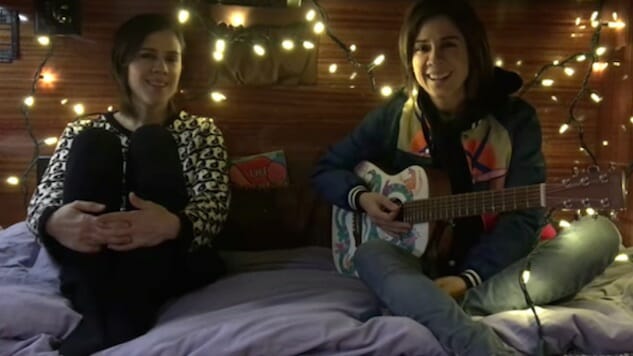 Tomorrow marks the third year of Bedstock, an online music festival that raises awareness for childhood illnesses. Funds raised from the festival support the MyMusicRx organization, which is a branch of the Children's Cancer Association. The festival features musicians playing sets from their beds—hence the name—which is meant to show solidarity with children who are confined to theirs.
One of this year's acts is Tegan and Sara, who released a sneak-peek of their set with an acoustic cover of 2012's Heartthrob's "Closer." The performance was recorded on the road from Tegan's tour bus bunk, apparently because she has the "better bedding," says her sister.
When asked about their decision to get involved with the festival, the duo's Sara Quin told Billboard the following:
I've never had anyone in my family battle disease at a young age, but I have certainly seen the healing and calming effect that music can have on someone who is unwell. Even for those who gather to support the patient, there can be a positive impact when music is being performed or played in the environment.
Sara accurately captures the mission of the festival, which is to use the power of music to comfort and heal.
Watch the band perform "Closer" above. For more information about the organization and to watch the festival tomorrow, visit Bedstock.com. Watch Tegan and Sara's music video for "Boyfriend," which is from their excellent recent album Love You To Death, below.