The 10 Best Rock Bassists of All-Time
Out from the shadows of the rhythm section, it's the greatest groove-layers ever.
Photo: Getty Images
Music
Lists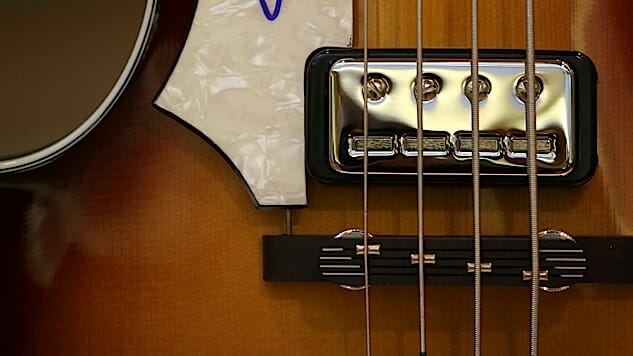 Let's share some empathy for the bass players of the world. Content to hang in the background and always ready to provide support, they live a long step from the spotlight, rarely getting the acclaim or credit shown a singer or guitarist. Even in the rhythm section, they tend to cede the crowd's awe and appreciation to the drummer. In rock 'n' roll, it can be the netherworld of live performance.
Establishing a groove but often taken for granted, theirs is a low cast rumble that simmers below the surface, especially in the current era of pop and hip-hop dominance. It wasn't too long ago that bassists like Metallica's Cliff Burton, the Red Hot Chili Peppers' Flea and Primus's Les Claypool could step out from the shadows of their bands and carry the torch for a generation of rock rhythm players. But in the 21st century, rock has been more about communal sound and vision, relegating all but the most virtuosic players—of any instrument—to relative anonymity. Who's Radiohead's bassist? Or Arcade Fire's? Or Vampire Weekend's? Only their fans know. Some of the best bands of the past 20 years—The White Stripes, Sleater-Kinney, The Black Keys—didn't even have bassists.
With that in mind, it's time to invite the bassists to center stage by recognizing 10 exceptional players who weren't content merely to stand and serve. Exceptional soloists, each in their own right, they extended their instrument's parameters and made it an essential element in each of their ensembles. Here are the 10 best rock bassists of all time.
10. Sting
Sting's fame as a singer/songwriter and showbiz celebrity often overshadows his instrumental prowess, but as one of the anchors in the Police, he was probably the greatest punk power-trio bassist ever. While the group's boldly brash approach didn't leave a lot of room for invention, Sting's later solo career found him relying on a more sophisticated sound, one that allowed his rich yet supple style to fully integrate itself into the arrangements. Tempered by both clarity and cohesion, it affirms that fact that Sting deserves to be included in a list of best bassists, whether we're referring to rock, pop or any genres in between. Here he is in 1980 with The Police, playing their pioneering punk/new wave fusion on a stand-up bass.
9. Chris Squire
The only member of Yes to remain a constant from the time of the group's founding up until his medical hiatus in May 2015, the late Chris Squire was an essential part of the band's signature sound, providing the melodic undertow for their most incisive songs. "Roundabout" is but one example, but his busy style contrasted with his ability to provide constant steady support. In addition, Squire was a superb singer, and a reliable part of the band's high-pitched harmonies. Aside from his contributions to every Yes album recorded between 1968 and 2014, he pursued other projects as well, including two solo albums, a solo single (with Yes drummer Alan White) and the one-off Squackett, a joint project with ex-Genesis guitarist Steve Hackett.
8. Jack Casady
As a member of The Jefferson Airplane prior to his longstanding (and still active) tenure with Hot Tuna, Jack Casady forged a legacy that became an indelible part of the San Francisco psychedelic scene in the mid to late 1960s. His throbbing walking bass lines heightened the drama in such seminal standards as "White Rabbit," "Volunteers," "Embryonic Journey" and "Crown of Creation," helping to launch a style that combined the complexities of jazz with a surging undertow youthful menace that help support the band's insurgent stance. The sight of Casady stalking the stage whilst the Airplane were at full throttle created quite a visual—and a significant contrast to the seated, sedate style that represents his stature as one of today's most respected elder statesmen.
7. Carol Kaye
An integral member of the "Wrecking Crew," the predominant group of session players that dominated L.A.'s studio scene in the early to mid '60s, Carol Kaye was a rare breed—a highly sought-after female bassist in an industry wholly dominated by men. It was her unmatched style and versatility that landed her gigs on some of the most important recordings ever made, from frequent contributions to the Beach Boys (including Pet Sounds and Brian Wilson's aborted Smile album), to recordings with Glen Campbell, Frank Zappa, Simon & Garfunkel and Phil Spector; composers Elmer Bernstein, Alfred Newman and Michel Legrand; and work on a number of TV themes that stood alone in the pop pantheon. Originally a guitarist (she previously did sessions with Sam Cooke and Lenny Bruce, among others), she switched instruments abruptly when the bassist hired for a session failed to show up one day. It was a fateful turn. By most accounts, Kaye, now 82, has been credited on 10,000 recordings during her incomparable career.
6. Victor Wooten
Ever since he was taught to play the bass by his older brothers at age 2—and subsequently invited to join the Wooten Brothers Band at the age of 6—Victor Wooten has continued to explore new frontiers on his instrument. Over the course of his numerous solo albums, as well as those recorded as a member of the progressive bluegrass band Bela Fleck and the Flecktones, he's expanded the part played by bass from its traditional role of holding down the rhythm to bringing it the forefront of the ensemble. At the same time, he's managed to defy stylistic parameters, creating a dynamic blend of rock, funk and jazz that takes the music into darting new realms. The result: consistent placement among the world's greatest bassists in any genre (he's the only person to win Bass Player Magazine's Bass Player of the Year award more than once), and five Grammy Awards.
5. Donald "Duck" Dunn
The late Donald "Duck" Dunn was a staple of the Stax label's in-house ensemble, playing on nearly every recording the company completed, including hits by Otis Redding, Sam & Dave, Eddie Floyd, Johnny Taylor and other soul staples of the '60s. He may be best known for teaming with organist Booker T. Jones, guitarist Steve Cropper and drummer Al Jackson Jr. in one of the first interracial bands of the modern era, Booker T. and the MGs. But that was just the beginning. Dunn's ability to create an instant groove led to gigs with Elvis Presley, Eric Clapton, Jerry Lee Lewis, Rod Stewart and, perhaps most famously of all, The Blues Brothers, providing him with a highly visible presence via the band's appearances on film and TV. The recipient of a lifetime Grammy and a member of the Rock and Roll Hall of Fame, Dunn set a standard that helped ensure consistent standing, both then and now.
4. James Jamerson
Maybe the most criminally unrecognized bassist of all time, James Jamerson was more a soul man than a rock star, but his foundational contributions to the Motown sound as the captain of the label's in-house studio band (popularly known as the Funk Brothers) redefined both the radio charts and popular music itself—the so-called "Sound of Young America." Jamerson held down the bottom on such key singles as the Temptations' "My Girl," The Supremes' "You Can't Hurry Love," Stevie Wonder's "I Was Made to Love Her," Marvin Gaye's "I Heard It Through the Grapevine" (as well as Gladys Knight and the Pips' original recording), Martha and the Vandellas' "Dancing in the Streets" and scores of others. Though often unobtrusive, he held down the bottom end on songs that depended so insistently on relentless rhythm and a smooth groove.
3. John Entwistle
While Daltrey, Moon and Townsend shared the spotlight and competed for crowd's adulation, The Who's John Entwistle was content to stay in the shadows, the anchor who barely moved, and a decided contrast to the constant, frenzied showmanship parlayed about by his bandmates. But Entwistle, of course, was every inch the virtuoso. His playing laid the bedrock for the Who's manic yet melodic core, and his penchant for playing lead bass at treble pitch was one of the elements that distinguished them from their competition. Check out the line in "The Real Me," from Quadrophenia, where he practically steals the lead lines from Townsend; or the rampant surge displayed through original songs like "My Wife" and "Heaven and Hell." Likewise, his first solo outing, Smash Your Head Against the Wall, is absolutely essential.
2. Paul McCartney
It's inevitable that Macca would find his way onto a list of best bassists, thanks not only to of his creative undertow, his signature Hofner bass, and the expressive bass lines that typified so many of his songs (both with the Beatles and on his own), but because…he's Macca! At a time when being a flashy guitarist or keyboard player generally drew most of the attention, McCartney agreed to take support duties to fill out The Beatles after original bassist Stu Sutcliffe left. Yet McCartney's penchant for invention and innovation, spurred by producer George Martin, demanded that he step up and put his playing at the fore. Suffice it to say, there's not a single song in the whole of the Beatles, Wings or McCartney's solo catalogues that doesn't bear the distinctive sound of his southpaw playing.
1. Jack Bruce
When you're one of the crucial support piers in a power trio, you not only have to hold your own, but also be willing to take the lead. As a critical linchpin in the trail-blazing Cream, Jack Bruce was able to do that and more, providing the lion's share of the vocals and the songwriting while showing an agility and dexterity that made his nimble bass playing a core of the band's instrumental excursions. His playing rumbled with undeniable authority, creating an unmistakable melodic presence that was integral to Cream's material. The ominous of descent of "Sunshine of Your Love" is only the most obvious example… "White Room," "Politician," "Strange Brew" and "Spoonful: are a scant few of the others. For further evidence, check out Bruce's solo material as well.