The 1975 Will Release a New Song Every Month Until Their New Album's Release
Photos by John Phillips/Getty, Ross Gilmore/Getty
Music
News
The 1975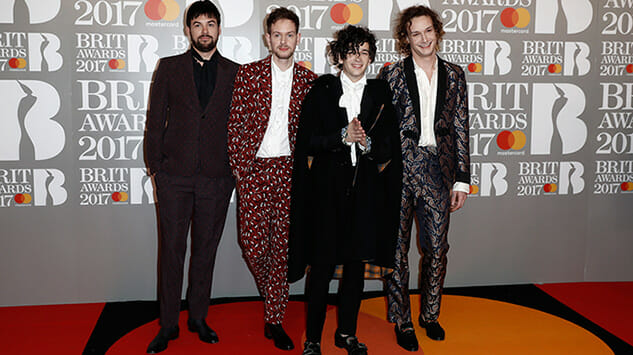 Matty Healy and his band of misfit Brits are set to release two albums back to back, doing things a little differently than they have in the past.
In an interview with Music Week, the band's manager Jamie Osborne said that the band is trying to make the most out of the paradigm shift in music consumption where there's little time to promote and infinite time to consume. Speaking on Healy's decision to release two albums at once, he said, "He felt very strongly that, if we have a tour cycle that's going to last 18 months to two years, we have to release two records in the time that we would have previously have released one."
A Brief Inquiry Into Online Relationships is scheduled to be released later this year through Dirty Hit, while Notes On a Conditional Form is due out in spring of 2019. The 1975 were originally set to release one album titled Music For Cars, but now these two records will fall under the Music For Cars umbrella that's ushering in the new era of the band.
Osborne also shared that the band would be releasing one song a month leading up to the album release and confirmed that they'd be making their return to the stage in January. Since their first single "Give Yourself a Try" was released in late May, that means that we're due for another new 1975 track very soon.
Healy had also teased that he'd been working on a song with his father, actor Tim Healy, and on Saturday, Tim took to Twitter to confirm the project. "Had a brill day recording a song I wrote when Matty was 11 he wanted it on his new album yippee you can hear it in April love you guys," he wrote.
Watch The 1975's "Give Yourself a Try" video and a 2013 performance by the band from the Paste archives below.