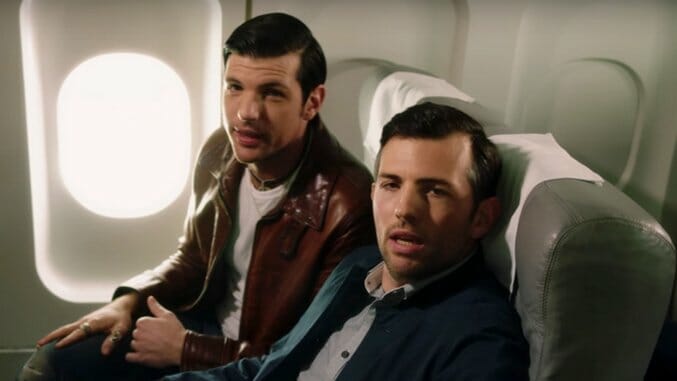 The Avett Brothers' forthcoming True Sadness, by all indications, evokes anything but its titular mood. Exhibit A: upbeat lead single "Ain't No Man," which now has a video to match.
Scott Avett directed and shot the video in Asheville and Charlotte, N.C., the band's home state. "Directing the video for 'Ain't No Man' was a pure joy," said Scott, who did so alongside Adam Rothlein. "I love exploring with alternative mediums to create and express."
The whimsical video follows Scott on a trip to the Asheville Regional Airport, where he encounters travelers from varying walks of life, gets held up by the TSA and leads a singalong. His bandmates join in on the fun, as well, with bassist Bob Crawford appearing after Scott finally gets through security, his brother Seth joining him on the plane, and cellist Joe Kwon making a brief cameo as a flight attendant.
Most amusingly of all, eagle-eyed viewers will spot NASCAR driver Jimmie Johnson, also a North Carolinian, who appears as one of the plane's pilots and flashes a thumbs-up. Johnson said of his cameo:
I've been friends with the guys for a few years now and thought it was really cool of them to ask me. I don't think I've actually 'acted' in a music video before, so growing up in the MTV and VH1 era it's definitely something I've had on my bucket list. Hopefully all of the time I spend behind the wheel of my race car translates into me being a believable pilot. It was such a neat experience and I had a blast just hanging out with Scott and Seth and the band that afternoon; it was just a lot of fun. Hopefully all of our fans get a kick out of it and enjoy it as much as I did.
The video, which ends with a "To be continued," looks to be the first in a series—between its depictions of diverse folks getting along and the prominence of North Carolina as its setting, it's hard not to read into the video as a comment on the state's ongoing, HB2-inspired upheaval. For their part, the Avetts seem more interested in simply putting smiles on people's faces. "The video for 'Ain't No Man' is about a character who is dealing with fear and his journey to do what he was born to do," says Scott.
Watch the "Ain't No Man" video above. True Sadness is due out on June 24.