Baseball: New Rules, New Stars, New Songs
A Curmudgeon Column
Photo of the Baseball Project by Chris Sikich, courtesy of Sacks & Co. From left: Peter Buck, Linda Pitmon, Scott McCaughey, Mike Mills and Steve Wynn
Music
Features
The Baseball Project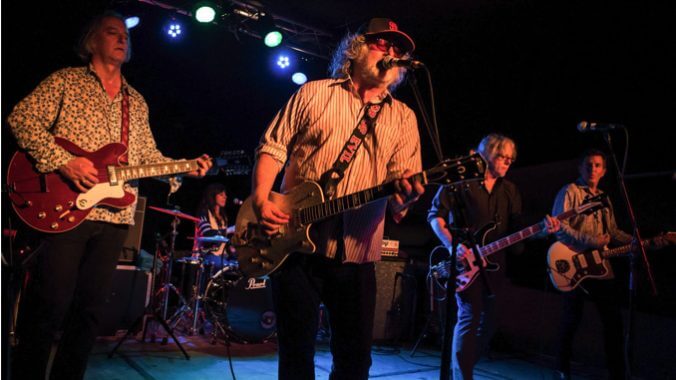 Baseball seemed to reinvent itself in 2023. There were new rules, new stars, new teams on top and new teams on the bottom. And there were new songs, thanks to Grand Salami Time!, a new album from the Baseball Project.
Baseball inspires more and better songs than any other sport, but just as the game needs a new crop of rookies, it also needs a new crop of tunes each season. This year has yielded such remarkable rookies as the Arizona Diamondbacks' Corbin Carroll, the Baltimore Orioles' Gunnar Henderson, the Cincinnati Reds' Elly de la Cruz and the Texas Rangers' Josh Jung. Not surprisingly, those four teams find themselves in contention for the playoffs after long droughts as bottom feeders. Meanwhile, perennial contenders such as the New York Yankees, New York Mets and St. Louis Cardinals find themselves looking up from the bottom of the standings.
The season has also produced such smart songs as "The Yips," "Journeyman," "The All or Nothings," all from Grand Salami Time! This is the fourth album of all-original baseball songs from the Baseball Project, but the first in nine years. The group sprang from a shared passion for baseball by Scott McCaughey and Steve Wynn; McCaughey recruited his R.E.M. tourmates Peter Buck and Mike Mills; Wynn brought along his drummer Linda Pitmon. Original R.E.M. producer Mitch Easter produced this new album from the manager's corner of the dugout.
"More than any other team sport," Wynn says, "baseball is a game that highlights individual achievement. Put a great player on a crappy football, basketball or soccer team, and he's gonna have trouble. But when you're in the batter's box or on the pitcher's mound, it is mano a mano; it's High Noon; it's Frazier vs. Ali. I mean, that Trout vs. Ohtani moment that ended the World Baseball Classic last March could be an entire movie right there."
"I think the slower pace of baseball attracts the artist, slacker and dreamer," adds McCaughey. "It's almost like it can be appreciated by fans who don't necessarily worship sports per se. There's a pastoral angle that you don't get in the frenzy of some of the faster sports."
Wynn and McCaughey aren't the only ones creating cool baseball songs in the 21st century. Folk-punk singer/songwriter Dan Bern released Doubleheader, a terrific compilation of his own baseball songs, in 2012, and he continues to pen new ones for The Tony Kornheiser Show on Apple Podcasts. Such Bern numbers as "The Golden Voice of Vince Scully," "Sunday Never Comes" and "Seven Miles an Hour" are gems of the genre.
"The pace of the game lends itself to literary activity," says Bern. "You can watch a game and have these moments of respite to reflect on what's happening. Even before there were baseball songs, there were baseball stories by Ring Lardner and the like. If I go to a baseball game, I'm more likely to come back with a song than if I go to a football game or a basketball game. The pauses are built in."
Like many of us, Bern was worried about the new rules added to the game this year, especially the addition of a pitch clock. He had relished the fact that baseball was the only team sport without a clock. But he was surprised by how painless the transition has been. Once everyone adjusted to the ticking, 20-second countdown, they forgot about it, and the game resumed the relaxed, steady pace of the '50s and '60s. The games moved along better, but the pauses were still there, providing plenty of time for reflection on what just happened and for anticipation of what might happen next.
"The new rules are the best thing to happen to the game in decades," agrees Wynn. "Did you know that attendance is up 10% overall this year across the board? That's great. I think a game that was quickly approaching irrelevance did itself a great favor—hey, it probably helped us as well when you think of it. Having said that, I hate, hate, hate the extra-inning ghost runner and hope it goes away soon."
The true baseball fan resists radical rule changes, because one doesn't want one era of the game to be too different from the others; one wants to be able to make comparisons across history. Shohei Otani's season this year—at least before he blew out his elbow—was fascinating precisely because one had to reach back to Babe Ruth's early career with the Boston Red Sox for such a combination of high-caliber pitching and high-caliber hitting from the same player. You had to reach back to Ted Williams when Luis Arraez was flirting with a .400 batting average. Ronald Acuna Jr.'s combination of power and speed prompted memories of pre-PED Barry Bonds.
"The history is important," Wynn argues. "Baseball's been in the spotlight far longer than other sports. When you can draw a line from Ty Cobb and Babe Ruth to Reggie Jackson and Pete Rose and beyond, you've got great movies, great books or, hopefully in our case, great songs."
The Baseball Project has recorded songs about ghosts from the past such as Carl Hubbell, Fernando Valenzuela and "Ted Fucking Williams." Bern has written about Lou Gehrig, Jackie Robinson and Babe Ruth. Bern and the Baseball Project have each sung about Pete Rose and Josh Gibson. But these songwriters avoid the sentimentality of a movie like Field of Dreams by reaching beyond the Hall of Famers to tell the stories of such tragic figures as Harvey Haddix, Bill Buckner and Bonds.
"It's just more fun to write about a charismatic, bonkers freak than to write about an analytic-drive cog in a machine," explains Wynn. "Scott and I both came to baseball in the '60s and '70s, a time when most players were a little nutty, largely because they were paid so badly and there was less at stake. It's hard to say much about a player who's on a tight leash on and off the field. Still, having said that, I think there are more interesting, fun young players right now than there have been in a long time."
"Eccentrics are just more fun," adds McCaughey. "That's why it's more difficult to write about the modern player. They are under so much pressure to succeed that they tend to get homogenized—afraid to step across any lines. Rube Waddell didn't care about rules or being hungover or getting to games on time. Let's face it—he was a mess and wouldn't have a chance in today's world."
Just as baseball the sport has a long history, so do baseball songs. Some of the 20th century's best songwriters tried their hand at baseball songs, and we have memorable numbers from Bob Dylan, John Fogerty, Paul Simon, Woody Guthrie, Bruce Springsteen and Willie Dixon. Even before the '60s, there were such classic baseball tunes as Chuck Berry's "Brown-Eyed Handsome Man," Count Basie's "Did You See Jackie Robinson Hit that Ball?" the Treniers' "Say Hey (The Willie Mays Song)" and Sister Wynona Carr's "The Ball Game."
"Fogerty's 'Centerfield' is a great song," Bern says. "That Danny Kaye song [1962's 'D-O-D-G-E-R-S Song (Oh, Really? No, O'Malley)'] really appeals to me, because it goes anywhere and everywhere, just amazing. Chuck Brodsky's story songs about Richie Allen and Fred Merkle are great, and so are those 'Talking Baseball' songs by Terry Cashman."
"The rah-rah songs (as I call them) are a little boring," counters McCaughey, "and thus probably way more popular than our strange songs ever will be. 'Talkin' Baseball' and 'Centerfield' have their own brand of genius, but it's not enough for me. I like songs like the Intruders' 'Love Is Like a Baseball Game," Albert Jones' 'Vida Blue' and Chuck Prophet's 'Willie Mays Is Up to Bat.' But frankly I think we've now written half of the all-time top 50."
Like Christmas songs and bad-pun tunes, baseball songs are often labeled and dismissed as mere "novelty numbers." But like genre fiction, the best baseball recordings transcend their supposed subject matter to tap into something deeper about human nature. Fogerty's "Centerfield," for example, sounds at first like just simple enthusiasm for the game. But the narrator is clearly desperate for a chance to get off the bench, an opportunity to prove what he can do. When he sings, "Put me in, Coach," he betrays a need for recognition we've all felt.
Springsteen's "Glory Days" has a wonderful verse about the star pitcher on the narrator's high-school baseball team, but that memory is subverted by the awareness of aging. Jonathan Richman's "Walter Johnson" is more than a memory of that Hall of Fame pitcher; his willingness to take it easy on the batters at times is a reminder that there's more to life than just fame and money. Steve Goodman's "A Dying Cub Fan's Last Request" is a funny set piece about rooting for the lovable losers on Chicago's North Side, but it's also a meditation on dreams that will never be fulfilled in a limited lifetime.
The Baseball Project and Bern have songs like these. On Grand Salami Time! McCaughey's "Erasable Man" is a tribute to Josh Gibson, one of the all-time greats, but the tribute is tinged with sadness, because Gibson played in the old Negro Leagues and never got the recognition he deserved. "Journeyman" describes the life of a left-handed relief pitcher who yo-yos between the minor leagues and the majors, moving from town to town, trying to avoid getting a day job.
The parallels to club-level musicians are inescapable. Wynn brings his own experience to the story when he sings, "How do I find the drive? Hell, I like it; I'm good and it. It makes me feel alive."
"In the Baseball Project," Wynn explains, "we take an event, player or aspect of the game and find a way to make it as universal and personal as any song about love or war or any other aspect of life. I wrote the lyrics to "Journeyman" on the new album—Peter wrote the music—about one of the classic characters of baseball: the guy who just bounces from team to team. And lo and behold, I realized I was writing about myself, moving from club to club, band to band and record to record."
Bern's song, "Sunday Never Comes," tells the story of the Chicago Cubs' National League Division Series game against Arizona in 2007. It was game one of a five-game series, and manager Lou Piniella pulled Carlos Zambrano after six innings to save the pitcher for Sunday's crucial fourth game. But the Cubs lost that game and the next two as well, and there was no game four. "Sometimes life is a five-game series," Bern sings, 'and Sunday never comes." In other words, don't cheat the present for a future that may never happen.
"I think all the songs on my Doubleheader album go beyond the game to touch on something more universal. You start with a small thing, and you find a metaphor—or a metaphor finds you. In the beginning it was just a song about a Cubs playoff game, and I was pissed they took the guy out. But later I realized there's a larger message there. For all of us, there's a Sunday that never comes."
As the 2023 season winds down to its final weeks, there are more teams hoping for a playoff slot than there are slots to be filled. Some teams will pop the bubbly, but for some teams the playoffs will never come. When those who fall short sit at home and watch other players competing in October, perhaps they can console themselves with some of these great baseball songs.
Which teams will prevail? We asked our interviewees and interviewer that, and here are their predictions for the 2023 World Series:
Steve Wynn: Twins over Braves
Scott McCaughey: Braves over Astros
Dan Bern: Braves over Astros
Geoffrey Himes: Orioles over Phillies