Yellow Submarine Resurfaces as Graphic Novel
Images via United Artists/YouTube, Hulton Archive/Getty
Music
News
The Beatles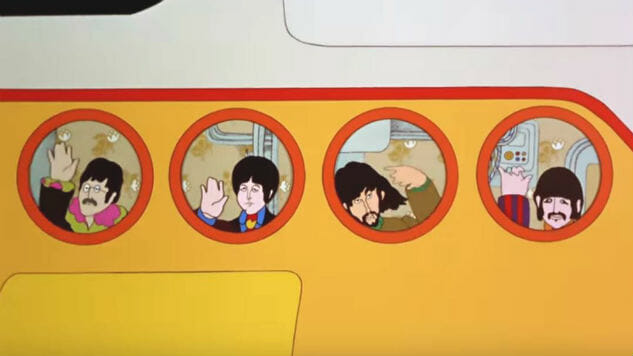 This Sunday, the Beatles' psychedelic animated romp through sea, space and time Yellow Submarine returns to theatres to celebrate the film's 50th anniversary. Fear not, fans asking "One, two, three, four, can I have a little more?": A graphic novel adaptation of the film will hit shelves Aug. 28.
Bill Morrison was approached by Dark Horse Comics in 1998 to create a graphic novel of Yellow Submarine for the film's 30th anniversary. 25 pages in, the deal fell through, but Morrison continued working on the project. Now, twenty years later, Morrison has completed the graphic novel for Titan Comics.
Morrison founded Bongo Comics in 1993 with a little help from his friends Steve and Cindy Vance, and Simpsons-creator Matt Groening. He's currently the editor of MAD Magazine, and has served as an illustrator on The Simpsons and Disney's promotional artwork team.
The graphic novel won't be a direct adaptation of the 1968 film. "As a fan of the film and a fan of the Beatles' music, I didn't really understand why a Beatles fan would want to read a faithful adaptation," Morrison told the New York Times. Considering the movie was inspired by a nonsense song written for children off the famously cryptic Revolver and features settings like the Sea of Holes, the Sea of Science, the Sea of Time, the Sea of Monsters and—who could forget—the Sea of Nothing, we're willing to concede that maybe the plot structure isn't the film's strongest component anyway.
Rather than adhere to restrictive rectangular comic panels, the artwork of the 128-page graphic novel is inspired by the fluent psychedelic posters of the '60s, particularly in details like the watercolor techniques that were applied to evoke the shimmering, fluid background of the film.
Revisit the film—and the peak of Ringo Starr's lead vocalist career—with a clip from Yellow Submarine below, read more about the film's return to theaters here and see where Yellow Submarine lands on our Beatles movie ranking right here