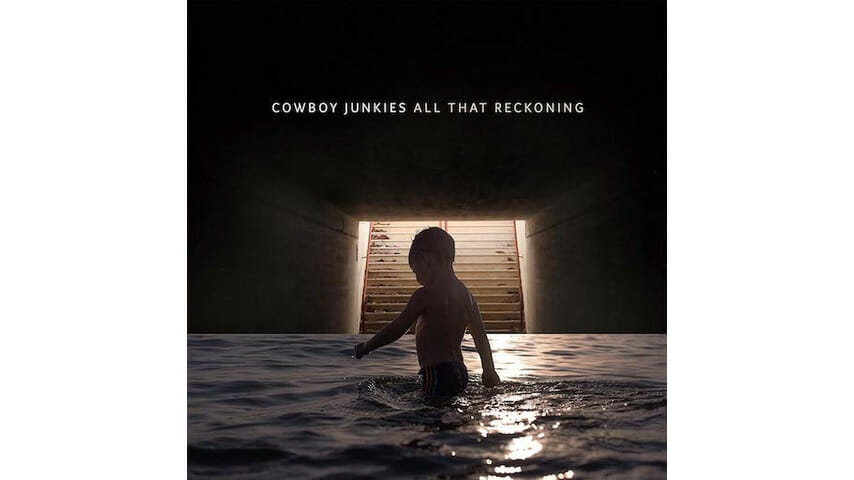 Canadian alt-country band the Cowboy Junkies have released work steadily since 1986 but peaked commercially around 1996 with their ubiquitous single "Common Disaster." Those who listened to Adult Contemporary radio in the late-'90s would likely recognize the song's chugging, single-chord guitar part and Margo Timmins's muted vocals. Though their music has been received more quietly over the decades, one detects their influence on contemporary artists like Phoebe Bridgers, Angel Olsen, and Big Thief. These newer acts, like the Cowboy Junkies, showcase female singers with distinctive voices yet move beyond the acoustic singer-songwriter aesthetic by encasing their vocals in surprising sonic effects.
On their sixteenth studio album, the Cowboy Junkies attempt to fuse personal and political musings, addressing the State of the World Right Now at times and offering more generic love songs at others. The title All That Reckoning aptly sums up the album's themes. At various points, the speaker reckons with the vicissitudes of a long term relationship ("All That Reckoning, Pt. 1"), the jolts of passion that initiated a love affair but have since receded ("Wooden Stairs"), and the roiling faultlines that have erupted between people in these tumultuous political times ("The Things We Do to Each Other"). The band is strongest when addressing the latter topic, in part because their distinctive sound arises from the friction between Margo Timmins's understated vocal style and layered electric guitar parts that roughen up a song's edges. Early in her career, Timmins's voice often bordered on a whisper, hitting notes cleanly and quietly while avoiding theatrics. Over the decades, her timbre has become brassier, generating a dynamic that allows her to articulate tenderness, vulnerability, conviction, and rage as the lyrical situation demands.
_
">Don't miss Cowboy Junkies' Paste Studios Session
This works most strikingly in "When We Arrive," which examines current politics in personal terms. Songwriter and multi-instrumentalist Michael Timmins says he wrote the phrase "the age of dissolution" in his notebook years ago and just recently realized that, unfortunately, that age is finally upon us. The song portrays a world with "everything unsure, everything unstable" in a tone of resigned irony: the song begins "welcome to the age of dissolution," the "welcome" ringing with grim fatalism. From there, the song smolders at a slow tempo, adding vocal reverb, tambourine, brushed percussion and eerily sustained organ chords at a stately pace. Timmins grasps for hope and community, singing "let's be holding hands when we arrive" and thus suggesting that the end of the world might be more bearable if we try to hold each other close. "The Things We Do to Each Other" also contemplates a dystopian present; the message "you can control hate but only for so long" could apply to the twin genies of racism and resentment that right-wing extremism has unbottled around the world.
If the Cowboy Junkies had sustained this vision of filtering politics through personal pain, then they would've made a fascinating and timely record. Unfortunately, they abandon this mission halfway through, diluting the album's strengths with thinly conceived ditties that add nothing to the whole. "Mountain Stream" would be the prime offender here; the singer dreams of being "a king of empty things," but the narrative leads nowhere and the lyrics force ideas into awkward constructions like "she left me, did my queen" for the sole purpose of rhyming "queen" with "dream." The track sounds like the draft of a better song, a set of placeholder lyrics that songwriters sometimes insert as they work out the early stages of a melody.
Though it falls short of its potential, All That Reckoning might inspire listeners to revisit some of the Cowboy Junkies' earlier work, for a dive into their back catalog will unearth more consistently rewarding offerings than this latest. The Trinity Session (1988), a magisterial procession of originals and covers recorded on a single ambisonic mic in a Toronto church, pairs well with songs like "Sun Comes Up, It's Tuesday Morning" (1990) and "Murder, Tonight, in the Trailer Park" (1992), which take real risks with lyrics and rhythm. The band is worth honoring as a predecessor to some of today's most innovative female-fronted folk/rock acts, and All That Reckoning proves the Junkies still have insights to offer on our most pressing social issues—if only they'd commit more boldly to exploring their best ideas.
Watch Cowboy Junkies' 2018 Paste studio session below: