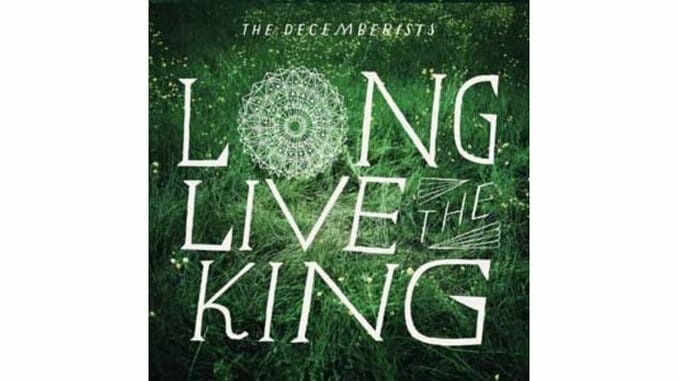 With The Decemberists, it's s safe bet that somewhere between the post-Brit-folk of Fairport Convention and Morrissey's darkness, leader Colin Meloy will emerge with a collection of impossibly literate tales that embrace death, consider love's perils and offer up a swirling pastiche of indie rock. Emotionally complex and lyrical seems the rule in a musicality that's straightforward as it can be.
And Long Live The King, a six-song EP culled from songs recorded during the country-tinged The King Is Dead sessions, fits the template. Whether evoking the college radio swirl of The Waterboys and R.E.M., the gilded country rock stain of The Flying Burrito Brothers or the essence of ancient folk songs, The Decemberists find all roots fulfilling.
The bumpingly robust demo of "I4U & U4ME" offers hoedown fervor infused with just a bit of shanty reeling that's all high spirits and romantic bliss. The elegiac "Burying Davy," with its A minor key shudder that's as desolate as a late night's long walk home, is mournfully regal.
Indeed, the drama of "E. Watson," buoyed by wafting female vocals from Laura Veirs and Annalisa Tornfelt, a tale of Civil War roguery, punctuated with natural disaster and conflict upon the sea and coastal lands at their most untamed. An acoustic guitar with room to breathe carries Meloy's bray, which is keen like some kind of haunted crane, suggesting a loss that permeates long after the tale is told.
Then there's the stray cat saunter of the Grateful Dead's "Row Jimmy," featuring attenuated guitar notes, plinking banjo drizzle and cascades of bar-room piano. Coy slink gives way to the suggestion of coitus in the far-more-mundane act of boating.
While some influences are obvious—R.E.M., Sandy Denny, Nick Cave, Gillian Welch's post-modern Appalachia, even The Pogues—it's the subtle nuances that draw listeners in. The suggestions of Little Feat, the Youngbloods, Muscle Shoals soul, and Buffalo Springfield add a populist sweep, with even a skosh of country honk from the Stones, circa Exile on Main St. It's not overt, perhaps not even intentional, yet the breadth of music creates a familiarity far beyond the expected.
Intellectual? Yes. Visceral? Absolutely. Accessible? Oddly. For the band who gave us The Crane Wife and the rock/folk/hipster opera The Hazards of Love, there's a classicism at work here that connects to more casual music lovers with ease, as well as established fans with a richness worthy of their reputation.