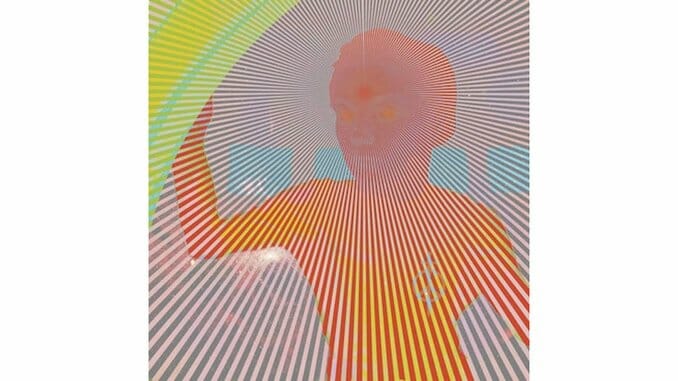 The Flaming Lips, in all their trippy, confetti-laden glory, are the perfect band to score a sci-fi film. It makes sense, then, that the band's latest EP, Peace Sword, was inspired by the famed novel Ender's Game and its recent film adaptation. Lead single "Peace Sword (Open Your Heart)," which features Thomas Fec of Black Moth Super Rainbow, was written exclusively for the movie, and the five complementary tracks highlight the band's penchant for the supernatural and extraterrestrial.
Yet, with all the Lips' synthetic, droid-like engineering and out-of-body psychedelia, Peace Sword actually feels quite human. The range of emotions on the EP—from love and empowerment to fear and self-destruction—of course stem from the book, but also feel applicable out of context. "Peace Sword (Open Your Heart)" seems bravely optimistic and frontman Wayne Coyne muses about "the beauty that surrounds me" in the contradictorily titled "Think Like A Machine, Not A Boy." Later, though, the mood darkens, as violent drumming and arduous, ominous synths strike forebodingly in "If They Move, Shoot 'Em." It's the closer "Assassin Beetle – The Dream Is Ending," however, that is both the most accessible and most unfathomable track on the EP. Throughout the 10-minute noise journey, the Lips alternate between melodic swoons that swoop in and cradle listeners and abrasive Christmas on Mars-like echoing drones that scratch at their ear holes as Coyne prophesizes, "the dream is ending," until everything suddenly ceases.
Long gone are the days of hooky futuristic alt-rock from The Lips. The spacey frontiers of recent releases like The Terror, Embryonic and The Flaming Lips and Heady Fwends make decades-old LPs like Transmissions from the Satellite Heart and Yoshimi Battles the Pink Robots sound alien. But in accepting this truth and considering the band's newest work on its own, the Peace Sword EP stands as timely, considerate release, especially for a concept album based on a foreign text.