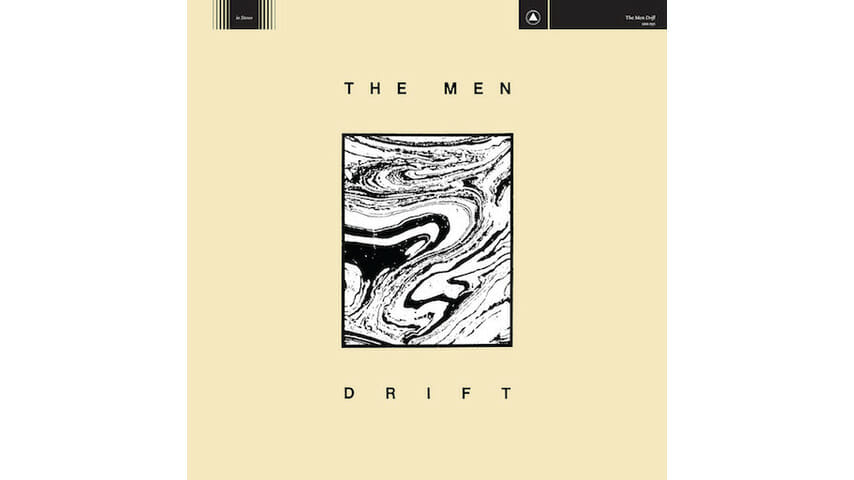 The Men. It's a straightforward name for a band that's anything but. Since forming 10 years ago, the NYC-based rockers have tried their hand at everything from garage punk to country to psych-folk—usually in the span of one album—and even had an earthy, amusing, Springsteen/Petty-flavored Dad-Rock phase. With the aptly-named Drift, the band manage to find even more sounds to try, while still hitting the sonic touchstones of their most notable work.
We're disoriented right off the bat by opener, "Maybe I'm Crazy," an industrial-leaning sound we haven't heard from them before that's spiked with an unhinged, spitting whisper. It grows to full-on yelling as Rich Samis' drums join the mix of menacing synths and the kind of squeaky sax that makes dogs howl. Suddenly, a different, more composed but somehow just as menacing voice says "I'm multiplying," turning the "maybe" of the title to a "yes, definitely." It's a feel that's echoed in "Secret Light," which brings back the freaky whispering and elementary school jazz band sax, threatening "I'll bring your secrets to light," over some boogie-oogie-oogie keys and groovin' bass.
Since this is The Men, you knew a curveball (or five) was imminent. This album's left-hook comes courtesy of "Rose On Top Of The World," a jammy, jangly, gently rambling number that sounds like the perfect soundtrack for every Gen X-er's backpacking trip they took back in college—Gen X-ers who had ill-advised dreads and loved Dave Matthews Band. The whiplash continues with "When I Held You In My Arms," its moody keys, late-night bass, and mellow cymbal taps ultimately making it a bit of a snoozer, and the slow tempo and sparse sound doing no favors for a limited vocal range.
But wait! They hit right back with the crunchy, piss-quick, audio assault "Killed Someone," playing to all their strengths with fuzzy, Fugazi-like fury. It's a reminder of where they came from, but also a jarring departure from the track that comes before. "So High," with its rust and disaffection-flavored harmonica and lonesome desert lap-steel, has you half-expecting Neil Young's warbly whine to come in. It doesn't, but the mood it creates is full-bodied and complete—a testament to their resilient versatility.
Almost every The Men album begs the question, does the breakneck variety show more talent or less? Does it mean more to show passable-to-exceptional talent for numerous genres, or does it mean more to write a full, cohesive album that deeply explores variations on one or two? It's up for debate, and while Drift isn't the band's strongest argument for the former, the most important question remains, do The Men give a shit? The answer, I'm sure, is no.