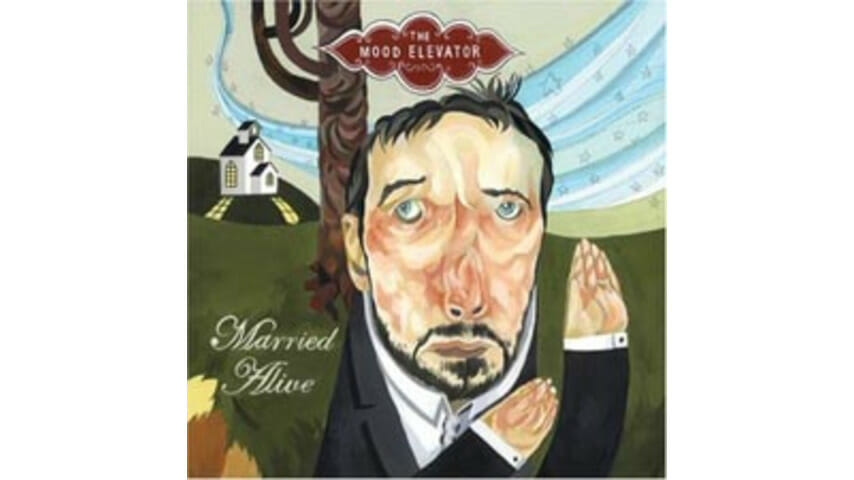 The Mood Elevator is essentially Brendan Benson's Well Fed Boys with Benson taking on sideman duties and handing the mic to bandmate Chris Plum. The two Detroit natives have been collaborating since high school, woodshedding their recording skills on four-tracks and watching their penchant for Minor Threat and DC hardcore give way to a love for Big Star and all things power pop. When Benson heard the latest batch of tunes Plum was working on, he decided to produce them on his new studio gear and start a band to give Plum's songs an outlet. Four years, two lineups and an EP later, The Mood Elevator has released its first full-length offering, Married Alive, a mix of Alex Chilton hooks and Stephen Malkmus deadpan that sounds much better in theory than it does on record.
When Plum sings "I'm feelin' fragile as a flower pot," on the first track, there's something about the studied, arms-length emotional distance in his voice that makes me think: "liar." Certainly "Boycott," an edgy lament about a groom and his frustrated libido, was written in all earnestness. But there's nothing vulnerable about Plum's voice, which sports the same blues-denuded affectation that hordes of indie rockers learned by rote in the '90s. Add to that some Townshend-esque power chords, as well as arch-clever lyrics ("we used to be a smash hit / now it's all gone to shit"), and you've got a song trying to face up to mundane realities with a rock vocabulary that's more at home flipping the bird to such precious, post-30s complaints.
Plum veers from the banal to the well-trodden, writing about average guys ("Guilty," "Long Hard Look," "Everything's In Place") nursing average broken hearts ("Begginer's Luck," "Life Line") and making average-to-less-than-average moral choices ("Watch Your Girl"). Why, one might ask, is such dreariness the occasion for Keith Moon tom-bashing and overdriven rhythm guitar? With material like this, some humor and pathos are usually called for (see: Fountains of Wayne). But Plum's detachment comes off as merely bored or even condescending, which is generally the kiss of death when trying to tap into the exuberance of good power pop.
Musically, the album is not without its charms. Comparisons to hookmeisters Matthew Sweet and Michael Penn are not out of line here; there is melody and brash rock energy a-plenty. But the marriage of subject and form is as uneasy as the title and cover art (a caricature of a hapless Plum and ghoulish groomsmen assembled outside a wedding chapel with an already-nagging bride in tow) suggest marriage is in general.
The album resonates with the sound of hedged bets, emotional double-backs and confused retreats from real life into a wall of noise erected for no other reason than to preserve the only stance Plum appears willing to take: when all else fails — rock! Plum, Benson and Co. are obviously capable of more interesting work. Next time out, guys — less drudgery, more fun.