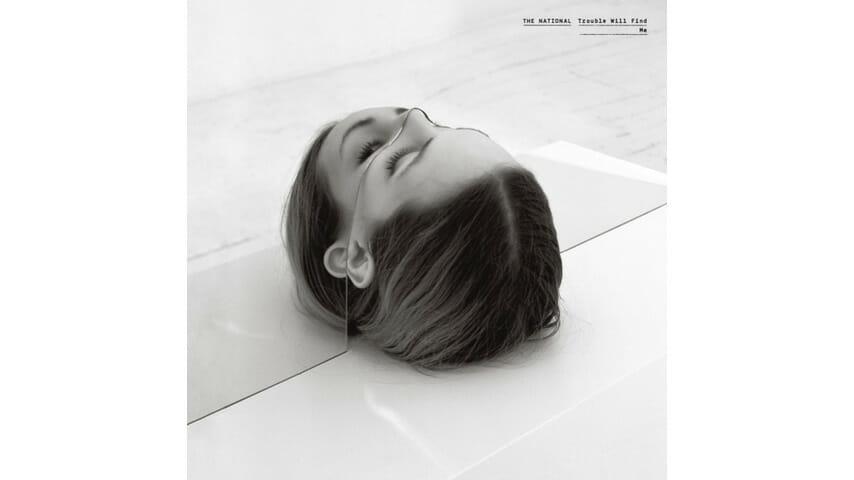 Trouble Will Find Me may be The National's funniest album to date. Not that it has a whole lot of competition. The bookish Brooklynites don't typically drop punchlines, although Matt Berninger has snuck a few sharp absurdities into his lyrics ("I'm a perfect piece of ass, like every Californian.") On the band's sixth album, however, he actually foregrounds the humor, which makes it a welcome change from the dead-serious and gravely orchestrated High Violet. Take "Humiliation," for instance. "I was teething on roses, I was in Guns n Noses," Berninger sings in his signature deadpan, and it's impossible to tell if the line is corny or brilliant—or if its corniness is exactly what makes it brilliant.
This is a welcome change for the band so deep into its career, and Berninger's self-deprecating humor nicely complements the album's pealed-back sound. If High Violet was an ambitious statement album that propelled the band to new heights of mid-life/middle-class existentialism, Trouble Will Find Me is looser, easier and rawer—as laidback as The National ever get. The musical emphasis is specifically on the individual band members and what they bring to the group: Scott and Bryan Devendorf create tense grooves based in jittery drumming and propulsive basslines, while brothers Aaron and Bryce Dessner bend their guitars into new shapes on each song. The result evokes a tensile disaffection, something suppressed and never spoken. A deeply internalized album, it's The National at their Nationalest.
It is, as well, a collection of songs about songs: clever but not meta, and thankfully never cute or self-impressed. Instead, the band reach out into pop history and find odd snippets of lyrics to pore over: "Humiliation" breaks into a chorus of "Blue Velvet" as the guitars peal away the layers of the song, and "Hard to Find" turns the Violent Femmes' "Kiss Off" into an oddly affecting album ender. First single "Sea of Love," obviously a reference to the Phil Phillips & the Twilights hit, cribs from "Hey Joe" for its chorus. "If you want to see me cry," he sings on "Don't Swallow the Cap," "please Let It Be or Nevermind."
He has always written lyrics and sung them like he's trying to figure out the songs himself, so why would that apply to his listening habits as well? Dense with allusion and mythology, Trouble portrays The National as a band that has soaked up so many influences that they're bleeding out into the words. Instead of a deluxe edition in a few months, maybe Beggars Banquet will release an annotated version. And yet, you don't need to know who sang "Blue Velvet" or get the Elliott Smith reference on "Fireproof" to appreciate the band's stripped-down sonic assault or sympathize with the confused protagonists wandering through these songs. In fact, not getting those references may be the point. Obviously The National are still trying to figure out what it all means, too, and it's that uncertainty that gives these songs their humor as well as their considerable power.