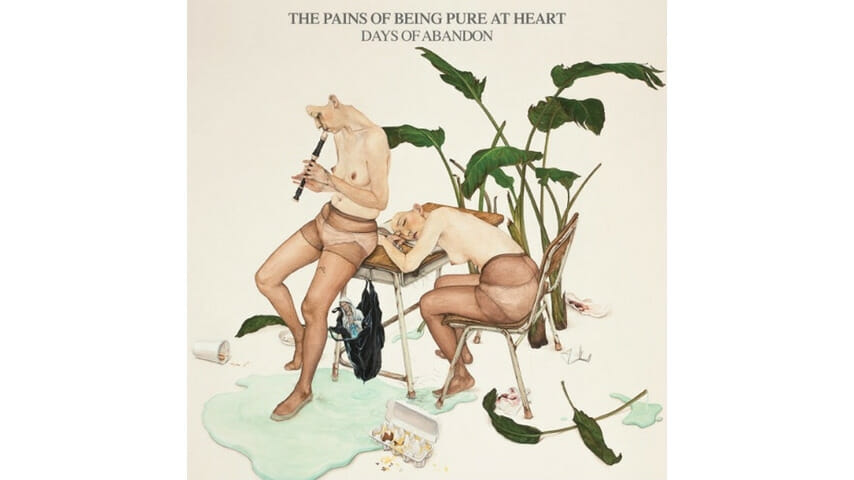 It's not like the Pains of Being Pure at Heart was the only band playing shoegaze-y indie pop when the group emerged in 2007, but the trio (and, later, foursome) had a spark that set them apart from most of their peers. Along with a winsome sincerity, Kip Berman and Co. brought an infectious enthusiasm to the bristling, catchy songs on their self-titled debut LP in 2009. The follow-up, 2011's Belong, expanded their charming bedroom-pop sensibility with arena-ready production on songs that were bigger in scope without sacrificing the sense of intimacy that was such a big part of the band's initial appeal.
Their latest strives to retain the charm and intimacy, with only partial success. Days of Abandon sands away most of the corners and edges that made the band's first two albums so enthralling, leaving behind a pleasant-enough collection of songs that aren't particularly memorable. Berman, who's now listed on Facebook as the band's only permanent member, has said the new album is "far more personal" than previous efforts, but it's tough to tell. His wispy vocals get lost in the layers of glossy synthesizers and jangling guitars that producer Andy Savours piles on, and the melodic hooks don't grab with the same bite, making for an album that slides by without really sticking.
The best songs here are the ones that are mindful of dynamics: "Simple and Sure" ebbs and flows as a taut rhythm steers through crystalline bursts of guitar, while "Eurydice" builds from hazy verses into a prismatic chorus that turns epic by the outro. Without the lineup that made the band's first two albums, Berman turns to some well-chosen ringers for Days of Abandon. Jen Goma from A Sunny Day in Glasgow steps in for Peggy Wang, adding breathy harmonies on "Simple and Sure" and understated lead vocals on "Kelly" and "Life After Life," which trails her voice with subtle horns from Kelly Pratt, who has collaborated with David Byrne and St. Vincent.
Goma and Pratt help contribute to what is perhaps the most sophisticated sound the Pains of Being Pure at Heart has yet achieved, but there's something to be said for the immediacy that came with the raw and more spacious feel of the band's previous albums.