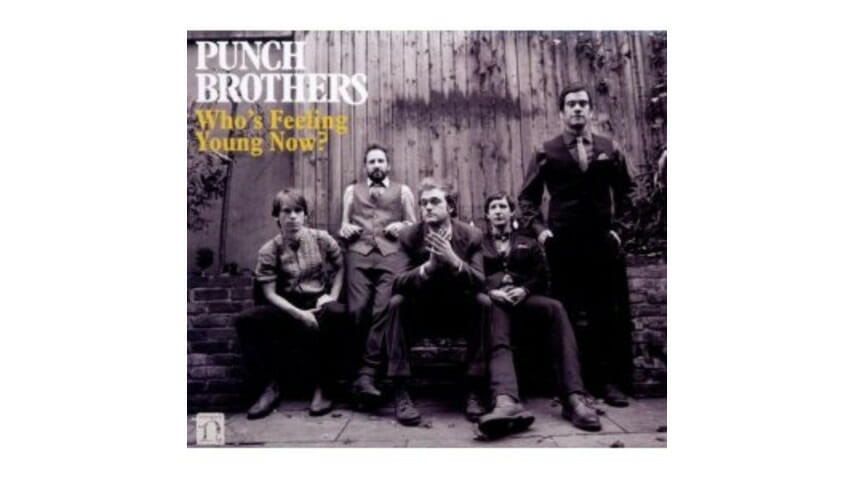 If vocalist-mandolinist Chris Thile and his merry band of prog-grass virtuosos decided to record an album crammed with foot-stompin' breakneck noodling, I'd be first in line to carry their cases to the studio and re-string their gear. But on the band's third (and unquestionably finest) album, Who's Feeling Young Now?, the multi-talented quintet wisely continue doing what they do best: crafting off-kilter, classically-tinged pop songs that sound like absolutely no other band on the planet.
Though every individual member clearly has the ability to rip into a tasty, long-winded solo at any given moment, Punch Brothers consistently choose the higher path—each instrument plays off its neighbor, Gabe Witcher's radiant violin charging sparks off Noam Pikelny's fluid banjo pokes. Since they worked with Grammy-adorned producer Jacquire King (Kings of Leon, Norah Jones, Modest Mouse), Punch Brothers may appear to be attempting a crossover commercial move.
Not quite. Who's Feeling Young Now? is certainly catchy (if you're a fan of Thile's previous band, Nickel Creek, you've come to expect that much, what with his high, soothing tenor and sticky melodies) and several tracks here would work well on pop radio, including the perky "This Girl," in which an obsessed Thile promises God he'll backslide into faith for a chance at some sweet tail. But even when the tempos are bouncy, with guitarist Chris Eldridge and bassist Paul Kowert pumping away contently, Thile and company always have an impressive trick up their collective sleeve. On your first listen to "This Girl," you might miss the brilliantly odd syncopated rhythms on the pre-verses or the left-field chord progressions. That these guys are so easily able to marry such progressive-minded touches into pop contexts is a feat worthy of reverence.
And so it goes: every track is a small wonder of some sort. "No Concern of Yours" begins in a haunting quiet of banjo picking and moaning violin before its elevation into a distant thunder. King captures the whole thing wonderfully, allowing the instruments to breathe in their natural acoustic warmth, but also giving an ethereal sheen to the band's prairie-roaming majesty. Punch Brothers also cover a lot of stylistic ground in a short span—their eerily faithful interpretation of Radiohead's electronic masterpiece "Kid A" proves their tastes are as eclectic as their fingers. And with the album's heart-racing opener, "Movement and Location," a brief summary can hardly encompass its power. They may have just crafted a masterpiece of their own.