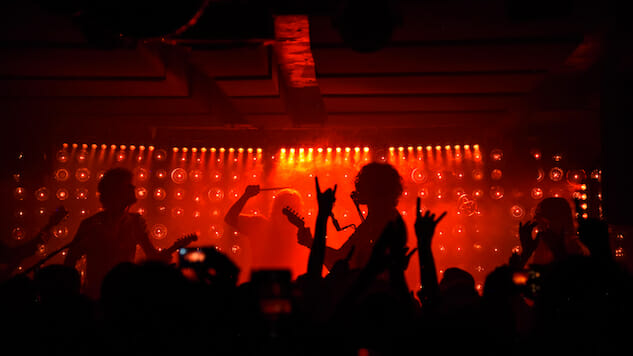 Jack White has played virtually every major stage in New York City. In 2018 alone, he headlined Governors Ball for the second time, played his fourth Saturday Night Live and performed two nights at Kings Theatre, Brooklyn's gorgeous 3100-capacity opera house. He was the marquee act at Madison Square Garden in 2015, did two nights at Radio City in 2012, and, the last time The Raconteurs were active, sold out three dates in a row at Terminal 5, totaling up to 9000 tickets between May 30-June 1, 2008.
So it makes total sense that the recently reunited Raconteurs have booked three major NYC shows for early September: two at the 3500-cap Hammerstein Ballroom (also home to the Paste Studio) and one at the aforementioned Kings Theatre. But White, Brendan Benson & co. had more intimate plans for a handful of lucky fans this past weekend, when they played five last-minute shows, including one at Baby's All Right, a 250-cap room usually reserved for local acts and buzzy touring indie bands. He's the only Coachella headliner to ever play the venue, and the biggest artist previously was Father John Misty—and that was only in a Master of None episode.
To say fans were excited to see a bona fide arena act at one of Brooklyn's best small venues is an understatement—Baby's was as packed as ever and then some. New York has a reputation for tough crowds, ones that rarely ever dance or show emotion, but this wasn't your typical Brooklyn audience: those inside threw their hands up, screaming and genuinely going ballistic the second White & co. hit the small stage, and they never let up throughout the 75 minute set.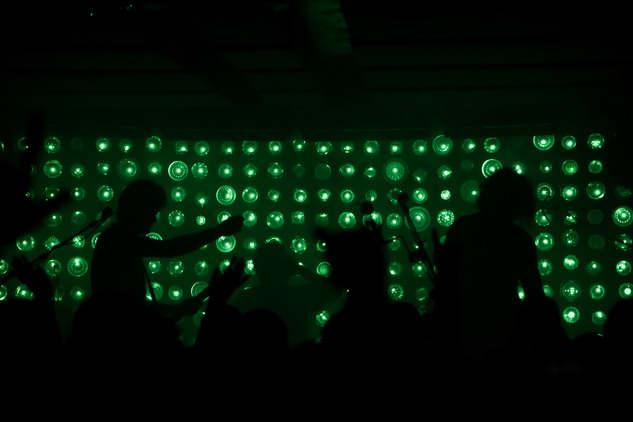 With the venue's iconic glass lights behind them, the band kicked things off with their sophomore album opener, "Consolers of the Lonely," a track that felt every bit as huge in the small space as it would have on the main stage at a massive festival. The crowd ate it up, singing every word—especially the "aaahs" before the final guitar freakout outro—jumping up and down in the shoulder-to-shoulder pit.
Since The Raconteurs' first new album in over a decade, Help Us Stranger, was released just 24 hours prior, the setlist was chock full of new songs, accounting for nine of the 16. It didn't matter that the crowd wasn't as familiar with these as, say, "Salute Your Solution" or "Hands"— their energy never dipped, remaining just as jubilant through songs like "Bored and Razed" and "Don't Bother Me."
"Bored and Razed" in particular produced a very animated Raconteurs, with Brendan Benson doing his best Pete Townsend guitar strum windmill and Jack White unleashing a massive "YEAHHH" at the end. They seemed sincerely excited to be on the same stage together once again, especially in one of the smallest rooms they've played in god-knows-how-long. They treated the show more like a fun garage jam session than a serious headline set.
The new album, Help Us Stranger, is a classic example of a record that works way better in a live setting than through your headphones. It's a fun listen, sure, but White's guitar solos absolutely explode live. The album's lyrics leave something to be desired, but does it really matter when the former White Stripes frontman is shredding in your face?
It was also a thrill to see Benson, Jack Lawrence and Patrick Keeler onstage again. Those three have all remained relatively quiet since the Consolers of the Lonely tour wrapped up in 2011. They may not have the star power of Jack White, but they're tight musicians and incredible live artists in their own right. Benson especially—his voice sounded pitch perfect throughout, both in slower numbers like "Only Child" and energetic rockers like "Salute Your Solution."
At the tail-end of their six song encore, the crowd was treated to one final surprise: a performance of arguably one of White's best-ever songs, "Carolina Drama," instead of their biggest hit "Steady as She Goes." The crowd repeated back the dense lyrics, a lengthy five-verse story about a child witnessing an attack on a priest, word-for-word, screaming the "la la la la" refrain as the instrumentals completely cut out, just in time for White to end it all with one final guitar wail, his most impressive solo of the night.
It's not every day you get to see an arena band in a 250-cap room, but for those of us lucky to have made it in—or have caught The Raconteurs at one of their many other shows in New York over the past few days, including at two record stores, a radio show, or at Coney Island Baby, an even smaller venue than this—it's a night we won't soon forget. Jack White is known for his surprising antics, but this handful of last minute performances may have been some of his most legendary in quite some time, proving once again this band is every bit as amazing live as we remembered them being.