Live Nation Issues Apology to The Regrettes After Onstage Attack (Updated)
Photo by Lindsey Byrnes
Music
News
The Regrettes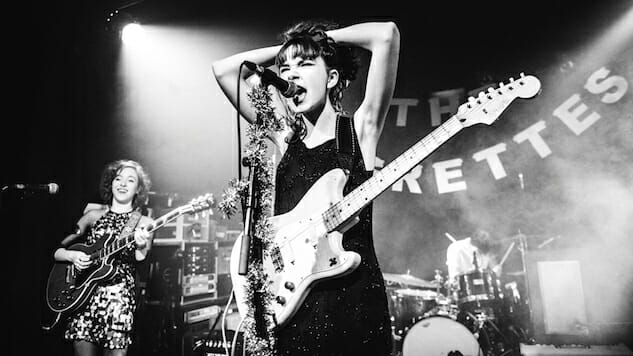 Update: Live Nation, who oversaw security at The Growlers Six, has shared the following statement with Paste:
The safety and security of our performers and fans is our highest priority. We apologize to The Regrettes and concertgoers, and are conducting an investigation into this incident.
It remains unclear how Lydia Night's assailant was able to make it onstage, or whether she will face criminal charges as a result of her actions. We've reached out to the Los Angeles Police Department, whose jurisdiction includes San Pedro, for information on the attacker, whether she was arrested, and if so on what charge.
Original Story: Over the weekend, costumed concertgoers gathered at the L.A. Waterfront for The Growlers Six, a festival curated and headlined by The Growlers, also featuring the likes of Yeah Yeah Yeahs, Modest Mouse and Dan Auerbach. Overall, the festival, which is staged on the waterfront in San Pedro, proved to be a huge success. But day two of the event, however, did experience a serious hiccup during The Regrettes' afternoon set: A costumed woman fought her way onstage to attack vocalist Lydia Night, aggressively pushing the singer down after security was slow to intervene. Soon after, the woman was escorted offstage, but The Regrettes were unable to continue with their set. See fan-shot footage of the attack below:
.. so this just happened at the Growlers Six w/ Lydia of the Regrettes. Security didn't do shit til the last second. She was attacking people. Good job security. pic.twitter.com/DN5vTSvoLz;

— Marcus Grande (@chewedxup) October 29, 2017
Night responded to the incident on social media:
Being a performer is one of the most vulnerable things you can do. The last thing I want to worry about during a performance is being in danger in any way. The stage should always feel like a safe space for self expression and art. Yesterday, someone invaded my safe space in an aggressive manner and that is absolutely not okay. Thank you for all of your concern and love. I am still pretty shocked about what went down, but I will be totally fine. I did not know the girl who attacked me. I was told she was on a lot of drugs and mistook me for someone else. Love you all and I'll see you next month on the east coast.
In the video, we can see security personnel hopping onstage to apprehend the woman after she attacked Night. They prevented further damage from being done, but it is unclear how the woman was able to bypass the barrier to get onstage in the first place. Paste has contacted representatives of The Growlers Six to find out more regarding how security handled the situation and will update this story with further information.