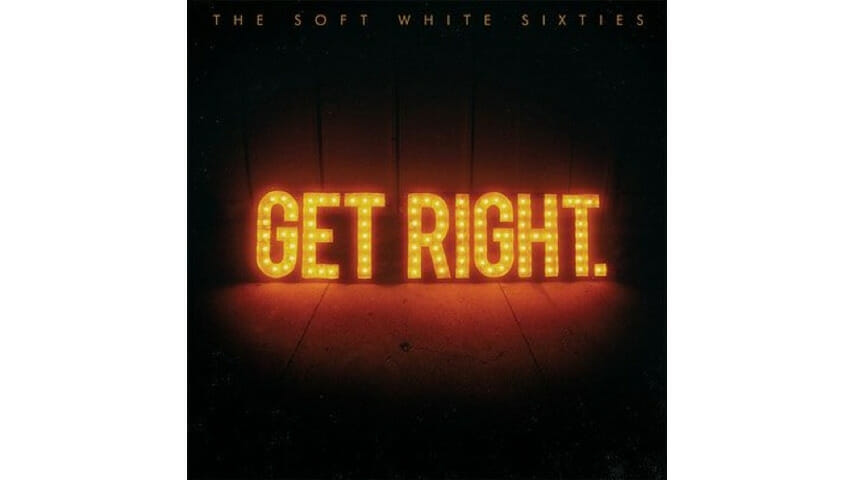 There's a sense of safety radiating from The Soft White Sixties' debut LP, Get Right., in some strange way a familiarity that engenders an element of comfort. That this sentiment is pile-driven through your headphones via honey-sweet, sultry rock and pop is perhaps not surprising given that initial synopsis. That Get Right.'s a dangerously good hard rock homage, filled with nuanced melodic interplay and fantastic vocals might make the scene more convoluted.
Set aside such trivial analyses as purpose or place when digging Get Right. The album's opening statement—a staccato organ-and-guitar intro from "City Lights" that sounds like it could fuel a cheerleading squad's entire halftime show—purposefully presents a unit of musicians who are dabbling in noises from both ends of the rock 'n' roll spectrum, and probably a few places in between. Two minutes into the song, the band's jammy tendencies threaten to overtake the gentile vibe of the track. It's quickly apparent that whatever symbiotic energy the band has been marinating in for the last couple of years following a ballyhooed 2011 EP is secreting in copious quantities and finding its way into great songwriting.
"Up to the Lights" sounds like a lost Portugal. The Man cut, made all the more enjoyable by that band's ditching of their more soulful, groove-focused catalog. Octavio Genera's velvety-gruff vocals seem to recount long nights with long talks and lots of cigarettes; like some casual excellence of communication, Genera packs more feeling into a line than lots of vocalists, not unlike a Chris Robinson or Ray LaMontagne.
On "Lemon Squeezer," the band shifts the tempo into higher gear, allocating a linear melodic progression filled with lots of piano and walls of guitar trickery. "Don't Lie to Me" features roiling, Page-like riffs, countered by a thwumpy fuzz bass that holds down the groove during the verse. Lead guitars swim in and over big flanger effects and tasteful transitions from more sinister avenues of hard rock to more anthemic balladry, as found on the sugary "Rubber Band," wherein Genera croons, "I'm your rubber band, keep on pulling and I won't break" before a sort of cliché whoa-oh-oh chorus. But the song's inherent likability is enhanced with the band's obviously locked-in focus. Listening to any track on the album imbues you with the notion that the group is likely a scorcher in the live setting.
"Roll Away" finds Genera getting romantic within a lullaby serenade, conjuring a '50s rock vibe. It's a gushy, albeit slightly devastating rock 'n' roll gem in the same vein as Dr. Dog's best and grittiest Fab Four homage. Later, the band aims its aural arsenal back toward the noodly, with jocose jam tendencies coating the patina of "I'm Not Your Mother."
The Soft White Sixties' blues-rock devotions need not be relegated to some kitschy homage or yet another temporal byway into throwback revivalism. This is just a damn good rock record.