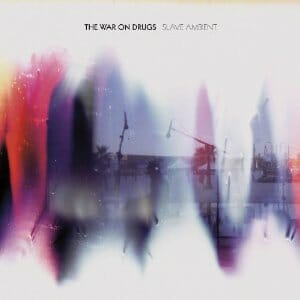 When all is said and done, Kurt Vile's exit from The War on Drugs might be the best thing that's happened to the band. Sure his songwriting talent can't be understated, but the long-haired, post-hippy's odyssey with the Violators and the success of Smoke Ring For My Halo has drawn a lot of attention to his past legacies, specifically the band he helped start. And The War on Drugs is still very much a band; helmed by Adam Granduciel, their post-Vile songs have kept them steady, and, as proven by the almost defiantly solid Slave Ambient, they can be memorable and engaging all by themselves.
As expected, The War on Drugs still carry that dusty, road-poet glamour that earned them reverence in the first place. Guitars jangle loosely and Granduciel's voice is constantly at cruising altitude—this is music for rambling, music for prairie towns, and most importantly, for road trips. The opener "Best Night" is a consuming, languid groove, with lazy guitars and harmonica drifting over cemented drums—eventually Granduciel sighs "I'm a thousand miles behind /with a million more to climb" and that seems to be Slave Ambient's entire attitude. It doesn't beat you over the head with any motif, but it's certainly nice to drift with its vibes.
The songs all sound fleet-footed, fading in and out of view without much of an introduction or conclusion, and bridged by milky, formless interludes, something you'd expect on a heady dance LP, not a 46-minute record of traditionalist guitar-rock. It helps elevate their opaqueness, which is ostensibly something they care quite a bit about. The War on Drugs is never willing to give themselves away. In fact, the more I get to know Slave Ambient the more I start to wish there was more of a frame to its content. They have big, visceral songs, like "Baby Missiles" and "Your Love is Calling My Name," but they don't add up to a greater cosmic push towards celebrity. It can sound like they're holding back, which is probably a product of their titanic, avatar-rock influences like Springsteen, Dylan and Young—they were never the type to value ambiguity. If anything, that means The War on Drugs sound comfortable in their own skin, which is more of a blessing than a curse.
It all comes down to a specific moment for me, on "Come to the City," where a steady beat emerges out of stormy guitar noise and leads the band into an anthem of a centerpiece. Like a lot of great rock songs, it's dramatic, ear-catching, and utterly triumphant—something I'm really excited to listen to when I drive to Texas in a few weeks. I know seeing city lights emerge out of a setting sun while listening to this thing will bring that rush of euphoria we listen to music for in the first place. The War on Drugs are hopelessly in love with that feeling, and even knowing how intangible it is, they write songs thoroughly designed to get them there. It works, Slave Ambient makes you feel good, and I'm glad that's all they ever wanted.