The Week in Music: Paste's Favorite Songs, Albums, Performances and More
Let's review: Lucy Dacus, Yo La Tengo, Born Ruffians, Frankie Cosmos, more.
Photo: Getty Images
Music
Features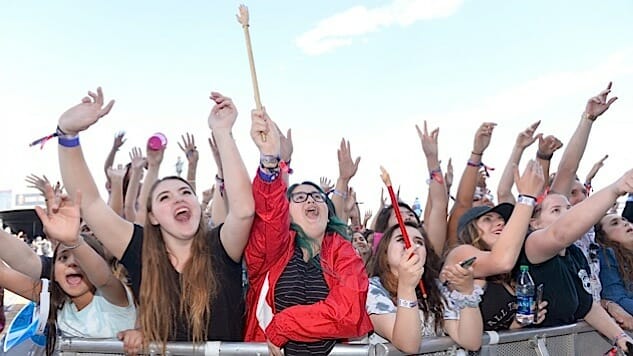 The week began promisingly with an instant-classic Yo La Tengo song, "For You Too," and ended even better with Lucy Dacus's towering new album, Historian. In between, we hosted a handful of great Paste sessions in our New York studio, examined the wisdom of a 50/50 gender lineup split at music festivals, and counted up our 10 favorite albums of February (not to mention our 10 most anticipated of March). Catch up with Paste's favorite albums, songs, performances and features of the past seven days.
BEST ALBUMS
Lucy Dacus: Historian
Lucy Dacus came on strong enough with No Burden, her 2016 debut, that Matador Records fought through a crowd of 20 other labels to sign her and re-release the album a scant seven months after it first came out. Her new LP eclipses No Burden in every way. Historian is at once tightly focused and musically expansive. As often happens, the more straightforward songs are the ones that stand out at first: the bright melody and punchy riff on "Next of Kin," or the bittersweet strings that give way to bold guitar ringing through "Nonbeliever." But the less immediately grabby numbers exert a forceful gravity of their own, as when the murky "Timefighter" erupts into churning guitar breaks, or "Pillar of Truth" grows from a spare song of mourning into a regal elegy capped with horns and showcasing the emotional resonance of Dacus's voice. —Eric R. Danton
Superorganism: Superorganism
This London-based collective's self-titled debut album has the feel of a surreal, futuristic collage. Galloping electronic beats sit alongside honeyed vocal harmonies, bird chirps flutter around a bloodless bass line, synths shimmer and whoosh and burp, spoken-word samples show up out of nowhere. At the center of this frolicsome soundworld is Orono Noguchi's consistently compelling voice, often deadpanned, sometimes slack-rapped and regularly pitch-shifted on the fly. The whole thing belongs on the same shelf as the audio patchworks of Odelay-era Beck, mid-period Flaming Lips' lysergic showtunes, modern indie shoegaze, Mr. Oizo's distorted synth-hop and whatever weird tape-warped stuff is cool right now. It's a combo that's harmlessly bizarre, hyper-current and highly listenable. Superorganism will probably be huge by summer. —Ben Salmon
Hurry: Every Little Thought
Hurry's fourth album is packed front to back with breezy, beautiful songs that will please anyone who loves the classic, strummy power-pop of Teenage Fanclub, Tommy Keene and the Gin Blossoms. "Heatwave" sits in the center of the album and captures the band's sweet 'n' sour sound. "Waiting For You" offers a subtle surf-rock vibe alongside main man Matt Scottoline's lyrics about loneliness and screen addiction. "Read Between the Lines" is a tightly wound bundle of jangling guitars and reticence, while "On the Streets" is about as close as Hurry gets to punk pace. —Ben Salmon
---
BEST SONGS
Yo La Tengo: 'For You Too'
There's a Riot Going On—you know it, we know it, and so do Yo La Tengo, who are releasing their first proper LP since 2013 on March 16. The latest single from the album is "For You Too," a transcendent act of noise-rock introspection and the most entrancing taste of their new record yet. Ira Kaplan's scintillating guitar line, a soft synth drone and deceptively propulsive percussion combine to create an inviting, yet layered soundscape, all while Kaplan delivers near-whispered lyrics that are brimming with heart-swelling affection: "For you / whenever there's hurt / and when things are uncertain / Maybe I could be that guy / I'd like to try." —Scott Russell
DJ Khaled (feat. Jay Z, Future and Beyoncé): 'Top Off'
On Wednesday, everyone's favorite producer/motivational speaker DJ Khaled started teasing a new single for his next album through his Instagram account. Anticipation for the track went through the roof when it was revealed to be a collaboration between Jay Z, Beyoncé and Future. "Top Off" serves as the first single off the forthcoming album Father of Asahd, due out later this year. If the production on a Khaled song doesn't go hard enough, then usually the lyrics make up for it, and this is the case for "Top Off." Like most records with Jay Z or Beyonce featured, rap's power couple steal the show. Future does what he does best: create simple, repetitive hooks meant to stick in your head for a few days or weeks. —Adreon Patterson
Laura Veirs (feat. Sufjan Stevens): 'Watch Fire'
We wrote previously about Portland songstress Laura Veirs revealing her 10th studio album, The Lookout, which is due out April 13. She had previously released the album's first single, "Everybody Needs You," and this week unveiled single number two: "Watch Fire."The immediate takeaway here is a collaboration so natural, it's kind of a shock that it hasn't happened on a Veirs album before. Stevens is an obvious complement to Veirs's indie-folk leanings, and they make a natural duo, with delicate guitar picking giving way to swelling keys in a quick, galloping 2:30. —Jim Vorel
Frankie Cosmos: 'Apathy'
On Thursday Frankie Cosmos revealed another new track from their forthcoming album, Vessel, out on March 30 via Sub Pop. Following the previously released "Jesse" and "Being Alive," new track "Apathy" is an intimate slacker-pop break-up tune with songwriter Greta Kline wearing her vulnerabilities and naiveté proudly on her sleeve. It concludes with her reveling in newfound clarity: "You could take me and my apathy / Turn us into clarity." —Lizzie Manno
---
PASTE STUDIO
Acid Dad
Brooklyn's Acid Dad mix up post-punk and psych rock with some juicy hooks and riffs on their debut full-length, out March 9. They played a six-song Paste session late last week. Watch them rip on lead single "2Ci."
Born Ruffians
On Born Ruffians' new record Uncle, Duke & the Chief, death isn't a tragedy, but a triumph. Jubilant album opener "Forget Me" is wistful and aching, but when Luke Lalonde sings of following a "white light," he doesn't greet it with fear or trepidation—he throws on a pair of shades. "Someday you'll get older," he croons, his sentiment all-too comforting. "I'll be right behind you."
Lissie
Written predominantly from her new home in Northeast Iowa, Lissie's fourth album, Castles, reveals a new kind of serenity for an artist who has always been on the move. She's still got one of the best voices in the business. Watch her play new song "Best Days."
Jukebox the Ghost
You'll notice a central influence as soon as Jukebox the Ghost start playing their new single, "Everybody's Lonely": symphonic pop precision, a charismatic singer/pianist with a cheeky sense of humor, lithe lead guitar licks over top. Queen would be proud of these Brooklynites on their new record, Off to the Races.
---
FEATURES
Pledging Gender-Balanced Festival Lineups Is Like Putting a Band-Aid on a Bullet Wound
On Monday, 45 international music festivals publicly pledged to book gender-balanced lineups by the year 2022. The pledge was spearheaded by the UK's PRS Foundation, whose new initiative, Keychange, aims to mitigate the music industry's longstanding gender inequality problem by getting more women onto the lineups of music festivals and conferences. It's a noble goal: Glance at a festival poster from anywhere in the world and you're likely to see far more men than women, a phenomenon easily visualized by removing all the male acts from any Coachella poster. It is also, at best, a superficial response to the deeply entrenched problem of misogyny in the music industry: a Band-Aid on a bullet wound. —Sasha Geffen
The 10 Best Albums of February
February may be the shortest month of the year, but there was no shortage of great music spinning in the Paste Music office this month. From returning favorites like Screaming Females and Born Ruffians to exciting emerging artists like Caroline Rose, there was plenty to keep our ears busy. Here are the 10 albums we loved the most in February. Loren DiBlasi
The 50 Best Southern Rock Albums of All Time
In the 1970s, "Southern rock" meant a very specific thing: long-haired bands like the Allman Brothers and Lynyrd Skynrd playing extended guitar solos with enough bluster to pick a fight in a smoky roadhouse. By the '80s, it meant ZZ Top and The Georgia Satellites rekindling the guitar licks of their forebears. But it was also starting to mean something else. In college towns like Athens, Ga., and Winston-Salem, N.C., a distinct Southern jangle was emerging, mixing the post-punk of New York, the pop of Big Star, and the roots music that bands like R.E.M., Let's Active and The dB's were weaned on. Today, it means everything from the earthy synths of My Morning Jacket to the future soul of The Alabama Shakes. Here are the 50 best Southern rock albums of all time. —Josh Jackson