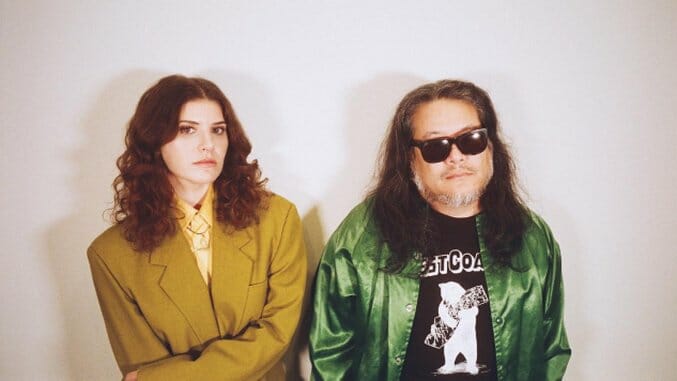 This time of year I usually begin listening to folk music and bluegrass almost exclusively—cozy stuff that sounds great with a cup of coffee on a chilly late-fall morning. This year, though, I've been reaching for the poppier stuff when I arise: Caroline Polachek, Carly Rae Jepsen and the upbeat new HAIM single have all been in my heavy rotation. Today brings another (and maybe the year's last) pop triumph to the mix, the long-awaited sophomore LP from British singer FKA twigs. MAGDALENE lives up to the hype. As our critic writes, "MAGDALENE is the sound of an artist gluing together the million tiny shards in which she found herself after an explosive breakup." But FKA Twigs isn't the only notable release from this week. Elsewhere, Best Coast announced their comeback, Hazel English returned with a new track and we counted down the best hip-hop releases of the decade. For all that and more, you've come to the right place.
BEST ALBUMS
FKA twigs: MAGDALENE
In the five years since her transformative debut album, 2014's LP1, FKA twigs has been through a lot. As though having six fibroids removed from her uterus during this period wasn't torment enough, she dated and split up with two famous actors, to one of whom she was engaged. As she suffered both immense emotional and physical pain, she all but rebirthed herself. This rebirth narrative is one possible reading of the stunning video for "cellophane," the first song released from MAGDALENE, LP1's long-awaited album-length follow-up. A devastating piano lament that only vaguely includes the howling, clicking and stuttering vocal and synth tricks of LP1, "cellophane" arrived alongside a video that, like the majority of FKA twigs' visuals to date, exists in a not-quite-terrestrial space full of forthright sexuality, brooding sci-fi, angular dancing and plain old horror. The two videos that have followed have been, well, exactly not that, and that contrast lies at the heart of what makes the game-changing genre-less artist's sophomore album so special. MAGDALENE is the sound of an artist gluing together the million tiny shards in which she found herself after an explosive breakup. If FKA twigs previously sang about her isolating sexual desires, here she details the journey to regain her strength after she's seen the other side of romantic fulfillment. As expected, the climb is often challenging: On the loping, shapeless "daybed," ostensibly the only track to survive FKA twigs' 2016 sessions with Oneohtrix Point Never, she struggles to even leave her bed. As she sings lines like "dirty are my dishes," "friendly are the fruit flies" and "possessive is my daybed," she equates the disheveled state of her home with the disheveled state of her heart, and the analogy is nothing short of crushing. —Max Freedman
Mount Eerie and Julie Doiron: Lost Wisdom Pt. 2
Closure is a myth, isn't it? The word most often associated with it, loss, seems tailored to help us understand that; something—an emotion, a feeling, a presence—is gone. It can't be recovered. Maybe the impossibility of closure is why we go to such extremes to try and find it. Phil Elverum has always understood that, though never with the clarity of the musician's two most recent albums as Mount Eerie. 2017's A Crow Looked At Me and its expansive 2018 companion, Now Only, both confronted the realities of incalculable grief with unparalleled precision, levying spare instrumentation with visceral lyricism to render a family portrait defined by its negative space. Recounting the events that led to those albums—the birth of a daughter, the death of her mother—feels reductive, especially given that Elverum has already offered the story in such detail. But that narrative continues on Elverum's second collaboration with Julie Doiron, Lost Wisdom, Pt. 2, this time with the additional layer of Elverum's brief marriage to and separation from actress Michelle Williams. Somehow, though, listening to Lost Wisdom, Pt. 2 doesn't pose the same herculean difficulty that makes A Crow Looked At Me and Now Only so hard to revisit. For the first time since 2017, it's not hard to imagine certain Mount Eerie tracks existing outside the confines of context. —Harry Todd
BEST TRACKS
Best Coast: "For The First Time"
From the beginning of "For The First Time," it becomes clear that Best Coast have moved away from their roots in lo-fi surf-punk and leaned into the synth. The song opens with a mingling of warm bass, drum machine and arpeggiated synths before opening into a flute-driven groove that conjures up some Cyndi Lauper feeling. The change in sound is unexpected, but not unwelcome as they manage to keep their energy lively while expanding their scope. —Hayden Goodridge
Hit Like A Girl: "It's Not Me"
Hit Like A Girl's new single "It's Not Me" might be about hitting rock bottom, but its seething guitar, disarmingly direct lyrics and searching backing vocals are more winning than ever. The song begins with Nicolle Maroulis "watching everything crumble to pieces," and things only go downhill from there as they recount the partner they thought they would marry tossing their engagement ring into a river. "What will it take to make you happy?" they beg. "It's not me." It's a harsh realization that can invite both utter hopelessness and the relief of finally letting go. Listen to "It's Not Me" via Bandcamp here and watch Hit Like A Girl perform the song at Daytrotter earlier this year below. —Amanda Gersten
Hazel English: "Shaking"
"Shaking" distances itself from Hazel English's debut EP, Just Give In / Never Going Home, with a more grandiose sonic palette than its predecessor. While the EP maintains a hazy, lo-fi approach, "Shaking" shows the singer opening up her sound, which can be heard in her soaring vocals and lush drive of the chorus. Though the airy approach is still there, the single succeeds at packing a bigger punch than before. —Hayden Goodridge
THE PASTE PODCAST
The Paste Podcast #31: Frank Turner, The Irishman, Best TV
The Paste Podcast is hosted by Paste co-founder and editor-in-chief Josh Jackson. The weekly podcast covers music, movies, TV and everything else you can find at PasteMagazine.com. This week, Frank Turner visited the Paste Studio in Atlanta to play us four songs and talk to Paste's Andrew Barkau about his brand new album No Man's Land, a collection of songs about 13 different women throughout history, from Sister Rosetta Tharpe to Mata Hari to his own mother.
Also, host Josh Jackson reviews two new films from Netflix, The King and The Irishman. And Paste TV editor Allison Keene joins us for a discussion of the 10 best TV shows this week, including the new slate from Apple TV+.
Listen below, or better yet, download on iTunes, Google Play, Stitcher, Spotify or the new app from our podcast partner Himalaya, and subscribe!
BEST PERFORMANCES
Country singer Kelsey Waldon stopped by the Paste Studio in Atlanta, Ga., on Monday afternoon to play a few songs from her new album, White Noise, White Lines, out now on Oh Boy Records. White Noise, White Lines is the Kentucky native's third LP, but it's decidedly more of an arrival than either of her preceding records, as she told me over the phone in early September. "I keep saying that this record feels like my Freewheelin' Bob Dylan," she said, referencing Dylan's brilliant second album, which is primarily acoustic. "It felt like Bob hadn't really arrived [until] that one to me, even though the other ones were awesome, and that's kind of how I feel about my new record." If White Noise, White Lines is Waldon's Freewheelin' Bob Dylan, then "Anyhow" might be her "Blowin' in the Wind." "To be knowin' is to know how / There's no turning back now," Waldon contemplates. "Keep your nose on the grindstone / and your hand on the plow / and do it anyhow." Just as Dylan once posited, we can't know all the answers, but we can still keep going. "Anyhow" is one of four songs Waldon played for us in the studio, including the title track from White Noise, White Lines, her swingin' country origin story "Kentucky, 1988" and "Very Old Barton." —Ellen Johnson
Fruit Bats
Fruit Bats, aka the indie-folk/rock songwriting project and band of Eric D. Johnson, released their latest album Gold Past Life, in June of this year. Johnson has been on the road much of the time since then, and he's also part of supergroup Bonny Light Horseman, the band made up of Anaïs Mitchell, Johnson and Josh Kaufman. Their debut LP is out early next year. In the meantime, enjoy Johnson's Paste Studio session, taped in NYC this week and featuring three songs from Gold Past Life: "Ocean," "Mandy from Mohawk (Wherever You May Be)" and "Cazadera." —Ellen Johnson
FEATURES
The 30 Best Pop Albums of the 2010s
The entire 21st century has been a golden age for pop music. Thanks to emerging artists from previously underrepresented corners of music—like the LGBTQ community, the Latin diaspora, Reggaeton artists, etc.—pop music looks a lot different now than it did 30 years ago. The very fabric and face of pop music have changed down to the molecular level, and there's not just one type of person who rules the charts. In the 2010s especially, these trends bloomed and bloomed, giving us one of the best, most diverse, most interesting decades for pop music we've seen since the rise of New Wave pre-MTV. The steady popularization (heh) of poptimism in music criticism has cleared the way for artists like Charli XCX, Carly Rae Jepsen and even Ariana Grande to have highly commercially successful as well as critically successful careers, rockists be damned. We're moving father and farther away from the days when certain strains of pop music—particularly those claimed by young women and LGBTQ folks, like boy bands and teen stars—were considered culturally less significant or intellectually inferior. Just ask Lizzo, Clairo or Billie Eilish. 2019 brings the end of a beautiful, if at times messy, 10 years for a genre that never ceases to stop changing, thusly bringing us into a new, exciting age for pop music and what it could mean for certain groups of people. But, for now, let's look back at the last 10 years and the albums that we loved—along with pretty much everyone else who has ears. We hope you enjoy these crush-able records as much as we do. —Ellen Johnson & Paste Staff
The 30 Best Hip-Hop Albums of the 2010s
Where to begin when writing about the genre that defined the decade? Hip-hop remains one of our purest forms of protest and release. This has been true for years and years, but it's been particularly interesting to witness American hip-hop artists work through a decade that began inside a bubble of optimism, one that bursted in the second half of the 2010s. While this decade wouldn't necessarily be categorized as hip-hop's heyday (that's what the 1990s are for, after all) it was a truly distinct time period in which rappers experimented and pushed the genre's limits, perhaps more than in any hip-hop age before. Sub-genres flickered up in America's cities—trap remained king in Atlanta, drill music continued to bloom in Chicago, bounce informed the New Orleans sound and Houston artists like Solange and Travis Scott transformed underground chopped and screwed sounds for a pop audience. In the 2010s, rap got weird. Rap went indie. Rap went pop. Pop went rap. Rap was everywhere. You can stan for the '90s golden era of hip hop, or maybe vouch for the 2000s boom, but you can't deny the evolution of the genre in the 2010s. So, from music's biggest names like Kendrick and Kanye to Odd Future glow-ups like Earl Sweatshirt and Tyler, The Creator, here are the best hip-hop albums of the decade, as voted by the Paste Staff. —Ellen Johnson & Paste Staff
I Can't Stop Thinking About Danielle Haim's Eye-Roll
Last week, HAIM shared the music video for poppy new single "Now I'm In It," which the band said in a tweet is about "going through it. a depression." Keeping with the tradition of pop music (this decade's, in particular), "Now I'm In It" chases the dark away with a dance-y tempo and candy-sweet melody. Following the equally great, Lou Reed-inspired single "Summer Girl," which does some really sexy stuff with a saxophone, "Now I'm In It" is pure, pop release. This excellent pair of songs has me more jazzed than ever for HAIM's LP3, what will be the follow-up to 2017's Something to Tell You. What's even more all-consuming than the thought of a supposedly imminent new HAIM album, however, is a particular moment in the "Now I'm In It" music video, which was directed by the band's frequent collaborator Paul Thomas Anderson. In the video, Danielle plays a hungover waitress who, before getting swept up by her sisters and thusly improving her mood, serves up more than just coffee and pie. Cut to 00:43 and you'll see what I mean. —Ellen Johnson
Huzzah! The first week of November is behind us, and that means some folks (not me) have been blasting Mariah Carey's "All I Want For Christmas Is You" for a full seven days now and are probably planning to deck their halls with holiday decorations this weekend (definitely not me), if they haven't already. Nothing against Christmas—I'm just here to fight on Thanksgiving's behalf. Since I'm shelving the carols for a few more weeks, that means I have even more time to dig for new music. Sound like you? 2020 is in sight and album releases are slowing significantly, but there are still plenty of jewels if you know where to look. For all the best new albums out today (Nov. 8), see here. There's a ton of great stuff out this week, including the long-awaited sophomore LP from FKA twigs and a new Mount Eerie project. —Ellen Johnson & Paste Staff