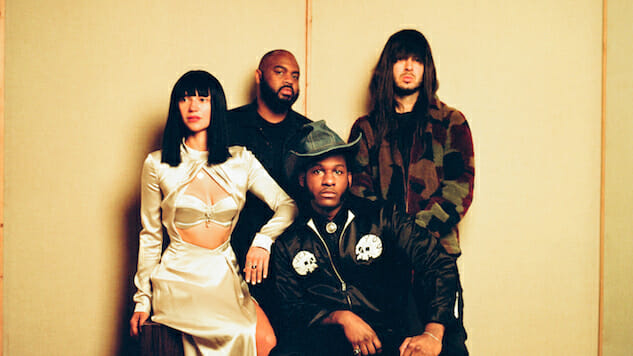 It's hard to think about music when our democracy is literally imploding before our very eyes, but we're here to let you know that music is one of the best (and healthiest) numbing agents available. You can tune out the nonsense with several exciting new releases, including the highly-anticipated collaboration from two of the Lone Star State's finest—Khruangbin and Leon Bridges—plus an unexpected new single from French pop luminary Christine and the Queens, which rivals her best work to date. If those haven't allowed you to fully transcend yet, there's also brand new music from Sharon Van Etten, Disq and HMLTD, plus two exciting Paste Studio performances from The Lone Bellow and AJJ. Take a break from your varying degrees of apathy and rage and allow yourself time to chill alongside the best new music of the week, as curated by the Paste music team.
BEST ALBUMS
Khruangbin & Leon Bridges: Texas Sun
Khruangbin and Leon Bridges' collaborative EP, Texas Sun, starts out taking it easy, then shifts gears and takes things slow, slower, then slower still. The four-track release is in no hurry to get where it's going, and it doesn't appear to have a destination in mind, either: Texan highways comprise the journey and the destination at the same time. Given that Texas is large enough to be broken down into five microstates with their own unique identities, Texas Sun's conception of the road trip as a harbor unto itself makes sense. This isn't Bridges' first time working with Khruangbin, of course; the band opened for him on tour back in 2018, so their complementary power is a known quantity. But it is the first time that they've actually made music together, and that's a whole new layer of partnership. For all of its unimpeachable Khruangbin-ness, Texas Sun is the Bridges project Coming Home's fans probably anticipated from his sophomore outing. —Andy Crump
HMLTD: West of Eden
London five-piece HMLTD were all the rage in 2017. The release of thrilling, oddball punk singles like "To The Door" and "Satan, Luella, And I" prompted media buzz, led to outrageous, over-the-top sold-out shows and even landed them a major label record deal. But as recently reported by the NME, their deal with Sony soured after wasting hundreds of thousands of dollars recording material that never saw the light of day and after realizing that the label wasn't interested in allowing them to have full creative control. Four years since the band first emerged, we've finally received their debut full-length West of Eden, and although their initial media hype has deflated, their off-the-wall personalities and dramatic vision can still be found here. For one thing, those two aforementioned singles that shook the U.K. music scene found their way on to the tracklist. Elsewhere, there are traces of anime pop ("Why?"), Britpop ("Blank Slate"), synth-punk ("149") and theatrical acoustic pop ("War is Looming"), but their mystifying arrangements and devotion to artistry underpins each track. There's a high bar to entry here both musically and lyrically. West of Eden attempts to "incite conversation about proposed new visions of masculinity, the decadence of western capitalism and the violence of insecurity and repression," and whether or not they've bit off more than they can chew is a fair question, but this will surely go down as one of the most thought-provoking releases of the year. —Lizzie Manno
BEST TRACKS
Christine and the Queens: "People, I've been sad"
People, Christine and the Queens is back with a new single. The track, "People, I've been sad," was released this week along with a COLORS live session. The French singer-songwriter-producer announced the unexpected release—which mixes French and English lyrics—on her Twitter the day before; it appears to be a standalone single. "People, I've been sad" comes two years after 2018 album Chris (also the singer's less-formal title) and its supporting world tour. —Katy Mayfield
Sharon Van Etten: "Beaten Down"
Indie-folk singer-songwriter Sharon Van Etten has followed up her 2019 album Remind Me Tomorrow with new single "Beaten Down." "'Beaten Down' is about love, patience and empathy," Van Etten says. "It's about making life-changing choices and remaining strong enough to see them through." The John Congleton-produced track, released this week, was accompanied by a psychedelic, desert-set video directed by Nicky and Juliana Giraffe. —Katy Mayfield
Disq: "Loneliness"
Madison band Disq have shared the latest single from their debut album Collector, out on March 6 via Saddle Creek. Sometimes roasting yourself is the only way to feel better, and "Loneliness" attempts just that. Lead singer Isaac deBroux-Slone pines for his significant other and leans into his misery rather than drowning in it: "All I wanted was some loneliness / Used to think I don't have time for this / But now it's all I wanna do." Disq have proven to be shrewd guitar-wielders, and this chiming riff will climb into your brain and set up shop. As for the video, file this under angsty ski lodge-core. The coool-directed clip sees the band snowmobile to a Boomer-filled, taxidermy-covered bar, and as they tear into the song, the power gets cut. —Lizzie Manno
BEST PERFORMANCES
The Lone Bellow
Today (Feb. 7), Brooklyn-based Americana trio The Lone Bellow released their fourth studio album Half Moon Light via Dualtone Records. The band performed four songs from their Aaron Dessner-produced album in our Manhattan studio: "Good Times," "August," "Just Enough to Get By" and "Count On Me."
AJJ
Phoenix folk-punk outfit AJJ celebrated their 15th year as a band in 2020 with a brand new album, Good Luck Everybody. The band stopped by our Atlanta studio to perform two selections from their new album—"Body Terror Song" and "Feedbag"—plus "Kokopelli Face Tattoo" from 2014's Christmas Island.
FEATURES
Miss Americana Grapples With Taylor Swift's Definition of Goodness
I remember the first time I heard a Taylor Swift song, and if you're also a millennial or Gen Z-er, chances are you do, too. I was 10, maybe 11, hanging at my friend Erin's house, which was two doors down from mine. She whipped out a fluorescent blue iPod Nano before passing me an earbud and cranking up "Our Song," which Swift performed for her freshman year talent show and released a few years later in 2006. Taylor Swift is a tall memory in many of our childhoods. Over the last 15 years, she became the youngest person in history to win the Grammy award for Album of the Year (twice), achieved hit after hit and eventually became one of the biggest—if not the biggest—pop stars in the world. In Swift's new Netflix documentary Miss Americana, she recognizes, with an almost maternal gesture, this relationship to her listeners. —Ellen Johnson
15 Artists Who Should Perform at the Super Bowl
Though it wasn't for a few years in the mid/late-2000s, the Super Bowl halftime show has long been some varying degree of a clusterfuck, an absurd pop culture free-for-all where the NFL not only books some of music's biggest stars, but three or four of them at the same time. Often times, the combinations don't make sense: Recently we saw Bruno Mars and Red Hot Chili Peppers, Maroon 5 and Travis Scott, Coldplay and Beyoncé. Hell, when I went to the Super Bowl in 2003—and unfortunately saw my Oakland (R.I.P.) Raiders get absolutely demolished—the league somehow smushed Shania Twain, No Doubt and Sting together into a compact 12-minute show. It was entirely representative of what the Super Bowl halftime show has become over the past 20 years or so: ADD-addled romps through unrelated hits filled with as many pyrotechnics as literally possible. This year's performers, Jennifer Lopez and Shakira, will surely be one of the better ones in recent memory, but that doesn't mean the NFL won't find a way to blow it next year. The Super Bowl halftime show is one of the biggest stages—if not the biggest—in all of music, an honor for the biggest pop stars of the day willing to take on the challenge (and suppress their morals and work with the same organization that destroyed Colin Kaepernick's career and hid studies about CTE). Here are 15 artists that we think should be in contention for the gig in 2021 and beyond. —Lizzie Manno, Ellen Johnson & Steven Edelstone
After Magnificent Super Bowl Halftime Show, It Was J-Lo's Year After All
Jennifer Lopez has always been a special kind of triple-threat force, the kind we so rarely see in show business anymore. She's a dancer, a singer and an actress, and she's a top-notch performer in all three areas. However, until recently, it seemed she may never get her due credit in the acting category. While she's never won, she's been nominated at the Grammys twice (though the infamous Versace dress was enough to write her into Recording Academy history for life), but she's never been acknowledged by the Oscars—not even once. This was supposed to be her year. At 50-years-old, Lopez played the electric Ramona, a savvy stripper with some questionable business methods, in Lorene Scafaria's Hustlers, a fantastic summer film that was snubbed by the Oscars entirely. With months of intense training, Lopez perfected the art—and the sport—of the pole dance, which she put on gorgeous display in the film. She surely has permanent scars on her feet from high-heeled blisters. She portrayed a perfectly imperfect woman, one who was doomed by her own drive. She asked us to step into her fur. It was easily one of the most brilliant acting performances of Lopez's career, but Hustlers hopefuls were ultimately left dissapointed when this year's Oscar nominations were revealed. So 2019, after all, will not go down as Lopez's year. Except that it will: At Sunday night's Super Bowl in Miami, Lopez, along with global pop sensation and dance master Shakira, delivered the performance of a lifetime, and it was important for so many reasons. —Ellen Johnson
The 40 Best Songs to Sing in the Shower
First, a few questions: Do you shower in the morning, or at night? Do you shampoo and condition, or do you just shampoo (if you're the second option, I'm jealous)? Are you a bar soap kind-of-person or a body wash kind-of-person? Loofa or wash cloth? Legs shaved or unshaved? That's a lot of decisions to make just in order to get clean. Don't let the music you listen to (or the songs you sing) in the shower be yet another you have to make before you turn up the steam. Just sing what you feel, man. Shower time is your time. Maybe you don't listen to music or sing in the shower at all, and to that I say "Why, oh why not?" as well as "But your days could be so much happier if you did!" My point is, listening to music in the shower is a simple pleasure. If you're not doing it, you're missing out. However, you're not likely to find me grooving to experimental jazz or bizarre post-punk on the tile—some music is just made to be sung like nobody's watching, and some is not. So, here, we present to you a list of songs that are absolutely perfect for bathtime listening and belting. Alternatively, this would make for a killer workout playlist (just saying!). Now go wait for the water to heat up. Don't forget to wash behind your ears. —Ellen Johnson
The 10 Albums We're Most Excited About in February
February is the shortest month of the year, but this year is a leap year, which means we get an extra day of February goodness (or an extra day of icy, wet misery, depending on where you live)! One extra day this year means an extra day for listening to new music. This month we're anticipating a collaborative EP from a group of Texas musical titans, some heartfelt indie rock from a rising new Chicago band, the much-anticipated new album from some psych-rock staples and more. Read on for all the albums we're most excited about in February. —Paste Staff