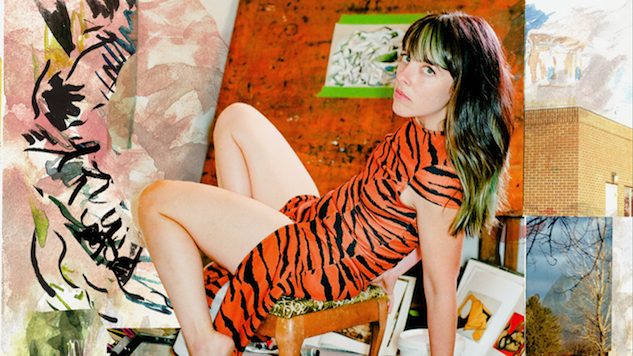 As we get closer to the end of the year, we're expecting the amount of great new music to dwindle, but luckily it hasn't happened just yet. We're approaching the end of another week (and month), and we're still ecstatic to share everything that we've had on blast for the past seven days—namely the quicksilver debut single from Hop Along lead singer Frances Quinlan, the dreamy new album from Cigarettes After Sex and the absurd second LP from Dutch rockers Iguana Death Cult. In case you still don't have enough tunes to satisfy your music thirst, the Paste Staff has your back. Earlier this week, we ranked the 100 best songs of the 2010s, and its accompanying Spotify playlist has been in regular rotation on the speakers of the Paste HQ. Scroll down for your weekly recap of all things awesome in the music world.
BEST ALBUMS
Iguana Death Cult: Nude Casino
Dutch five-piece Iguana Death Cult have returned with even more hopped-up absurdity than before. Their new album Nude Casino, which follows their 2017 self-released debut album The First Stirrings of Hideous Insect Life, is a quest to wriggle out of life's bitter clutches with the maximum possible levels of fun and debauchery. While their debut mixed speedy garage punk with steady psych and adroit post-punk, Nude Casino sees them embrace their funkier side—they even dip their toes into New Wave and disco. "Carnal Beat Machine" is a disco punk number for the ages, and "Half Frysian" is a krautrock meets Talking Heads ripper—musically saucy and lyrically anxious. While the album masquerades as a dancefloor filler and moshpit starter, their lyrics are bursting at the seams. Frontman Jeroen Reek presents himself as a neurotic mess, and Nude Casino is his wide array of responses to such neuroses—total breakdown, wild nights out, wacky dreams, seclusion and even imagining himself in liquid form. Nude Casino may be full of surreal imagery, but the album's mercurial happenings couldn't be more realistic. —Lizzie Manno
Cigarettes After Sex: Cry
Cigarettes After Sex made a hushed and sensual splash with their 2017 self-titled debut, and the Greg Gonzalez-led indie-pop project are returning with a second record, Cry, out now on Partisan Records. The band recorded Cry during nighttime sessions at a mansion on the Mediterranean island of Mallorca, with Gonzalez self-producing and engineering the album, and Craig Silvey (Arcade Fire, Yeah Yeah Yeahs) mixing it. "The sound of this record is completely tied to the location for me," says Gonzalez. "Ultimately, I view this record as a film. It was shot in this stunning, exotic location, and it stitches all these different characters and scenes together, but in the end is really about romance, beauty & sexuality. It's a very personal telling of what those things mean to me." —Scott Russell
BEST TRACKS
Frances Quinlan: "Rare Thing"
Frances Quinlan has one of the most instantly recognizable voices in indie rock. As the lead singer of Philadelphia band Hop Along, she's been at the front of two of this decade's best rock albums, 2014's Painted Shut and 2018's Bark Your Head Off, Dog. Hop Along originally began as Quinlan's solo project, but this week she's announcing her first-ever solo album under her own name, Likewise (out Jan. 31, 2020, on Saddle Creek). The first single, "Rare Thing," is a real stunner and surely a harbinger of things to come. "Rare Thing" ropes in a host of new instruments that we maybe haven't heard previously on a Hop Along release—synths, jammy keyboards, a harp, bouncy electro-beats. The song was written after a dream Quinlan had about her then-infant niece, per a press release, but it could really be about anybody's journey to letting new love in. —Ellen Johnson
Squirrel Flower: "Red Shoulder"
Squirrel Flower—the musical project of indie-rock songwriter Ella O'Connor Williams—has announced her debut record on Polyvinyl, I Was Born Swimming, out in January of next year. The first single released off the project is "Red Shoulder," which arrives with a shimmering music video as bright as the song it accompanies. "Red Shoulder" opens with a muddy guitar riff that recedes under Williams' impassioned voice. "I reach back and fall down," she sings before the track explodes into a huge, fuzzed-out riff. This cohesive playing comes from Williams' decision to record these songs live, with few overdubbed elements. The result is a raw sound that avoids the sterility of excessive production techniques. —Hayden Goodridge
Destroyer: "Crimson Tide"
Indie-rock's modern crooners, Destroyer, have released the anthemic lead single "Crimson Tide" from their forthcoming album, Have We Met. The song is rife with singer Dan Bejar's elegant ramblings and comes with a surrealist music video that's as invigorating as the song itself. "Crimson Tide" is Destroyer's first release since 2017's Ken but shows the outfit continuing down the electronic tone their past record set. It opens with a deep bass line and choral synths, setting the stage for Bejar's lyrical waltz. In his trademark stream-of-consciousness delivery, he delivers witty quips—odd as they are charming. He sounds delightfully disheveled as he sings, "When lightning strikes twice the funeral goes completely insane." —Hayden Goodridge
THE PASTE PODCAST
The Paste Podcast #29: Disgraceland Host Jake Brennan, Noah Gundersen
The Paste Podcast is hosted by Paste co-founder and editor-in-chief Josh Jackson. The weekly podcast covers music, movies, TV and everything else you can find at PasteMagazine.com.
This week, Disgraceland podcast host and author Jake Brennan dishes on the seedier side of rock 'n' roll history, Noah Gunderson plays us a song, and Scott Russell delivers everything we know about Christopher Nolan's upcoming film, Tenet.
Listen below, or better yet, download on iTunes, Google Play, Stitcher, Spotify or the new app from our podcast partner Himalaya, and subscribe!
BEST PERFORMANCES
Ruston Kelly
It started off as a joke, a fan term for Ruston Kelly's tar-tinged country songs. But then Dirt Emo became real (or as real as this t-shirt, anyways) and Kelly dubbed it his "official genre." Now the emo-obsessed singer is taking Dirt Emo to the next level with Dirt Emo Vol. 1, a collection of cover songs, including some that are characteristically emo (My Chemical Romance's "Helena" and Dashboard Confessional's "Screaming Infidelities," which will actually feature DC frontman Chris Carrabba) and also songs that are just emotional in nature (Taylor Swift's "All Too Well," certified emotional banger). Kelly stopped by the Paste Studio to perform three songs from the aforementioned release: Blink-182's "Dammit," Taylor Swift's "All Too Well" and Saves the Day's "At Your Funeral." —Ellen Johnson
Jacob Collier
Jacob Collier is what you'd consider a musical phenom. The 24-year-old has already won two Grammy Awards, performed a Tiny Desk Concert and worked with artists like Quincy Jones, Chris Martin, Charlie Puth, Tori Kelly, David Crosby, Kimbra, Daniel Caesar and many more. Collier recently released the first two parts of his four-album "expedition," which is titled Djesse and saw him travel the world "though the history of sound and style." Djesse – Volume 2 is out now via Decca/Geffen and features collaborators like JoJo, Lianne La Havas, Oumou Sangaré, Chris Thile, Sam Amidon, Steve Vai, Kathryn Tickell, Becca Stevens and MARO. Collier visited the Paste Studio to perform a number of tunes from his already illustrious career, plus a Sting cover: "Sky Above," "Hideaway" and "Fields of Gold." —Lizzie Manno
FEATURES
Reckoning with the Ethics of the Ever-Unfurling Prince Vault
Last Friday (Oct. 18), Prince's estate surprise-dropped an acoustic demo of a 20-year-old Prince singing a sparse version of "I Feel For You," the song Chaka Khan would later turn into a comeback hit in 1984. The recording was lifted from a cassette tape found in the singer's massive archives and—as the estate is quick to point out—is available for purchase for $15.00 on their website, on purple vinyl, no less. Is the recording good? Undoubtedly. The cassette was made in the winter of 1978-79, the same year Prince's debut album came out, and even on the stripped-down recording, it's startling to hear how fully fledged Prince's vocal patterns and musical talents were. The demo stands just fine on its own, with or without Stevie Wonder's harmonica solo. What's less clear? Whether we should have access to this recording, an early unfinished work by a notoriously private artist, at all. —Katie Cameron
The 100 Best Songs of the 2010s
We already tallied up the 100 best albums of the 2010s. That in itself was a gigantic feat, a product of dozens of writers voting, compiling and re-listening to hundreds of albums. When it was time to choose the best songs of the decade, it felt like an even bigger task. It's not as simple as looking at the albums list and deriving tunes from therein—the decade's best songs are from all over the place, EPs and singles and albums and SoundCloud uploads alike. Some of these songs are certified hits and chart-toppers, while others may be entirely new to you. But, as ever, lists like this one serve one main purpose: to share the music we loved the past 10 years, in the hopes you might love it, too. These are the songs that got us through the decade, that filled our playlists and soundtracked our road trips. From hip-hop and pop to rock and country, here are the best songs of the 2010s, as voted by the Paste Staff. —Paste Staff
The Curmudgeon: Taylor Swift and the Path of Bruce Springsteen
On the song "London Boy" from her new album, Lover, Taylor Swift reassures her listeners that even though she's dating the British actor Joe Alwyn, she still loves America. To prove her point, she lists some favorite things about her homeland: Tennessee whiskey and faded jeans, "And you know I love Springsteen," she sings. While the pop anthems of Swift's past three albums inhabit a different sonic world than Bruce Springsteen's rootsy rock 'n' roll, there are undeniable parallels between them. Both are obviously very smart—as you can tell from both their well-crafted lyrics and self-analyzing interviews—even though neither finished a semester of college. And both made their reputations by creating a teenage fantasy so vivid that millions wanted to live inside it. For Springsteen, it was the working-class, male-adolescent fantasy of hanging out with friends on streets where loud cars and louder bands might spark an adventure at any moment. For Swift, it was the middle-class, adolescent dream of hanging out with friends in pastel bedrooms where discussions of big crushes and bigger heartbreaks might spark a bond. This was reflected not only in the lyrics but also in the music, which reinforced each self-contained domain. For Springsteen, it was the pop music of the previous generation: Bob Dylan and the Four Tops, Van Morrison and the Animals. For Swift, it was the music of her own time, at first the pop-country of Tim McGraw and Shania Twain, and later, the pop-R&B of Britney Spears and Beyoncé. In each case, the singer acted as if his or her sphere was the whole world. —Geoffrey Himes
The 30 Best Country Albums of the 2010s
Paste has long heralded great storytellers. That's why back in 2006, in the midst of another decade entirely, we constructed a list of the 100 best songwriters alive. Several men and women on that list, including Jason Isbell, Gillian Welch and John Prine, appear on this list, too. And that's no accident. Country music is and has always been about telling and preserving the real stories of everyday people, which is why when we started discussing our favorite country records of the 2010s, a lot of these familiar storytellers kept popping back up. While stories are a vital part of the country genre, the sound specifications are a little blurry. This list will likely share some crossover with our forthcoming Americana and folk lists, and that's OK—roots music is the umbrella that covers all of these musical styles. But we tried our best to confine this list to traditional country works, which is why artists we love like Brandi Carlile and The Civil Wars don't appear here. We also restricted each artist to no more than two albums, which is why favorites like Jason Isbell's Something More Than Free and Kacey Musgraves' Pageant Material didn't make the cut. Without further ado, please enjoy this list of the decade's best country albums, as voted by the Paste staff. —Paste Staff
15 Bands to See at Iceland Airwaves 2019
Reykjavík's annual Iceland Airwaves is one of the world's best music showcasing festivals, and one of our favorite music festivals, period. Their expertly-curated lineups feature ample Icelandic talent, rising international newcomers and big-name artists, and this year's lineup is another impressive offering. The 2019 edition will feature 130 bands from 20 countries, and it's the second consecutive year they've achieved a 50/50 artist gender balance. Notable artists playing this year include Of Monsters And Men, John Grant, Whitney and Mac DeMarco. The shows are spread out across the city's music venues and are in easy walking distance, and you might even want to supplement your experience with some of Iceland's famously relaxing outdoor excursions. Our 2016 Iceland Airwaves travel guide recommended The Blue Lagoon geothermal spa, Mountain Guides' Walk on the Ice Side glacier tour and The Northern Lights Mystery Tour. Icelandair offers travel packages to Iceland Airwaves from all over North America and Europe, so if you're a music fan looking for an unconventional, progressive festival experience in a uniquely beautiful location, you should check out their all-encompassing festival packages here. Paste has covered Iceland Airwaves four times previously (as early as 2005) and will be in attendance for this year's festivities, which take place Nov. 6-9. Stay tuned for social media coverage and a full recap, but in the meantime, check out 15 artists we're hyped to see at this year's festival. —Lizzie Manno