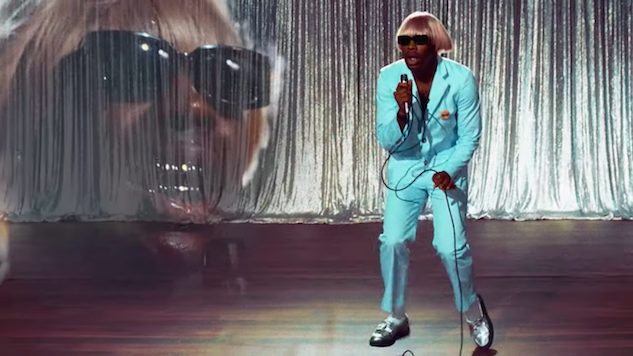 Things really started to heat up this week. We're talking about the weather, of course (warm temperatures are finally upon us!), but there was also a fiery stroke of hot new music. We caught the hots for Houston rapper Megan Thee Stallion's new album Fever and played Tyler, The Creator's IGOR (and that unforgettable "EARFQUAKE" video) on repeat. Today we're also spinning new albums by Faye Webster, Mavis Staples, Cate Le Bon and more while winding down for the long weekend. Read on for all the best new music from this week.
BEST ALBUMS
Faye Webster: Atlanta Millionaires Club
If she prefers to stay inside, then Webster makes music for her own kind: With all its droopy pedal steel, unhurried funk and a breezy island air that could sub in for your AC, Atlanta Millionaires Club is the perfect summer album for indoors-y types. Drawing on both her Americana roots and the bendy R&B of artists like Aaliyah (one of her cited inspirations), Webster creates a dramaticized retelling of romantic shortcomings that sounds like the sun crying. After her debut album Run and Tell and high school, Webster did what any aspiring songwriter would: moved to Nashville. There, she studied songwriting at Belmont University before trying out graphic design, but when she found herself jonesing for a trip home every other weekend, decided to abandon collegiate life altogether and made plans to return to Atlanta, where she has since stayed put. Since then she's spent considerable time photographing various ATL stars like Offset and Lil Yachty. Webster released her second, self-titled album after college, which contains her first Spotify hit, the groovy "She Won't Go Away," a hazy country dream. But dreamier still is Webster's third solo LP, Atlanta Millionaires Club, a steamy brush with R&B flourished with lots of twang and retro grooves. It's weird and sleepy and full of droll one-liners like "I should get out more," the chorus from "Room Temperature." —Ellen Johnson
Tyler, the Creator: IGOR
On "IGOR'S THEME," the opening track on Tyler's highly anticipated follow-up to Flower Boy, he shows that even with the heightened expectations, he can still surprise us. Relying on heavy, ominous low synth tones and complex percussion—a combination that's featured prominently throughout the album—the mainly instrumental song is a bit of a change-up from his past work, essentially combining the best aspects of Cherry Bomb with the emotionality and relative absence of Tyler's rapping presence on Flower Boy to create a hangover record of sorts from the flamboyance of his last record. Perhaps the Yeezus to Flower Boy's My Beautiful Dark Twisted Fantasy, he continues to push the themes of loneliness and his inability to be fully loved found on his previous record, only this time largely twisting the knobs in a louder and darker direction. IGOR hits its stride when it embraces heavier, more menacing instrumentals, particularly on "NEW MAGIC WAND," which features a beat change that ranks as one of the best of the decade, rivaling that of Kendrick Lamar's frenzied conclusion to "DNA." It's one of the more traditional-leaning rap moments on the album (Tyler warned us to not "go into this expecting a rap album"), but some of the best tracks on IGOR are when he does give into these tendencies. The slowthai-aided "WHAT'S GOOD" largely follows suit, proving that he can make hard-hitting hip-hop better than almost anyone else. —Steven Edelstone
BEST TRACKS
Steve Lacy: "Playground"
"Playground," a last-minute single from Steve Lacy's debut album Apollo XXI (out now on AWAL), is a springy funk number that tries to weld together jangle pop with a very, very obvious Prince influence. The Internet guitarist told Zane Lowe on Apple Music's Beats 1 Tuesday that "Playground" was in the ballpark of his Prince and Dirty Projectors phases, and those influences are made loud and clear during the chorus, where Lacy allows his higher vocal register to run wild and converge with a warped bass line. —Savannah Sicurella
Jesca Hoop: "Red White and Black"
On "Red White and Black," Jesca Hoop channels Kate Bush with vast, layered vocals as she sings in an eerie replay, "Take him by the hand to the river / lead him by the hand into the water." The video, which also stars stuntwoman Alyma Dorsey, finds Hoop playing witness to ongoing combat between masked fighters. Rather than immediately engage in the action, Hoop picks up a guitar—only later does she wield it as an actual weapon. The song itself remembers a battle of another kind, as Hoop explains, "'Red White and Black'" is a poem, like a snapshot, set in post civil war USA when slavery was "abolished" and swiftly rebranded by the prison system. It's a personal acknowledgement and willingness to join the conversation for change." —Ellen Johnson
Miya Folick: "Malibu Barbie"
The first taste of new music since her 2018 debut Premonitions, "Malibu Barbie" sees Miya Folick exploring what it means to be a woman, and how it's ultimately "a longing for an ideal." The song is ethereal with its minimalistic approach and dreamy synths. Folick's vocals captivate listeners with her smooth tone and occasional whispered lyrics. "Malibu Barbie" not only is a fitting venture after Premonitions, but also sees the rising pop star taking her sound even further. —Molly Schramm
THE PASTE PODCAST
Comedian Nate Bargatze is our special guest for the 10th episode of The Paste Podcast. He joins Paste's Annie Black at the Kaboo Festival in Arlington, Texas, to discuss his new Netflix special. Podcast host Josh Jackson and Shane Ryan discuss the final season of a little show called Game of Thrones, because we figured no other podcast would. And we also have a special acoustic performance from Paste's Best New Band of 2018, The Beths, all the way from New Zealand.
Listen below, or better yet, download on iTunes, Google Play, Stitcher, Spotify or the new app from our podcast partner Himalaya, and subscribe!
BEST PERFORMANCES
Acclaimed bluegrass guitarist and singer/songwriter Molly Tuttle released her debut full-length album, When You're Ready, last month on Compass Records. It's exceedingly bright, honest and energetic and features artists like Jason Isbell, Rachel Baiman and Sierra Hull (Tuttle's childhood friend who she's been collaborating with for years). Tuttle may have gotten her start in bluegrass and roots circles, avenues where she's still wholeheartedly embraced, but When You're Ready is a sonic leap forward—Tuttle tries on both pop and rock sounds throughout. Tuttle visited the Paste Studio on Monday where she treated her internet audience to four songs from the record: driving roots number "Take The Journey," the suspenseful "Messed With My Mind," the melancholic and melodic "Sleepwalking" and "Light Came In (Power Went Out)," undoubtedly the album's centerpiece and one of the most beautiful folk-pop blends in Tuttle's catalogue. —Ellen Johnson
Justin Townes Earle
Country/folk stalwart Justin Townes Earle is back with a new album, The Saint Of Lost Causes (out now on New West Records), and though it's rather downtrodden in name and content, it contains some of the musician's finest songwriting yet. He stopped by the studio on Tuesday to play three tunes from the record: the title track, "Flint City Shake It" and "Frightened By The Sound."
FEATURES
10 Great Country and Americana Albums Released So Far in 2019
It's nearly June, and any hope that 2019 would prove less brutal than 2018 has been chucked out the window along with women's rights, Grumpy Cat and all your favorite CW shows. It's lucky, then, that 2019 has delivered unto us a heavenly haul of great new music, especially in the sphere of country, folk, roots and Americana (whatever that means these days). Following Billboard's withdrawal of Lil Nas' country trap hit "Old Town Road" (still the number one song in America—ask any youth you see passing by on horse or otherwise) from the country charts, the genre has been in the midst of a Southern Baptist sermon-sized reckoning. The very definition of country music is at stake, and while high-ranking industry jocks will have to sort out what that means for the business, the root of the genre remains the same to its makers and its listeners, be them rappers or rockers: Country songs are about real people, real struggles and real sadness. Like any and every category of music, it has undergone changes and will continue to do so. Below is a roundup of artists making country and Americana music for a 2019 audience. We hope whether you're historically a fan of the genre or not, you'll find something here that sparks some joy in your heart and mind—this year often feels like a whirlwind of ridiculousness, so we have to seek it out wherever we can. More great music will certainly arrive before December, but here are 10 great country, roots and Americana records released so far in 2019, listed in alphabetical order by artist. —Ellen Johnson
The 10 Best Acts We Saw At KAABOO Texas
KAABOO Texas took place May 11-13 at AT&T Stadium in Arlington, Texas, and while the first-time festival certainly had its problems, there were several artists and comedians worth seeing. As far as music goes, the lineup included genres spanning from rap to blues to new wave, and in comedy, both longtime stand-up pros and promising newcomers took the stage. Here are the 10 best acts we saw in music and comedy at KAABOO Texas. —Annie Black
Sarah Mary Chadwick Finds New Musical Strengths Using A Century-Old Pipe Organ
Sarah Mary Chadwick's artistic output has been an ideal combination of quality and quantity. The New Zealander cranks out paintings and drawings at an impressive clip, hurrying the ideas onto the canvas before she can overthink them. The same goes for her music. Whether for her former band Batrider or her solo work, she whips together dozens of songs for each album, winnowing them down and chucking the less exciting material until she has something solid and cohesive to record and release. She didn't have such luxuries when she received a commission to write a suite of songs using only the 147-year-old pipe organ installed in Melbourne Town Hall in her current hometown of Melbourne, Australia. With only three months to complete the project, she didn't allow herself to play around with the nearly infinite sonic combinations at her hands and feet with this massive instrument. She had to focus in and make every note and moment count. What that yielded was The Queen Who Stole The Sky, a stunning collection, recorded live, that finds Chadwick leaning into the natural creak of her voice and the dynamic wails she can reach as a counterbalance to the stentorian sounds of the pipe organ. Paste caught up with Chadwick over a Skype call to talk about working with this mighty instrument and what she needed to do to make it her own. —Robert Ham
Faye Webster Made the Album You'll Be Swaying to All Summer Long
I meet Faye Webster outside Carroll Street Cafe, a diner just a few blocks from her home in Atlanta's Cabbagetown neighborhood. It's a very warm, sunny day in May, Braves season is finally in full swing, and Webster is dressed appropriately for both occasions in her signature visor and a vintage t-shirt bearing her favorite baseball team's logo. The singer/songwriter is fresh off a tour with folk-rockers Lord Huron and taking some down time before the next venture: the arrival of her third solo LP and Secretly Canadian debut, Atlanta Millionaires Club, and another round of coinciding dates. This all follows another tour with like-minded Aussie songwriter Stella Donnelly, so the 21-year-old musician is eager for some hard-won time at home. "When I'm not touring, I don't leave my house much," Webster says. "But that's because there's everything I need within like four streets." If she prefers to stay inside, then Webster makes music for her own kind: With all its droopy pedal steel, unhurried funk and a breezy island air that could sub in for your AC, Atlanta Millionaires Club is the perfect summer album for indoors-y types. Drawing on both her Americana roots and the bendy R&B of artists like Aaliyah (one of her cited inspirations), Webster creates a dramaticized retelling of romantic shortcomings that sounds like the sun crying. —Ellen Johnson
We're nearing the midway point of 2019, and the stack of stellar new albums and EPs continues to grow. This Friday (May 24), we're being treated to a wide range of new releases. Welsh singer/songwriter Cate Le Bon has reemerged with the release of her fifth album Reward. Alternative R&B artist and The Internet guitarist Steve Lacy just dropped his debut solo album Apollo XXI. Genre-hopping musician and rapper Flying Lotus released his star-studded new album, featuring Anderson .Paak, George Clinton, Solange, Toro Y Moi, Tierra Whack, Thundercat and Shabazz Palaces. Plus, we received new music from undisputed gospel legend Mavis Staples, former Wild Beasts frontman Hayden Thorpe and buzzy Atlanta singer/songwriter Faye Webster. Scroll down to sample 10 essential new albums from this week. —Paste Staff