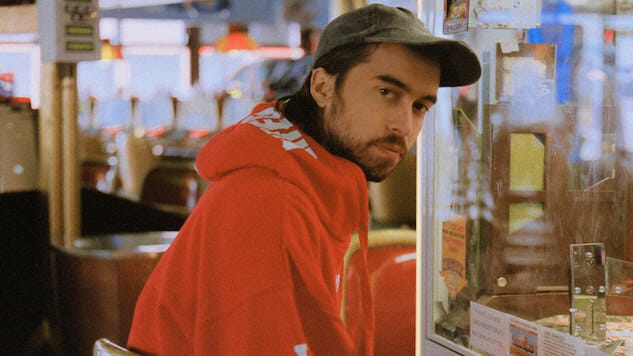 Fans of big-name indie rock had a really great week: Chicago "country-soul" duo Whitney announced the follow-up to their beloved 2016 debut Light Upon the Lake, Jay Som resurfaced after a long two years of us waiting for post-Everybody Works material and (Sandy) Alex G moved back into our hearts with a characteristically out-of-this-world single, "Gretel." Boston-based Palehound are back with LP3, and the buzzy Stef Chura teamed up with Car Seat Headrest's Will Toledo for what our critic calls "an indie record for the ages." Sign us up. Hear all that and more below.
BEST ALBUMS
Palehound: Black Friday
"And if you quit smoking / Will you just start drinking?" Ellen Kempner sings on "Company," the opening track of her band Palehound's third album, Black Friday, setting a tone of curiosity and concern about close friendships that drives the songs to follow. Singing these lines, Kempner doesn't sound like a narc or a buzzkill, but rather like the friend who's willing to call you on your BS and then dwell with you in the rejection, shame or embarrassment that self-awareness often produces. Black Friday floats inside these currents of love and risk that churn through relationships—especially platonic ones—which involve serious, prolonged leaning on other people. Throughout, the band explores how we move toward and away from people we care about, and how both orientations strain the resources we have available for love. Thanks in part to co-producer Gabe Wax (Soccer Mommy, Speedy Ortiz, Adrianne Lenker), it's tempting to compare Palehound's current sound to that of other whip-smart women and queer folks who are remaking rock for the 21st century. A band doesn't need to be truly distinct, however, to contribute mightily to a movement, and Kempner brings a candid mix of insecurity and strength to topics like complicated friendships ("Black Friday," "Bullshit"), self-acceptance ("Worthy"), and taking up physical space ("The City"). Ultimately, Black Friday is a constantly modulating love song to the very human experience of clinging to other people, but through her sharp writing, Kempner offers insight on how to rely on ourselves when everyone else leaves: "Nothing worth loving ever sticks around / But you." —Annie Galvin
Stef Chura: Midnight
Stef Chura sings "If only you can hear me scream" 10 full times on "Scream" before she, well, screams. Bizarrely, it's one of the few instances on Midnight, Chura's sophomore release and first full-length release on Saddle Creek, where she shows restraint, a fleeting respite for her vocal chords that take hit after hit throughout the entirety of the record's 43 minutes. Howling throughout with a confident vibrato, it's perhaps the most impressive raw vocal performance since Hop Along last put out an album, reminiscent at times of a young Karen O. A major step up from her 2017 debut Messes (which was reissued in 2018 by Saddle Creek), Midnight is the complete realization of the Detroit-based artist's solo project, chock full of perfectly fuzzed-out guitars on one of the best-recorded DIY-leaning records in quite some time. That's thanks in large part to Car Seat Headrest frontman Will Toledo, who helps mold Chura's songs into ones that sound like his own. "Scream" resembles the song structure of Teens of Denial's "Unforgiving Girl (She's Not An)," though potentially even exceeding it as Chura's guitar solo provides a fist-in-the-air moment before she brings the house down for one final chorus. Chura has been one of the more buzzed-about rising artists in the indie rock community for quite some time; Midnight more than delivers on that initial hype, surpassing virtually all expectations en route to becoming one of her genre's biggest breakouts. This an indie record for the ages, a wonderful listen where each song is completely essential to the project as a whole. Midnight is an incredible record, owing, but in no way indebted to her pitch perfect partnership with Toledo, one that's further catapulted by Chura's distinctive voice and extraordinary songwriting chops. —Steven Edelstone
BEST TRACKS
Jay Som: "Superbike"
It's been two years since Jay Som, aka Melina Duterte, 25, released her universally acclaimed studio debut Everybody Works, and much has changed, including her home base (then the Bay Area, now Los Angeles) and artistic process. "Superbike" itself is a sweeping dream-pop odyssey that paints from Jay Som's sonic palette, but does so on an expansive canvas: Stretching past all but one of Everybody Works' tracks in runtime, the single's lyrics—which find Duterte moving on, both literally and figuratively ("I pick up the superbike / Going 80 in the night / Said you wanted something else / Something new for show and tell")—fall away after its midpoint, shifting focus to the single's mournful strings, ghostly voices and a guitar solo that sounds like the earth shifting beneath your feet. —Scott Russell
(Sandy) Alex G: "Gretel"
"Gretel" is (Sandy) Alex G's (aka Alex Giannascoli) first new music since last year's one-off single "Fay." This new single is an amalgamation of Giannascoli's strengths—showing off both his penchant for melancholy, country-tinged acoustic ballads and his more experimental side with warped vocals, electronic percussion and freakish sonic whooshes. Giannascoli's heartwarming vocals yearn with brooding nostalgia as he sings, "I don't wanna go back / Nobody's gonna push me off track." —Lizzie Manno
Whitney: "Giving Up"
"Giving Up" is Whitney's new album's opener, a dynamic entreaty to an increasingly distant long-term lover. Soft cymbal taps and sparing, plucked guitar notes evoke the serene darkness just before the dawn, even before Julien Ehrlich's falsetto vocals crystallize that moment in words: "Waiting for the morning sun / Are you coming home, my love? / Tears are falling one by one / I can feel you giving up." A lilting bass line punches up the choruses, the second of which culminates in a false ending, as if the song itself were surrendering—horns break the silence and are soon joined by Kakacek's lively guitar, like the first fingers of sunlight reaching out over the horizon, suggesting brighter days to come. —Scott Russell
THE PASTE PODCAST
Topher Grace, HBO's Chernobyl & Tal Wilkenfeld
On the latest episode of The Paste Podcast, Topher Grace joins host Josh Jackson to talk about his upcoming film with Jon Stewart, playing David Duke in BlacKKKlansman and his new podcast, Minor Adventures with Topher Grace. Australian bassist and band leader Tal Wilkenfeld brings an eight-piece ensemble to the Paste Studio for an exclusive performance of "Haunted Love." And Paste's new TV editor Allison Keene makes her Paste Podcast debut to talk about HBO's chilling historical drama Chernobyl.
Listen below, or better yet, download on iTunes, Google Play, Stitcher, Spotify or the new app from our podcast partner Himalaya, and subscribe!
BEST PERFORMANCES
Tank and the Bangas
Lively New Orleans five-piece Tank and the Bangas recently shared their new album and sophomore release Green Balloon. The new record promises the same contagioius energy that made the group famous in 2013 with their debut Think Tank. A month after the Green Balloon took flight, the band appeared as an eight-piece in our studio for an ecstatic performance of album tracks "Lazy Daze," "Ants" and "Hot Air Balloons."
Ages and Ages
Pacific Northwest rockers Ages and Ages returned in April with their fourth album, Me You They We. Following their acclaimed 2016 release Something To Ruin, Me You They We was created over a drawn-out respite complete with weekly writing and recording sessions at frontman Rob Oberdorf's home, but the record itself expands upon the band's personal stories and stretches into the political. They performed three tracks from it in the Paste Studio this week: "Needle and Thread," "Nothing Serious" and "Hiding Out."
FEATURES
Record Time: New & Notable Vinyl Releases (May 2019)
Record Time is Paste's monthly column that takes a glimpse into the wide array of new vinyl releases that are currently flooding record stores around the world. Rather than run down every fresh bit of wax in the marketplace, we'll home in on special editions, reissues and unusual titles that come across our desk with an interest in discussing both the music and how it is pressed and presented. This month that includes a trio of reissues from Blue Note Records, a full-album cover of a dream-pop classic and some truly scary noises from a band with a controversial name. —Robert Ham
The 10 Albums We're Most Excited About in June
June 21 is creeping up on us, which means the days are getting longer, which really means you have even more daylight hours in which to soak up new music. As always, we've compiled our list of album releases we're excited about in the coming month. Among those for June are the return of an American icon, a healthy serving of Philly power-punk and the first solo effort by a beloved frontwoman. So slather on some sunscreen and find your new summer soundtrack right here. —Paste Staff
10 Essential Punk Albums From 2019 (So Far)
Purists can mourn the death of punk's "golden age" all they want and sneer at whatever the kids are listening to these days, but they can't claim great punk records aren't being released in 2019. Here you'll find 10 exceptional punk releases, each with their own spin on whatever punk means in this current era. Fans of noise-punk, garage-punk, pop-punk, hardcore-punk and more will rejoice at the wide variety of strains represented here: classic, thrashing, nihilistic, experimental, absurd and bubbly. Dive headfirst into 10 essential punk LPs from the first half of 2019, listed alphabetically by artist. —Lizzie Manno & Paste Staff
A Definitive Ranking of the Very Best Moments in Vampire Weekend's Father of the Bride
If such a decree is not already at large, I hereby declare Father of the Bride the official album of summer 2019. If you're still skeptical, just listen to it outside, maybe while eating a popsicle. Let Danielle Haim and a choir of children sing you down the aisle on "Hold You Now;" let the bendy "Bambina" rock you into a summer stupor. Let it be easy. It's light without being too flighty, thoughtful but not esoteric and chock full of tiny little musical treasures. Peel back what some have perceived to be a lyrical disaster, and Vampire Weekend's fourth full-length is an album of rewarding moments and juicy samples. A record that's roughly five songs too long and as many choruses too cheesy may not sound like the most enticing listen, but Ezra Koenig expertly spins even the shabbiest couplets into nuance—and he does it to the tune of pure sunshine. He adopted a passion for the Grateful Dead, intensified one for character studies and swapped boat shoes for Birkenstocks, and the result here is the rare album that not only works as picnic music but also makes for a fine conversation topic. Vampire Weekend proved their talent with a trio of excellent albums in 2008-2013. With this comeback, Koenig proves they're not going anywhere. Father of the Bride is also unapologetically corny as hell. Here are the best (or maybe just the most memorable) moments from the record, listed in order by weight of perceived cultural importance. —Ellen Johnson