The Week In Music: The Best Albums, Songs, Performances and More
Mourning David Berman, celebrating Marika Hackman and soaking up surprise jams from Bon Iver
Photo by Joost Vandebrug
Music
Features
The Week in Music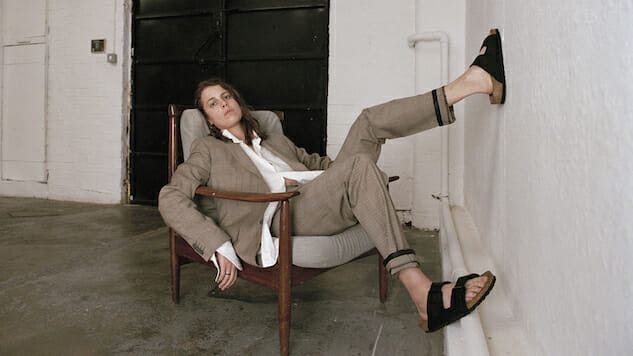 It was a very sad week for many rock fans with the passing of Silver Jews/Purple Mountains frontman David Berman, who unexpectedly died Wednesday at 52. Berman had just released his self-titled solo debut as Purple Mountains last month, which received widespread acclaim, including from us here at Paste. We're joined by legions of music fans mourning the loss of one of the best songwriters we had. On another note, folk-artist-turned-synth-rocker Marika Hackman released an excellent new album on Sub Pop, and emo supergroup Bad Heaven Ltd. made a daring new collaborative LP. We heard new tracks from Jay Som and Hovvdy, plus enjoyed sessions from Joseph and Chelou. Finally, Bon Iver surprised us and released their new album i,i early. Find the rest of the week's news and noteworthy releases below.
BEST ALBUMS
Marika Hackman: Any Human Friend
Female ownership of sexuality is nothing new, not since Madonna's cone bra or Salt-N-Pepa's declaration that their activities between the sheets are "None of Your Business." More often than not, these sex-positive declarations exist in purely heteronormative terms, with any lady-on-lady action fetishized for male pleasure (think Katy Perry's "I Kissed a Girl"). Times are happily a-changing, though, and Marika Hackman's latest LP, Any Human Friend, provides a hypnotizing case-in-point. Hackman, the folk artist turned synth-rock darling, cares only for the female gaze—the queer female gaze, that is, and more specifically, her own. This album—a treasure trove of zippy guitar hooks, glimmering synths and lemony vocals expertly curated by Hackman—is all about human connection. She hones in on her emotional and sexual connections both to herself and others post-breakup. The truths Hackman discovers along the way, illuminated by songs both inventive and entrancing, are enough to make anyone want to be her human friend (or, at least, a rabid fan). —Clare Martin
Bad Heaven Ltd.: strength
Very few emo revival albums, like Bad Heaven Ltd.'s strength, feature hopeful endings. Over the course of these 11 new tracks from the emo supergroup (made up of members from Snowing, The World Is A Beautiful Place & I Am No Longer Afraid To Die and Amanda X), lead singer John Galm frankly discusses mental health issues, financial collapse, the housing crisis and genuine feelings of loneliness over a mix of blown-out walls of guitar fuzz and slow, brooding soundscapes. At one point, he sings about only wanting to stay in bed. But in the waning seconds of album closer "forever," the unthinkable happens—Galm, formerly of Snowing, expresses some unfettered hope—and tepid happiness—perhaps the result of peeling back layer after layer of his personal despair and finally seeing a light at the end of the tunnel. "I just hope that you're in my life forever / I think every lucky star that you were born / Maybe later we can walk down by the water / Share a smoke and watch the current ramble on," Gant sings in a near-whisper over a simply strummed acoustic guitar and some fluttering strings. Maybe things aren't all terrible. Despite its less-than 30-minute runtime (and featuring only four songs over three minutes long), the record leaves quite the impression. Though strength's length may be more akin to an EP, its 11 songs pack quite a lot in, finding time for grand crescendos and virtuosic string arrangements of the Sparklehorse or American Football vein. —Steven Edelstone
BEST TRACKS
Hovvdy: "Cathedral"
Built around melancholic guitars and self-conscious vocals, "Cathedral" is a lilting groove that feels like having a series of existential realizations in the middle of a field. Hovvdy sing of finding your own spirituality and learning how to step outdoors in the face of anxiety: "Trust I'll calm down / Always do somehow / Open my door / Brighter than before / Outside, hide," they whisper, sunnily. —Harry Todd
Jay Som: "Nighttime Drive"
Jay Som mastermind Melina Duterte stars in the Han Hale-directed video as a weary traveling musician (a role she is well-equipped to play!) who, asleep in her band's touring van, dreams she's the leader of a group of suit-clad special agents on their way to investigate a mysterious, crop circle-esque pattern that has appeared in the wilderness. "Shifting through the nighttime drive / We'll be just fine," Duterte sings, her breathy vocals evoking the blurry state of being in between—sleep and waking, one city and another, late night and early morning—over gauzy guitars, playful bass plucks, and judiciously deployed piano and strings. Meanwhile, the video dives deeper and deeper into her imagination, ultimately uncovering the supernatural truth at the heart of the mystery. —Scott Russell
Jason Hawk Harris: "The Smoke and the Stars"
"The Smoke and the Stars" is like if the Drive-By Truckers had experimented more with strings and classical tones on Southern Rock Opera. It's a big, beautiful song that ranges from anthemic declarations of love (the resounding "Let me live in those green eyes of yours" is one of the most beautiful sentiments you'll hear in a love song this year) to Steve Earle-esque bottom-of-the-barrel drudgery ("I never fight / I don't know why it's been such a long time"). It's all packaged together with weepy pedal steel, a rocking piano and arena-sized acoustic crescendos that would've fit right in on the A Star is Born soundtrack. —Ellen Johnson
THE PASTE PODCAST
Keane Performs New Tracks and Old Hits on The Paste Podcast Episode 20
On the 20th episode of The Paste Podcast, Keane join us in the Paste Studio in New York to play a couple of songs from their upcoming album Cause and Effect (due out Sept. 20) plus a couple of classic hits.
Paste TV editor Allison Keene (no relation) also joins host Josh Jackson in the Paste Studio in Atlanta to break down the second season of HBO's Succession, the billionaire drama that's actually a brilliant acid comedy.
Listen below, or better yet, download on iTunes, Google Play, Stitcher, Spotify or the new app from our podcast partner Himalaya, and subscribe!
BEST PERFORMANCES
Sister trio Joseph stopped by the Paste Studio to play stripped-down versions from their new album: "Good Luck Kid," "Revolving Door," "Fighter" and "Without You." This is the third LP for the family of folk-pop singers—Natalie Schepman and her sisters Allison and Meegan Closner—who broke out in 2016 with fierce songs like "White Flag" and "Canyon." These new tunes are no less fierce, though. In fact, they're even fierier. "Fighter" is an uplifting stronghold. "Without You" is an uncertain trek into singlehood, but Joseph's harmonies make it sound empowered. And the title track is a refusal to back down, even in the face of impending adulthood anxieties and pressures. "It came from a moment," Closner said during the session. "I'm 32-years-old, and I just had this moment where I was like, "Oh, I'm the adult now? It's me? Oh wow ok, I guess here we are.' And this world is up to us. It's up to me." —Ellen Johnson
Chelou
London-based pop songsmith Chelou played three songs from his latest full-length Out of Sight in the Paste Studio this week, including the title track, plus one from his DIY record The Quiet. During the first self-produced track "Words to Share," Chelou admits he used a grinder as percussion. He closed with the title track from The Quiet, which features a sample from "In The Jungle."
FEATURES
25 Atlanta Indie Rock Bands You Need to Know in 2019
It's no secret Atlanta is one of the best music cities in the country. It's the hip-hop capital of the world, after all, but there are also pockets of thriving scenes all over the city ranging in genre. We took a deep dive into the indie scene, which is bursting with young acts making rock, experimental, pop, metal and just about everything else you can think of. This is a special edition of our ongoing city series (which has in the past featured places like Chicago, Philadelphia and Memphis) because Atlanta is home to the Paste HQ. It's also one of the largest cities in the South with an especially healthy music community, so while we couldn't get to all the bands we love, we hope you enjoy this sampler, which includes both young, on-the-rise bands and longtime local favorites (but not fully established exports like Deerhunter, Black Lips, etc.). Several of these acts also share members with neighboring Athens, a legendary music city that should have a list all its own. For now, enjoy these 25, and Chop On! —Annie Black, Ellen Johnson & Lizzie Manno

The 10 Albums We're Most Excited About in August
Back-to-school season is busy for the music industry, too. This month we're awaiting albums from indie icons like Sleater-Kinney as well as welcome releases from more recent favorites like Whitney, Marika Hackman and Jay Som, who made our favorite album of 2017. So pack up your towels, say goodbye to Hot Girl Summer and hunker down for Sad Boy Autumn. Here are all the records we can't wait to hear (or cry to) this month. Revisit our favorite music from July right here. —Paste Staff
The Best of the Forgotten Bands of Woodstock
Fifty years ago, 32 of the most famous and influential musicians of their time came together in Bethel, N.Y. for a weekend that changed music forever. Yes, it was rain-soaked and incredibly muddy. Yes, there weren't nearly enough bathrooms. But for the more than 400,000 attendees who showed up, Woodstock was the event of a lifetime, an instantly-iconic concert that defined what we now think of as "The Sixties." The festival's bill included some of the biggest names in rock and folk music history: Jimi Hendrix, The Who, Grateful Dead, Creedence Clearwater Revival, Janis Joplin, Joan Baez, Sly and the Family Stone, Jefferson Airplane and countless others. But for every major act at Woodstock, there were a handful that were relatively lost in the annals of music history, artists who never quite capitalized on the chance to play the most famous music festival of all time. Every festival needs an undercard, after all. With last Friday's release of Woodstock – Back To The Garden: The Definitive 50th Anniversary Archive, which features every single recorded moment from that weekend half a century ago, we decided to highlight those musicians who are largely forgotten 50 years later. Some may have burned out quickly while others maintained a successful career, but all can legitimately say that they too played Woodstock. —Ellen Johnson, Steven Edelstone & Lizzie Manno
The 2019 Newport Folk Festival in Photos
The Newport Folk Festival has become a Paste favorite over the years, ever since we took over part of the ruins of Fort Adams to record a series of Paste Sessions in 2012 and 2013 with everyone from Amanda Palmer and Beth Orton to Of Monsters and Men and First Aid Kit. This year we sent Paste Studio's Brad Wagner and Juan M Soria to photograph the festival and share some highlights. —Brad Wagner
Osheaga Festival 2019 Captured the Hearts of Gen Z and Millennials
For American music fans who are unfamiliar, Osheaga has been a hidden gem for over a decade. The annual, three-day Montréal event has been around since 2006, and it's one of the city's (and Canada's) premier music festivals, alongside Montréal Jazz Festival and POP Montréal. This year's Osheaga lineup was a musical microcosm of 2019. Pop, hip-hop, Latin and EDM music reigned supreme, as they have in every other corner of the music world. Lineups across North America have finally caught up with what mainstream listeners want, but fans who loved the traditionally indie rock-centric leanings of Osheaga probably didn't leave satisfied, unless they were also interested in adult contemporary acts like The Lumineers, City and Colour, Hozier or Kodaline. Osheaga organizers booked artists who the 18-25 demographic are obsessively streaming and making memes about, but they also tried to preserve the festivals roots. —Lizzie Manno