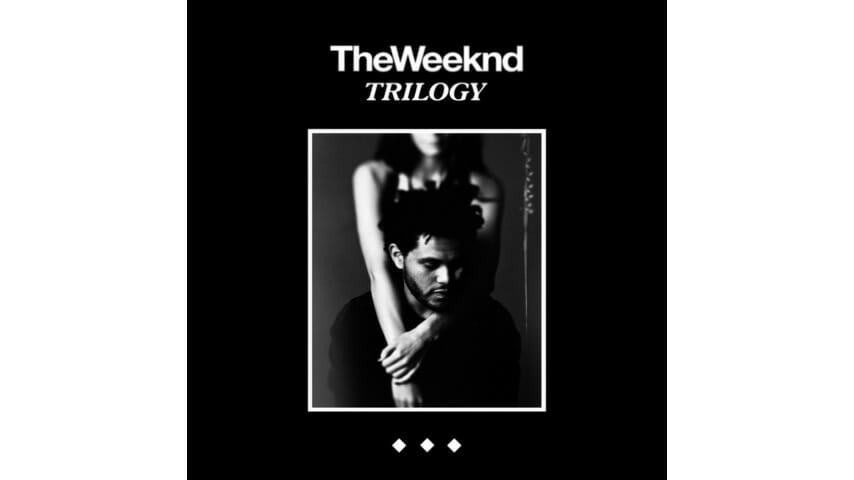 The Weeknd's cinematic grandeur has proved a blessing and may end up a curse, in part because we know how the movie ends. It was certainly unconventional to debut with three entire albums in one year, released as free downloads no less; what was conventional is that they weren't all that. Few artists this side of Prince or the Magnetic Fields could craft three quality hours of eartime in one artistic binge, much less a 22-year-old debuting with a flair for the morose and dramatic. But it would be naive to not credit his gift for surprise.
House of Balloons went from not existing to existing very suddenly, with a Drake endorsement on Twitter and little other inklings of where it came from or who made it. Brilliant move; it was like casting an unknown in a movie that defied preconceptions. Further given the fly-on-the-wall treatment by the incredible video for "What You Need," the anonymity added a creepy headlessness to ego trips like "High for This" and "The Party and the Afterparty," which attempted to liquefy a party's seediest moments into screwed-down beats and smooth MJ-esque vocals but freeze-dried and fogged them instead. It made the sexy moments just as easy to swallow as the closer with the chorus "I know everything."
Balloons wasn't the masterpiece it was made out to be—you know how people talk about R&B records that sample Beach House and Siouxsie—but it had the balls to create its own glassy-eyed universe with plenty of gauzy glue to get lost in. And its creator wouldn't remain anonymous for long. Enter Abel Tesfaye, whose ultra-gross follow-up appeared much quicker than any of his manipulative R&B predecessors; the most compelling chorus on the thing beckoned "don't make me make you fall in love with a nigga like me." Elsewhere it channeled goth-metal and gangbangs, with a too-long Drake feature for bad measure. Thursday it was called, which is one weeknd night too many.
Tesfaye's final surprise was "D.D.," off his triptych's final installment, Echoes of Silence. Turned out to be a cover of Michael Jackson's most puerile song, "Dirty Diana," though it might as well beat the original because we don't expect better of Tesfaye, who gets a gleeful new jolt from playing the villain that Thursday was lacking. Echoes is also more tuneful, and his most traditional R&B record of the set; even the dark parts ("you just want me cuz I'm next") are relatively normal fame-plaints. The soothing "Montreal" stands out at first, but the percolating center of "Initiation" and "Same Old Song" comprise the best revisit of the entire trilogy. Right, Trilogy. These free mixtapes that helped set the stage for R&B's dark and ambitious (and indie-friendly) new agenda are now a three-disc set you can buy from an actual label, and one might even have the chutzpah to call the three-disc monstrosity Tesfaye's debut album.
If only it had that kind of focus. The disparate releases are as oil and water as ever, with a new song on each disc that doesn't fit at all, and only the final one, "Til Dawn (Here Comes the Sun)" isn't negligible. It even signals a possible new direction—normal, sober feelings: "I'm not embarrassed to be what you want me to be/ Because I like you." But those are only a brief respite from the everyceleb we now know isn't just a facsimile: "I don't pretend to have any shame." You'll long for the days when he knew everything.