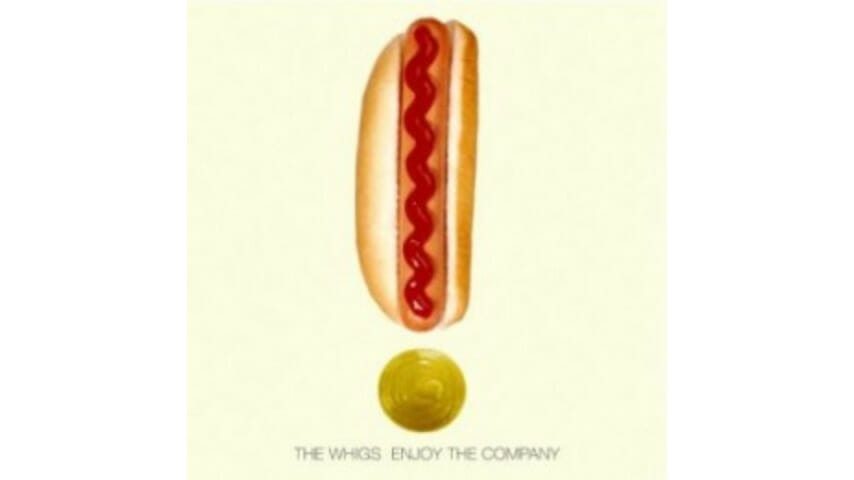 Athens, Ga., power trio delivers another impressive set of booming interstate anthems
Over the span of 10 years and four albums, The Whigs have simmered their energetic, overdriven, no-frills rock sound to its potent essence. It's been a low-and-slow process made possible by their road-dogged work ethic and keen focus, but even a band with such simple purity of vision can get lost in the whirlwind cycle of touring and making records. So instead of cutting their latest at home in Athens (as they did with 2010's In the Dark), trying in vain to resist the siren song of girlfriends, good-time buddies and the 70-plus watering holes crammed into their city's tiny five-block downtown, The Whigs decided to pack up and head for more subdued environs.
Like so many of their rock heroes before them, they stole away to picturesque Woodstock, N.Y., sprawling contently in the shadow of the Catskills, digging the pastoral solitude, and making music without any distractions to peel them from their creative path. Holed up at historic church-turned-studio Dreamland with veteran rock producer John Agnello (Dinosaur Jr, The Hold Steady, Sonic Youth), they began laying down a set of songs culled largely from gig-tested favorites.
Whereas In the Dark was a frenetic, seedy, tormented, flickering neon of a post-midnight soundtrack album, Enjoy the Company finds The Whigs' needle in a more celebratory, sun-dappled groove. It's indicative of where they're at in their career, how much they've come to appreciate this transient life of adventure they've created for themselves, how much they still enjoy each other's company, and—above all else—how big and wide they love the loud, vibrant rock 'n' roll they so consistently bash out together.
As if on the unhurried first leg of a loping cross-country jaunt, The Whigs take their time easing into Enjoy the Company. Lead track "Staying Alive" percolates for a good six minutes before ramping up to a cacophonous crescendo that's followed by two minutes of falling sonic action, making for a satisfyingly paced musical arc. Not many bands have the balls to open a record with an eight-and-a-half-minute song—it's a testament to how comfortable The Whigs feel in their own skin these days. They've paid their dues in the indie-rock trenches; they've grown their band slowly and smartly from the ground up, adhering to their ideals and avoiding the lure of quick-and-easy stardom, and they've staked out their stylistic territory to where their jams are almost second-nature telepathic.
Propelled by the cresting wave of their one-two power-chord punch, "Tiny Treasures" and "Summer Heat" tap the deep and surreal vein of experiences one inevitably encounters on the road of rock—all those otherwise elusive moments when everything feels undeniably alive and epic, "the sky calling" on some debauched-romantic Hollywood night; waking to the sweltering possibility of the summer sun, only to end up in the wake of a barroom brawl, "shirtless and free like a baby boy."
Enjoy the Company is alluringly cinematographic, the auditory equivalent of wide-open, west-of-the-Mississippi America unspooling past the rolled-down windows of a ragged Econoline van. Listening, you can envision the faded highway signs and rusted bridge trusses zipping overhead. It's no surprise to learn that frontman Parker Gispert's prime time for hatching song ideas is during all those longhauls on tour.
As with most of the band's young oeuvre, there's a sturdiness to Enjoy the Company's booming interstate anthems. This is durable, everyday music, made to play again and again with little wear and tear—the kind of music made by a band with staying power. By now, The Whigs have proven they're a sure bet to show; they haven't yet made a definitive masterpiece, but every time they step into the studio they emerge valiantly with another gratifying, well-built rock record.