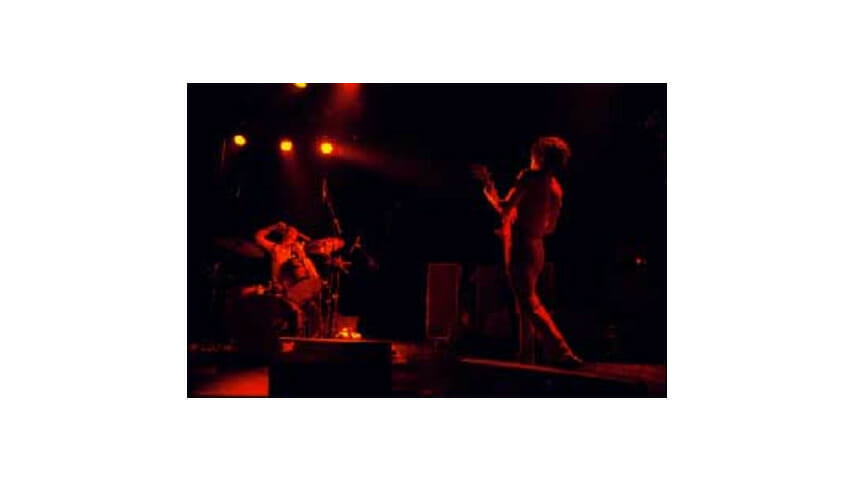 LOS ANGELES, CA – Even though The White Stripes are this year's media darlings and their music is getting heavy airplay on alternative rock radio, the stage is where they make their best case for rock 'n' roll sainthood. Conventional wisdom warns us: don't believe the hype. But The White Stripes are an exception to the rule—this red, white and black clad duo is truly something special.
Singer-guitarist Jack White is a one-man traveling charisma machine, exploding with on-stage enthusiasm. In his uniquely tailored pants—one leg black, the other red—and a jet-black t-shirt, he's a hyperactive jokester who can't stay still for more than a few seconds, always pounding away on his guitar except for a few forays behind a small, funky organ. There are three separate microphones scattered across the stage—just to make sure wherever the White Stripes front man is careening around, he'll have something to sing into. One's near the organ, one at center stage and the other leans in front of Meg White, allowing Jack to sing while hovering menacingly over her as she flails away at her drum kit.
Jack White incorporates the vocal power of Robert Plant and the guitar frenzy of Jimmy Page, all rolled into one. When he sings, he does so with an emotive quiver, and when he plays—whether ripping screaming solos from the strings of his guitar or burning up slow 'n' low slide riffs—he oozes raw rawk power. His partner, Meg—dressed in virginal white—rarely demands the spotlight, but her intuitive musical interplay with Jack is pure magic. Instead of following a preconceived set list, the two halves seem to operate on eye contact; perhaps even telepathy.
During the set, The White Stripes barrel through a countless number of songs at a break-neck pace. Sometimes it's hard to distinguish where one number ends and the next begins. Nevertheless, a few lyrical moments manage to stand out. "The Big Three Killed My Baby," for example, attacks the Big Three automakers' overbearing presence in the business world, something this Detroit-based band frequently must be reminded of. Elsewhere, Jack throws in tidbits of old blues numbers, like "300 Pounds of Joy" (the Willie Dixon-penned Howlin' Wolf classic), and an up-tempo take on Blind Willie Johnson's "John The Revelator," bringing the packed house to the brink of a power overload.
The Yeah Yeah Yeah's preceded The White Stripes with a performance that was equally stimulating, visually, but not nearly as satisfying musically. Singer Karen O used almost every eye-catching cliché in the book (from tying herself up in the microphone cord, to holding the ball end in her mouth), trying hard to remain the undisputed center of attention. And while guitarist Brian Chase created fascinating waves of sound while accompanying her, the songs themselves rarely had a solid hook.
The Soledad Brothers opened the show, sometimes sounding like a more Stones-y version of The White Stripes, and other times, when baritone sax popped into the mix, like a harder rocking, less jazzy Morphine. About the only thing these three groups had in common, was that not one of them had a bass player—it was night of reckless distorted guitars and pounding drums.