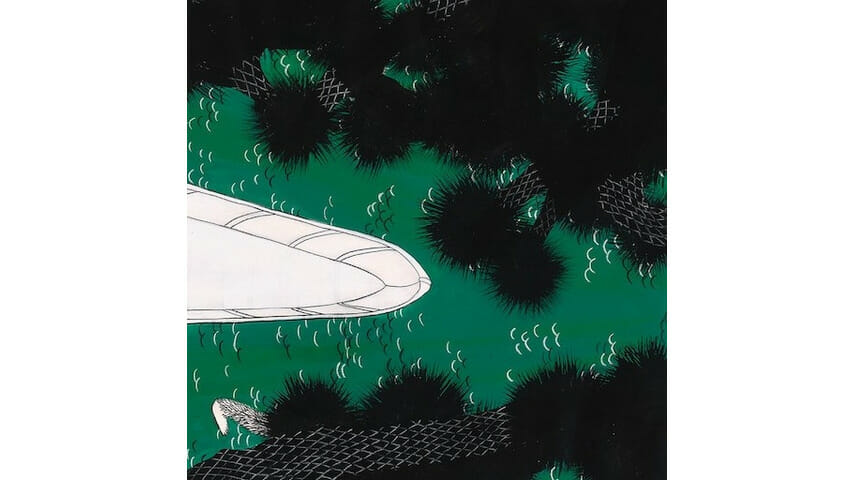 Thee Hounds of Foggy Notion's delightfully unwieldy title gets the last two words right. One of the most coveted and beloved records by impish Californian garage rock outfit Oh Sees—or The Oh Sees, or OCS, or, in the case of this particular record, Thee Oh Sees—this is a soupy, nigh inscrutable piece of work, as soaked in reverb as tiramisu is soaked in espresso.
But that's part of its scrubby, irreverent charm. Foggy Notion, reissued through head Oh See John Dwyer's own Castle Face Records, opens a portal to '08, and that portal splits off into smaller gateways leading listeners on to other periods in the band's lifespan. The record isn't its own thing. It's a pseudo concert record; the soundtrack, of a sort, to an accompanying feature-length film, shot in San Francisco back in 2007, with the band playing live in unexpected public places, like on the beach or the side of a highway.
The story behind the album and the "live performances sans stages" fits perfectly into the band's oddball insouciance. Experiencing that combination, so dear to the group's identity, for the first time is nearly miraculous. Each track that ticks by serves to expand that identity, reminding listeners that Thee Oh Sees have more tricks in their repertoire than psych rock exuberance, percussive jolts and a wicked sense of humor.
But Foggy Notion shows Thee Oh Sees at their most laid back, their most subdued. For all of its hushed, echoing sonic qualities, the record is shockingly intimate, or better still, personal. Apart from the fact that, for most, this may be their first time hearing Foggy Notion, the slow pace, elastic hum and all around quiet is transportive. Here, Thee Oh Sees find a peculiar but economical marriage between recording and performance, watching and listening: Each track takes the listener to the place the band recorded it in, wherever that place may be.
Thee Oh Sees, even at their most easygoing, have a way of charging up crowds. It's an attitude thing, something Foggy Notion compliments with a bit of a history lesson in the form of fuzzed up versions of songs from their preceding records: "Gilded Cunt" and "Dumb Drums" off of The Cool Death of Island Raiders, "Golden Phones" from Sucks Blood, "Block of Ice" and "Ghost in the Trees" from The Master's Bedroom Is Worth Spending a Night In. Foggy Notion may be a collection of deliberate, unhurried, seemingly aimless songs gathered together under the same umbrella, but it carries the same spirit still driving the band today.
Much as Thee Oh Sees have changed since 2008—name and all—Thee Hounds of Foggy Notion suggests those changes are superficial, and that the band people know today isn't markedly different from the band they knew a decade ago. Thank God for that. Thee Oh Sees can package their cheekiness any which way they like, just as long as they don't lose their anarchic streak.
Boston-based culture writer Andy Crump has been writing about film and television online since 2009 (and music since 2018). You can follow him on Twitter and find his collected writing at his personal blog. He is composed of roughly 65% craft beer.