This Is The Kit Are Comfortable With Change on Careful Of Your Keepers
Kate Stables' latest explores loud ideas through quiet tunes
Music
Reviews
This Is The Kit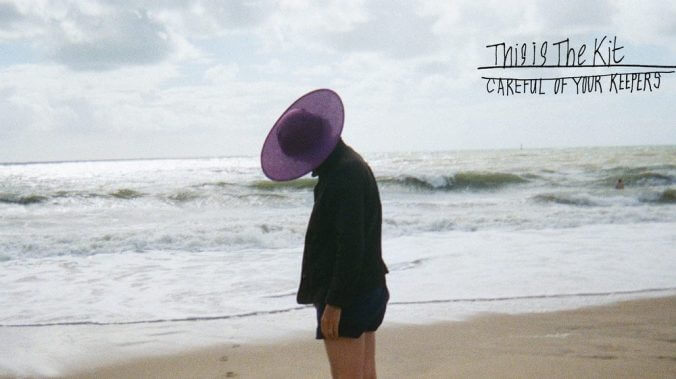 If there's one theme that has defined the career of Kate Stables—better known as the frontperson of the eternally twee indie-folk group This Is The Kit—it's repetition. The title track from their third LP Bashed Out (which was produced by Aaron Dessner back when Taylor Swift was still writing candy-coated hooks with Max Martin) is about as sparse as they come instrumentally, but it gathers strength through Stables' enthusiastic echoing of her own words: "Blessed are those who see and are silent," she retorts, followed later by several back-to-back utterances of "And they did unfold and the wind it did feel them."
This tendency to repeat is at work again on the band's delightful new album Careful Of Your Keepers, out Friday via Rough Trade. The most prominent example of this can be found on "Take You To Sleep," which, while only featuring a carousel of 10 different words laid over a banjo, some glitchy keys and strings, says as much as any novel. "Give me your hand," Stables sings no short of a dozen times. But then, she alters it slightly: "Take back your hand / took back your hand / give back your hand." Those little twists on the repetition are what makes Stables' music feel so familiar yet surprising.
And the new album is as determined as it is delightful. Stables chips away at big questions about time and life by way of a baby bird with a "Scabby Head and Legs," and she "claw[s] sanity back again" on the spry "More Change." And then, on closer "Dibs," Stables sings "Let's pretend to not know that we're out of time," a perfect plea to follow an album of songs about time slipping by.
Inventive as ever, Stables and her band made up of bassist Rozi Leyden, guitarist Neil Smith and drummer Jamie Whitby-Coles are constantly finding ways to surprise us with sonic confetti on Careful Of Your Keepers, even when a song seems sad or even depleted at first. "Inside Outside" slips into experimental jazz territory, while horns burst to life against fuzzy feedback on "Stuck In A Room" (a feeling that is still a little too familiar to many of us).
But even with a fresh slate of ideas—including, at times, some half-baked ones—spilling from their words, banjo and bass, This Is The Kit have found a way to stay true to their style in a way that doesn't feel forced or boring. Not every upstart from the 2010s freak-folk era can say the same. Stables makes repetition work for her in more ways than one, and her outside-the-box brand of folk music still sounds like nothing else you've ever heard.
Ellen Johnson is a former Paste music editor and forever pop-culture enthusiast. Presently, she's an editor and freelance writer. You can find her tweeting about all the things on Twitter @ellen_a_johnson and re-watching Little Women on Letterboxd.