David Lynch and Angelo Badalamenti Share First Single from Collaborative Album Thought Gang
The album was recorded in the early '90s, during Twin Peaks' original run
Images via Sacred Bones Records
Music
News
Thought Gang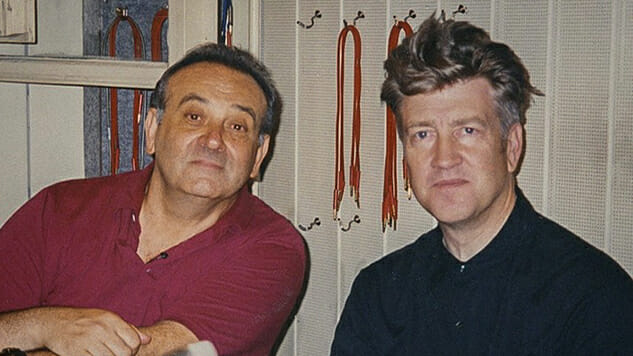 David Lynch and Angelo Badalamenti, who collaborated as director and composer, respectively, on TV cult classic Twin Peaks, have shared "Woodcutters from Fiery Ships," the first single from a recently unearthed album they recorded together in the early '90s as Thought Gang. The self-titled release will be available Nov. 2 via Sacred Bones.
The album came together during the production of season two of Twin Peaks. As the legend goes, Lynch and Badalamenti were recording "A Real Indication" for the then-forthcoming Twin Peaks movie Fire Walk With Me when Badalamenti began to perform the lyrics Lynch had written in his signature talk-sing style. Lynch was so excited by the sound that he laughed himself into a hernia. "It was like a lightbulb exploded in my stomach," Lynch said in a statement accompanying today's announcement. "Angelo was feeling it. He was feeling it … we hit the button and he just took off!" That recording session inspired the two of them to continue to record together as Thought Gang, eventually finishing their album by 1993. Fragments of their work would appear in Lynch-helmed projects for years to come, including Mulholland Drive, Inland Empire and the recently aired third season of Twin Peaks.
"Woodcutters from Fiery Ships" showcases the aesthetics of the two halves of Thought Gang. Badalamenti's cool-jazz stylings are run through a woodchipper, producing a frenetic acid-jazz soundscape full of jittery percussion and plunking bass notes, while Lynch recites a dadaist koan with the classic overtones of Lynchian dread. The end result is something out of a lost Throbbing Gristle demo, wiry and haunting and cinematic. Just like Lynch imagined.
Lynch will premiere the official music video for "Woodcutters from Fiery Ships" at his upcoming Festival of Disruption, taking place Oct. 13-14 in L.A.
Listen to "Woodcutters from Fiery Ships" below.