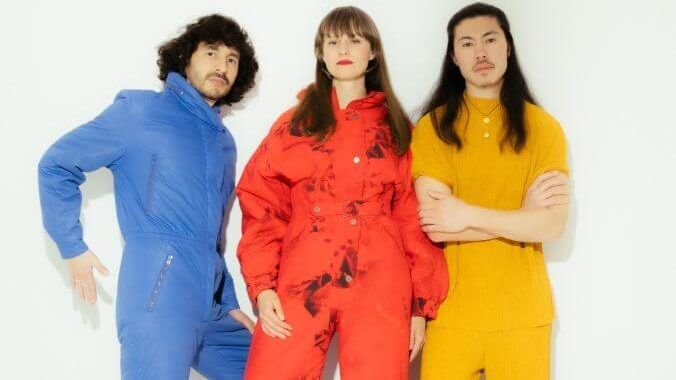 It's been over a year since Brooklyn duo Tipa Tipo released new music, but they are back with "Grifo." The band began in Lima, Perú in 2010 with Adele Fournet and Felipe Wurst, significantly influencing their Spanish/English '70s rock fusion music. "Grifo" is the first single off of Tipa Tipo's debut album Cintas, which is set to be released next March. "La vida corre sobre la muerte"—life runs on death—Fournet sings, reflecting on the impending climate crisis. The track has a dreamy, disco patterns with Latin rhythms and funky riffs—a classic juxtaposition of a dark message wrapped in brightness. Their eclectic sound continues to evolve and their unique approach to blending culture using retro Peruvian cumbia guitar tones is a surprisingly modern twist in the world of pop.
Fournet says about "Grifo": "'Grifo' was one of the first tunes we wrote trying to embody the concept of 'tropical disco,' and it ended up being a blend of 70s disco and Peruvian cumbia—imagine KC & The Sunshine Band doing a collaboration with Los Orientales de Paramonga. The blending of genres also comes across in the blending of languages, English and Spanish.
"I wanted the music video to take place at the gas stations that inspired the track, and I also wanted it to be a collaboration with my longtime friend and video-dance partner, the Peruvian choreographer Moyra Silva. Moyra and I have done many projects concerning the relationship between human bodies and urban spaces, and for 'Grifo,' we developed movements inspired by oil pumps and heavy machinery. We had to film at the gas stations super late at night so we wouldn't get hit by cars, and I remember that the night of the shoot, we actually napped until 1 AM and then drove over to the station with all our camera gear.
"Moyra definitely fell asleep in the car at some point. The shot with the scrap metal processing plant in the background was from the Lowe's parking lot in Gowanus, and we lucked out because there was an empty big rig truck bed that served as a perfect stage. Our DIY approach to making music videos is all about occupying a space and then improvising with a concept."
Watch the music video for "Grifo" below.