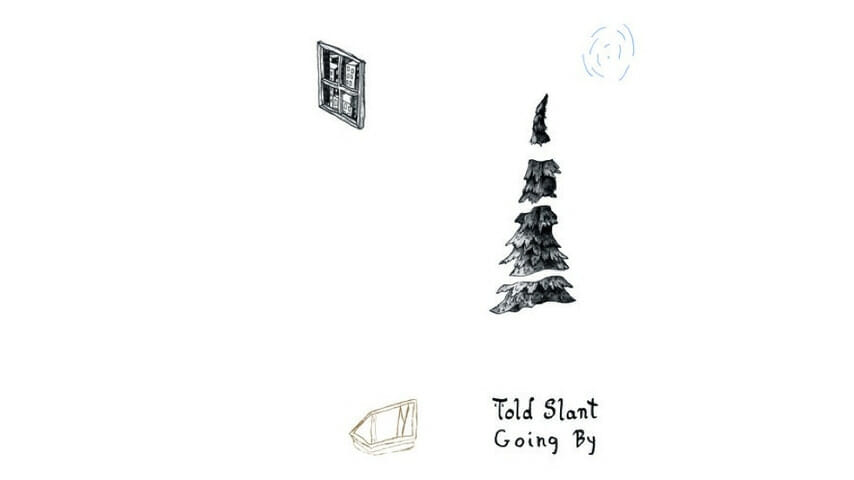 Told Slant is the indie/lo-fi project of Felix Walworth that is part of The Epoch, a collective of bands and artists. Similar to the storied Elephant 6 Collective out of Athens, GA, The Epoch's members collaborate on each other's projects. Emily Sprague of Florist, Oliver Kalb of Bellows and Gabrielle Smith of Eskimeaux all appear as guest artists on Told Slant's sophomore effort Going By. While most of the tracks on Going By are enjoyable, this LP ends up feeling a little more demo quality as opposed to a masterwork. The production of the album is slapdash at best, and the songwriting on Going By feels a tad too flippant to be taken seriously. Songs like "Green Nail Polish" and "Wappinger's Creek" struggle to find their identity. There are albums similar to Going By that pull off the "lo-fi" sound much more successfully than Walworth did here.
Another point to ponder regarding this album is that the lyrics on many of the tracks are gibberish. "I'm not a tsunami, so don't look at me that way," croons Walworth on "Tsunami." By relying on non-sequiturs almost exclusively to get his point across, Felix Walworth has created an album that challenges the conventions of songwriting, but not always in a positive way. There is far too much usage of this nonsensical metaphorical language on Going By, making this album as a whole tough to cognize.
Yet, in slow doses, this is an album that is gratifying. There are several songs that employ interesting textures, such as the closing "Cannonballs" and "I Don't." Also the tracks that add other elements into the mix besides Walworth's vocals and guitar, such as the previously mentioned "Tsunami," give the album some potency. However, in the long run, this is an album that is a constant battle between its weaknesses and its strengths. There is far too much at stake here, and Told Slant falls into the dreaded "sophomore slump" category which so many artists try vigorously to avoid. Unfortunately for Walworth, he didn't try nearly hard enough.