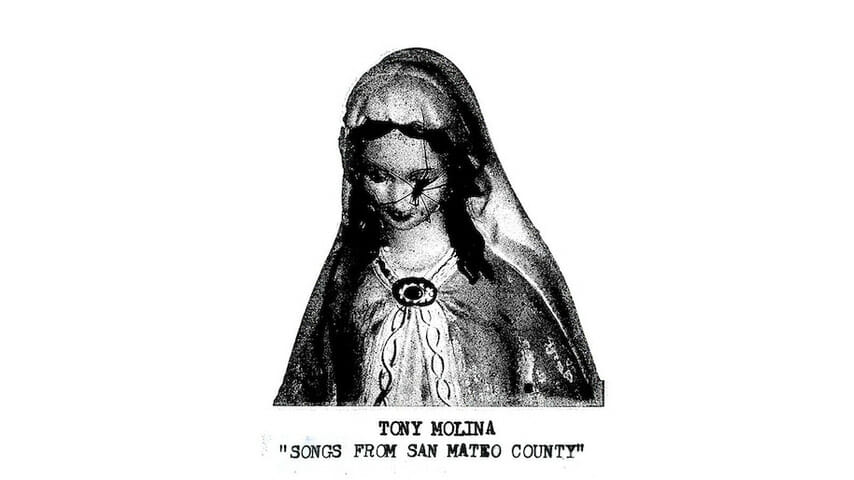 Tony Molina has never needed long to make an impression. His solo releases, which seamlessly bridge the gap between Beatles-esque folk-pop and DIY noise rock, all clock in at less than 15 minutes, and his newest album, Songs From San Mateo County, is his longest LP at 14 minutes and 56 seconds. And in true punk fashion, each of his four records features an average of 11 songs, so it's not like the short run times are a result of an inability to write enough songs. These are purposeful and written with intention, never sticking around long enough to get tired, launching right into the chorus and adding a kickass guitar solo just before the heavy reverb fades into the next track.
Songs From San Mateo County, a collection of rarities spanning Molina's entire solo career which began in 2014 with Dissed and Dismissed, is his best yet. While his last two albums, 2016's Confront the Truth and 2018's Kill the Lights, leaned heavily into '60s-esque beautifully finger-picked guitars, Songs From San Mateo County largely returns to the garage rock of his debut, but still mixing in songs like "#1 Riff," "Don't See Me Now" and "Outro," offerings that would have felt at home on either of his albums these past few years. With the exception of track one ("Intro," which sounds like Tony Molina's pop-punk version of Jimi Hendrix's "The Star Spangled Banner"), the slower cuts bookend the record, leaving the moshpit-inducing rockers to make up the meat of the album.
That melting pot of genres—material that simultaneously recalls The Byrds and Jay Reatard—finally showcases the true breadth of Molina's abilities as a songwriter. He's previously always released full collections in one style or the other, never allowing each to interact on a single release: until now. The morose finger-pickings on "#1 Riff" flow perfectly into the mid-tempo "Not the Way to Be," a song that kicks things up a notch after 30 seconds(at almost exactly the halfway point of its one minute, 17-second runtime) with a bruising, eardrum-splitting guitar riff, only to give way to the punky "Can't Find My Way," a song that weaves in a guitar solo J Mascis would approve of. The tracklist really shouldn't work this well, but against all odds, it does, proving that Molina can somehow do everything at once.
The end result resembles what you'd expect a modern day Weezer album to sound like, had Rivers Cuomo not sold his soul to whatever devil prompted him to write "Beverly Hills" and Raditude: chock full of introspective yet direct lyrics, fuzzed out guitars and ringing solos. Lots of Songs From San Mateo County would have fit in quite well on The Blue Album, right in between "No One Else" and "The World Has Turned and Left Me Here." "Fallin'" recalls the guitar build on "Only in Dreams," just cut down almost seven minutes shorter.
At only 15 minutes, this Bay Area hardcore vet packs a lot in, resulting in one of the most fun and re-listenable records so far in 2019. It's a perfect album to zone out to with friends over a few beers, one that no one will complain about when you hit track one again for the third or fourth time through in a span of under an hour.