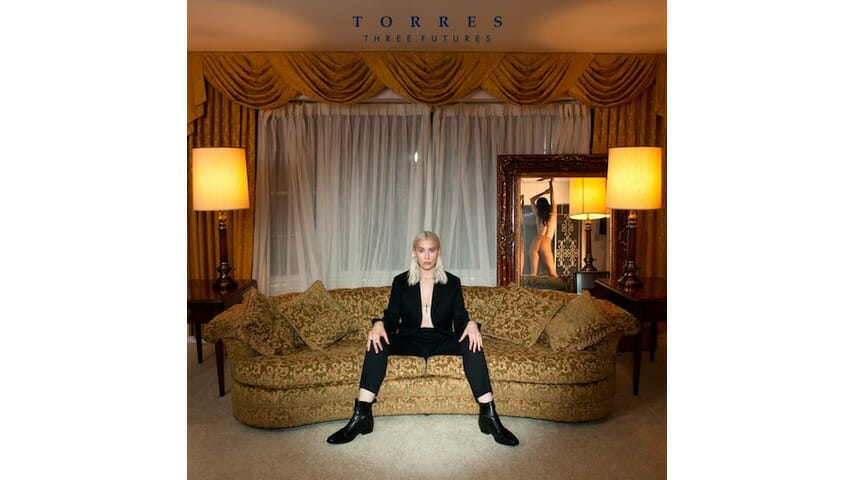 On 2015's remarkable Sprinter, Mackenzie Scott, the Georgia-bred songwriter behind TORRES, reckoned with her Christian upbringing and what it might mean to leave it behind. "What I did is what is done / The Baptist in me chose to run," she sang on the ferocious title track. Three Futures, the follow-up, is a bold, Krautrock-inspired excursion that dims the feedback squalls and quells the songwriter's spiritual crisis with a humanistic ethos of her own. The specter of the church feels more distant, though the opener finds the singer confessing to her family, with some tinge of horror, that she's "become a damn Yankee." With Three Futures, Scott adds to her fascinating body of work with a fascinating album about bodies, defying church doctrine of sin and self-denial by embracing her own corporeal form "as a mechanism of joy."
Three Futures is concerned with ecstasy and self-affirmation, but Scott's delivery—a low, haunted growl—remains tense and unsettled, her writing sharp and quite visual in its observations: a vulnerable moment on a ski lift ("To Be Given a Body"), a table set for two at the scene of a would-be breakup ("Bad Baby Pie"). None of it quite prepares you for "Helen in the Woods," a bracing tale of stalking and obsession set to sci-fi synths and vein-popping vocals that dip into hysterics.
The record's conceptual underpinning comes to fore on "Righteous Woman," a brooding meditation on sexuality that inverts the typical desire anthem into something stranger and more analytical: "Should you decide to call me," Scott warns a potential lover, "remember that I am dealing / With a flesh that's far too willing." It takes nerve to sing about lust so frankly instead of the object of one's lust. It also takes nerve to follow an acclaimed album with a record that sounds absolutely nothing like it.
The guitar crunch of Sprinter has been razed. Three Futures, in its entirety, is anchored by electronic textures and loops: the stiff synthesizer cadence of "Greener Stretch," which scurries up and down like a videogame theme; the industrial stomp of "Helen in the Woods"; the ambient rumble of the final track, "To Be Given a Body," a sort of mantra reflecting the record's themes. There is a deliberate tension that TORRES achieves in pairing these inhuman textures with a record that's so steeped in the awareness of being human. "To Be Given a Body" has a distant, mechanical sheen to it, but it's also the track where Scott enunciates the record's theme most plainly: "To be given a body / Is the greatest gift."
The indie-rocker-ditches-guitars-for-synthpop narrative is easy—TORRES spent late 2016 on the road with Tegan and Sara, who did just that—but that's not quite right either. There is plenty of guitar on Three Futures. It's just muted, restrained, intriguingly gnarled. TORRES favors extremes: Scott's lead guitar echoes between channels in a mournful whine on "Bad Baby Pie" and erupts into a spiky solo on "Skim," the video for which finds Scott embraced by a faceless female body.
On "Three Futures," there is an elegiac, volume-faded guitar murmur that forms a backdrop for the album's most moving narrative, about a fleeting relationship lined with false hope. "You didn't know I saw three futures," Scott sings: "One alone, one with you / And one with the love I knew I'd choose." She's still a sprinter on Three Futures. But she looks back at what's been lost with accrued wisdom and a literary eye for sensual detail, resulting in one of the year's most thoughtful left turns.