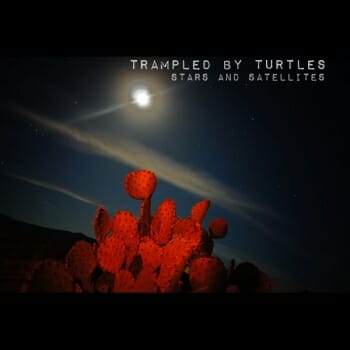 Do bands go on the road so they can play music, or do they play music so they can go on the road? Especially at a time when touring has greater financial potential than releasing albums, there's something still powerful and romantic about piling everybody in a cramped van and driving long stretches between half-crowded shows. It's the modern-day equivalent of riding the rails as a Great Depression drifter or going on the road with Kerouac, suggesting a powerful sense of personal freedom and boundless possibilities. Of course there are tradeoffs, which the best bands write into the See America mythos: you sacrifice a stable home life, subject every relationship to distance and distraction and suffer a nebulous rootlessness that can prove just as confining as it does liberating.
Trampled by Turtles hail from Duluth, Minn., but that hardly matters to a band that tours so frequently. The quartet open their expansive and impressive sixth album, Stars and Satellites, with an ode to the road and all the securities and comforts they've given up to stay on it. Dave Simonett sings forlornly about missing a birthday and hurting someone's feelings, promising the victim and himself that he'll try to be a better man. "Mostly sober, sometimes I change my mind," Simonett sings, before realizing, "Love and love and nothing else is all I need."
Trampled by Turtles are navigating both geographically and emotionally by stars and satellites, and lyrically, Simonett can be bracingly candid in his admissions of confusion and guilt. Occasionally, his self-reckoning becomes a bit demonstrative: "I'm scared that I…. forget it," he sings on "Beautiful." But Trampled by Turtles are much less theatrical in their introspection than so many other string bands, including and especially Mumford & Sons and the Avett Brothers. That sense of self-aggrandizing self-effacement seems to infect almost every string-band in the burgeoning bluegrass scene, and every once in a while you wish Simonett would temper his confessional gravity with a little bit of levity: crack a joke, make a pass, drive on the shoulder of the road every once in a while.
Even when Stars and Satellites threatens to collapse in on its own earnestness, the band props it back up—not just salvaging it but redeeming it, inflating it with a more nuanced drama. Trampled by Turtles build their songs on a base of fairly typical bluegrass-pop, but they distinguish themselves with sophisticated and inventive arrangements that place them at the forefront of the genre. "Midnight on the Interstate" ends with great cascades of fiddle, which don't sound like anything any of their peers have done. It's a gorgeous moment, as though they're trying to push through the last miles to home.
Stars and Satellites is full of similar surprises—unexpected nuances that allow these songs to transcend their genre, most courtesy of multi-instrumentalist Ryan Young. His cello underscores the worry of "Beautiful," like a panic in the stomach, and his scribbles of fiddle lend "Alone" its vertiginous climax. But the band's tight dynamic comes through on "Walt Whitman" and "Risk," rambling jams that exceed the speed limit to show the members' white-knuckle picking skills. Trampled by Turtles may not be the best string band out there (yet), but they are perhaps the most adventurous and the most promising, rethinking the possibilities of the genre and how it overlaps with other styles and traditions. As distinctive as Stars and Satellites turns out to be, it only hints at how intense these songs would sound in a small club with a roadworn band just out of the van.