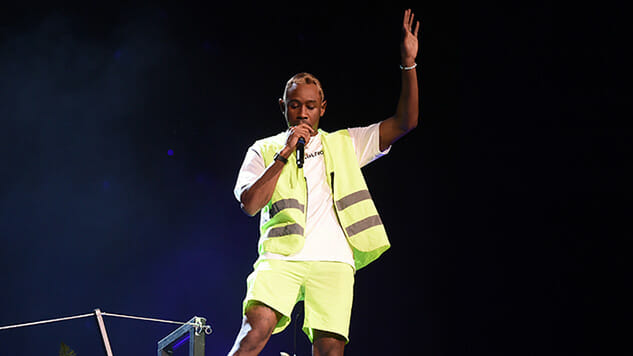 Tyler the Creator has come a long way since the days of Odd Future. Since the group more or less disbanded in 2015 he's transformed from the violent and often offensive style of his earlier albums to the emotionally open and sincere lyrics and genre-bending sound on his latest solo album, which earned a Grammy nomination for Best Rap Album.
Flower Boy, released in 2017, features artists like Rex Orange County, Jaden Smith, long-time collaborator Frank Ocean, Estelle and lighter-flick icon Lil Wayne. Since its release the 27-year-old budding fashion icon with his own brand Golf Wang, has released a series of tracks that are not yet tied to any upcoming album. We've ranked the eight loose tracks he's released to date.
8. Rose Tinted Cheeks
"Rose Tinted Cheeks" is an unfinished song that was meant to be on Flower Boy. It's got the emotional vulnerability and reflection on love and romantics that were a staple of the album. It could be a really great track if Tyler ever got around to polishing it up, but right now, the chorus is pitchy in a way that's pretty irritating and only kind of works. But the song's got potential, as it's groovy, reflective and could be a solid choice for a rainy-day indoor listen.
7. Crust In Their Eyes
Tyler wrote this track in the same hour that he heard Kanye West and Kid Cudi's "Kids See Ghosts" for the first time. The title comes from one of the best lines in the freestyle "I'll sign if the ink right/ Two cribs, I can sleep twice/ Niggas swear they woke but got crust in their eyes/ They can't blink right."
6. Bring It Back
"Bring it Back", shared just ahead of Tyler's Coachella performance, is a remix of Drake and Trouble's song of the same name. He had Mike Will send him the instrumental to the song after hearing Trouble's original verse. Tyler speeds up the super-producer's minimal beat and raps in an eerie pitch-shifted vocal to give the track his own flare.
5. Peach Fuzz
"Peach Fuzz" is a flip of "Wanna Be Your Man," a recent single by Stones Throw soul singer Prophet. The track is short, snappy and perfectly fit for summer time vibes. Tyler's vocals are okay, but it's the dreamy Prophet groove that shines brightest on this track.
4. Gelato
Tyler adds his own twist to "No Validation" from Jacquees' new project 4275. After he dropped both this and "Peach Fuzz," fans started taking to Twitter to ask why none of the tracks sounded like those on Flower Boy. In response Tyler tweeted, "They are songs I already like so I rap on them for 30 sec. Jesus Christ." Well it's a memorable 30 seconds. The track is smooth and sexy with the help of Jacquees' R&B vocals.
3. Ziploc
"Ziploc" is the first loosie that Tyler released, just one month after Flower Boy dropped. It features Tyler going in over the beat from Jay-Z's "4:44," while reflecting on his big summer successes and putting off pondering The Big Questions until he's made a full victory lap. It's hard not to believe him when he raps, "I am in my Ziploc / Feel like I got the best album out / I know I got the best album out."
2. Okra
The flow on this track is never ending and it's a sharp pivot from where he stood on Flower Boy. It's a hard-edged reflection of the not-so-long-gone Odd Future days. The Tyler-directed video description calls it a "throwaway song" but we disagree. The track highlights his ability as a wordsmith while he packs in punchline after punchline, referencing everything from Ron Artest to Timothee Chalamet, rapping over one of his simpler beats; it's essentially just bass and snare with light touches of piano and strings. As the first loose track he dropped this year, it definitely made some noise.
1. 435
Tyler describes this as "a random song laying around from the flower boy tour in February." The beat contains a sample from Saint Etienne's "4:35 In the Morning," and the rap and video were recorded in one take. The track is short and sweet, boasting a string of punchlines like "Commes des on that hombre/ Haters with the long face/ New whip is Pirelli tire'd like a long day"; and setting new goals rapping "they was playing at the grams / one nom ain't enough / ima make sure that that shit ain't happening again."