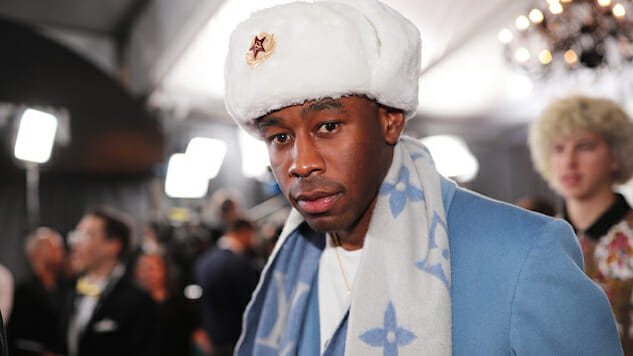 The floodgates of heaven hath opened: Tyler the Creator is now legally allowed to enter New Zealand once again.
Stuff reports New Zealand's immigration services no longer considers the musician a "potential threat to public order," and has thus lifted his ban from entering and performing in the country.
With an approved visa and a gap-toothed grin on his face, Tyler is now slated to make his long-awaited return to headline the country's biggest music festival Bay Dreams in January, marking the musician's first performance on the island in eight years.
Tyler is no stranger to flack from European and Australian immigration services. Believe it or not, prior to becoming a tastemaker in all things lush, falsetto and peppermint-flavored, the musician made a name for himself writing transgressively violent/horror-core lyrical content just graphic enough to lead three separate countries to ban him from entering: Australia, the U.K. and New Zealand.
The musician, whose four-year ban in the U.K. was lifted in May, was turned away from performing in New Zealand in 2012 and 2014 with his rap collective Odd Future due to the explicit nature of their lyrical content and their history of "inciting violence" during performances.
The eventual lifting of all three bans stands as a sign of Tyler's musical evolution over a 10-year period: Maybe it was the right idea to shift to rapping about '95 Leo and kissing white boys.
Even Bay Dreams co-promoter Mitch Lowe agrees: "Seven years is a long time to try and make [things] right," he told Stuff. "He's changed so much as a person in the last six years, since the last festival incident," Lowe said.
We'll leave you with a line from Tyler's 2014 Cherry Bomb cut "Smuckers": "I got banned from New Zealand, whitey called me a demon / And a terrorist, God damn it, I couldn't believe it."