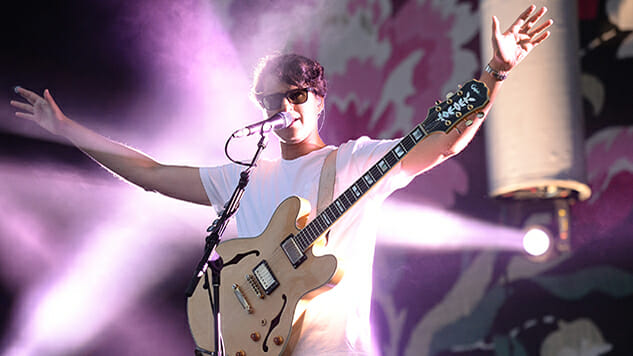 "Everything We Know about … " is Paste's series of deep dives into the forthcoming projects we're most excited about. Explore them all here.
In the years since Vampire Weekend's last album, 2013's Modern Vampires of the City, the world has seemingly gotten … darker. Now, that may be due to the near-constant sense of impending doom that's gripped the country since about two years ago, or maybe just because feeling gloomy all the time is an inherent part of growing older, but we prefer to think that maybe part of the reason things seem so bleak is because of a lack of easily digestible, Ivy League indie-yacht-pop, and not because of any incredibly complex sociopolitical issues. Yeah, that first one seems better.
Luckily, Vampire Weekend have been teasing a new album for some time now. Unluckily, there is still no set release date, no confirmed album title and really no official details of any kind. So let's take a look at what we do know right now, and maybe stave off that existential shudder for a little while longer.
Who's On It?
Perhaps the most pressing question on a lot of fans' minds is what the band will do without Rostam Batmanglij, the producer, singer, multi-instrumentalist and songwriter who helped make many of Vampire Weekend's biggest hits. Batmanglij left the band in 2016 to pursue solo projects, but he appears to have done so on good terms, and may even appear on parts of the album. "We're working on some songs in the exact same way we've always worked," Ezra Koenig told Entertainment Weekly in 2017.
Aside from Rostam, it appears that the gang's all here: bassist Chris Baio, drummer Chris Tomson and long-time producer Ariel Rechtstaid are all returning for the album. The various members have all been pursuing individual passion projects, from the Chrises releasing solo albums to Koenig producing Netflix anime series Neo Yokio, but it seems they still have time for the big kahuna.
What Will It Sound Like?
This is the natural follow-up to the previous question: Without Rostam (or with less Rostam, rather), what will Vampire Weekend even sound like? And what of the band's switch from indie imprint XL to a major label like Sony's Columbia Records? While we don't know for sure what this all means, we can see what the internet says.
This summer, the band performed a new song at a Lollapalooza aftershow, followed by Koenig plugging in his iPhone and playing the masters of three more tracks, including one titled "Big Blue." Various subreddits and Vampire Weekend fan sites have described the music as "springy," "poppy," and "more spacey and empty sounding … but VERY bright and sunny." Meanwhile, a source who heard them tells Paste that the songs were more "dancey" and "radio-friendly," with a general "aquatic" feeling.
Those similes are all well and good, but what does the band itself have to say? In an EW interview, Koenig said he's been drawing inspiration from Kacey Musgraves, who he said "would start to sing and [he] realized, within the first 30 seconds what the song was about," as well as Kanye West, from whom he gleaned the "focus group" method of pop production, inviting anyone who might be interested in for the sessions. He says he's been working with 68-year-old guitarist Greg Leisz as well as 18-year-old producer Steve Lacy of the R&B collective The Internet.
When Will It Arrive?
This, unfortunately, is still a complete mystery. Sony Music listed VW as a "noteworthy project" for Q3 in their 2018 quarterly financial statement, but seeing as how Q3 ended Sept. 30, it's looking less likely that we'll see a release this year. Koenig has tentatively titled it Mitsubishi Macchiato, and we have a few song names, including "Conversation," "Flower Moon" and "Big Blue," but there are no official statements on anything.
This is especially confounding, given the band's successful festival run this summer, where they performed at festivals in the U.S., Japan, the U.K. and more, while premiering a host of new songs for eager fans. This, compounded with Koenig's comment on the band's Instagram in May that the album was "94.5% done," followed by the band's announcement at Lollapalooza that the album was completed and being mastered, gave a lot of fans hope for a post-summer release. It seems that a new album would benefit from this kind of hype-build, but alas, the band has other plans.
Maybe it's caught in limbo, maybe they're just fine-tuning. Maybe they've scrapped and started anew. Whatever the case may be, we just hope Vampire Weekend know the world is banking on them. No pressure, though.
The Latest
Vampire Weekend's fourth album will be out in 2019, according to a Nov. 8 GQ report. The announcement comes ahead of an upcoming GQ Live event, taking place Dec. 8, where Ezra Koenig will "tell the stories behind some of Vampire Weekend's best songs—and the stories behind the new soon-to-be-classics, too." Koenig is expected to play a few songs at the event as well, which may include some of the band's new material.
In a Dec. 17 interview with Music Week, Columbia president Ferdy Unger-Hamilton had this to say of Vampire Weekend's new album:
The record's brilliant, it's going to go really well. It will be your favourite record next year, and they'll come in and do some shows.
Ezra Koenig offered an extensive update on the band's new album in a Jan. 17 Instagram post, revealing the initials of the album's official title, "FOTB," and that it will be a double album, the first singles from which are coming next week. See Koenig's post below.
---
Listen to Vampire Weekend's 2007 Daytrotter Session below.