Vampire Weekend, Deerhunter and The Doors: 10 Times Harpsichord Was Actually Really Cool
Ranking the best harpsichord cameos in pop music
Photo by Buda Mendes/Getty
Music
Features
Vampire Weekend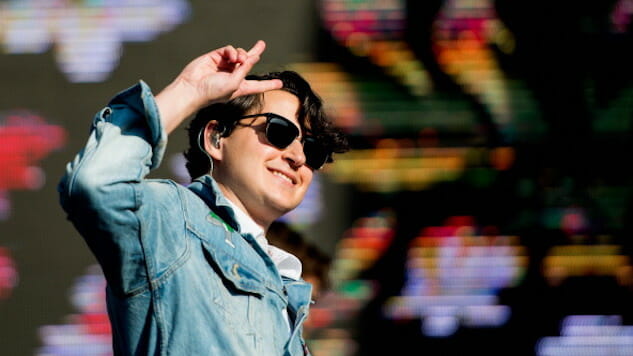 When Vampire Weekend announced their comeback album Father of the Bride—finally, after what felt like years of teasing—I could only think about one thing: Will the harpsichord be back, and will it sound really cool? The band fancies the traditionally baroque instrument, which physically resembles a piano but sounds like the inside of Versailles circa 1734. Of course, bands like Vampire Weekend, The Black Keys and The Beatles probably didn't have an actual stand-up harpsichord (you know, like George Washington did) handy when they recorded songs like "Step," "Too Afraid To Love You" and "In My Life," but they nonetheless mastered the instrument or effect and made it sound less like the soundtrack to one of King Louis XIV's banquets and more like a pop hit. That's what I call creativity.
Vampire Weekend's impending return, as well as the great new Deerhunter album/harpsichord bonanza Why Hasn't Everything Already Disappeared?, got me thinking about my other favorite songs featuring the sound. Here, they're ranked not by the song as an entity, but rather by the artist's execution in using the harpsichord on the track. I'll admit this, like most music writing, is not exactly mathematical, but I hope you'll enjoy this timely examination of a post-baroque, a subgenre I just invented right now. Happy harping!
10. Lunar Vacation: "Slowdown"
Execution: 6.0
You're probably wondering who Lunar Vacation even are and how they scrambled their way onto a list with such musical titans as The Jackson 5, R.E.M. and The Beatles. But this list isn't about musical accolades in the traditional sense. It's about one thing and one thing only: the harpsichord, and an artist's achievement in making it sound sensational. And this band of recent high school graduates from Atlanta, Ga. have mastered the harpsichord balancing act, so I can't argue with science. Lunar Vacation very well could break into indie rock stardom (they frequently play with Finn Wolfhard's band Calpurnia), and if that happens, remember them as they once were: the ragtag team of Catholic school kids who laid down a DIY track about crushing hard and threw some harpsichord in there just because they could.
9. The Jackson 5: "I'll Be There"
Execution: 6.3
We still don't deserve a song this pure. The first single from The Jackson 5's Third Album, "I'll Be There," remains one of the most beautiful promises in the history of pop music, and it also happens to be an admirable display of sound by our resident Renaissance keyboard. Sure, a young Michael Jackson's adorable soprano, a gospel choir and a groovy bass are all part of making this song the sweeping, life-affirming ballad that it is, but can you imagine it without those first few bars of tinkling harpsichord?!
8. R.E.M.: "Half A World Away"
Execution: 6.6
Nothing like a little harpsichord to cure your heartache. Upon its release, Rolling Stone called R.E.M.'s Out of Time their "most baroque album." If that's true (and I'm pretty sure it is), then "Half A World Away" is their most baroque song, a foray into harpsichord territory so regal you might imagine yourself dining at court while listening to it. You also might feel really sad: It's a devastating song about separation (of the geographical variety) from a partner, a pain so present Michael Stipe's character resorts to drinking away "the saddest dusk I've ever seen."
7. Belle & Sebastian: "The Model"
Execution: 6.8
Many of the artists on this list use the harpsichord as an accessory, a little embellishment for some quirky flare. But Belle & Sebastian aren't playing around on "The Model," one of the most charming story-songs on their 2000 album Fold Your Hands Child, You Walk Like A Peasant. Here, the harpsichord moonlights as keys. The harpsichord, more than any other instrument, is in charge.
6. Japanese Breakfast: "Boyish"
Execution: 7.9
In a recent episode of Song Exploder, Japanese Breakfast's Michelle Zauner and her co-producer/bandmate Craig Hendrix say the song "Boyish," from the band's 2017 album Soft Sounds From Another Planet, was inspired by '60s bands. Hendrix perfectly sums up the magic of the harpsichord, which began popping up more and more during that decade: "There's something about the rhythmic quality and the sharpness of it that I think sits well with the style of production as far as it being like classic and romantic." Indeed, the harpsichord adds a little whimsy to this track, one of the more carefree on Soft Sounds.
5. The Beatles: "In My Life"
Execution: 8.0
Ok, so this isn't technically an instance of harpsichordian mastery, but it might as well be, because the 20-second keys solo in question on this Rubber Soul track inspired legions of pop artists to use baroque sounds in their songs. The Beatles would of course later get more experimental on Sgt. Pepper's Lonely Hearts Club Band (they even used an actual harpsichord on the winding "Fixing A Whole"), but at this time, the piano/harpsichord mash-up was a reckless payoff.
4. Deerhunter: "Death in Midsummer"
Execution: 8.4
Deerhunter fans are well-adjusted to the band's weirdness. We generally know what to expect from a Deerhunter record, and their latest, Why Hasn't Everything Already Disappeared? is as weird, wild and wonderful as frontman Bradford Cox. One place where the weird lines up with the wonderful is on the first single, "Death in Midsummer," an existential debrief ("Your friends have died / And their lives, they just fade away") that not only uses the harpsichord well, but also implements a traditional baroque rhythm. Cox told Paste he finds the album "unrelentingly bleak." The lyrics are certainly chilly, but songs like this one, plus "Element" and "No One's Sleeping," prove few can pull off the harpsichord like Deerhunter.
3. The Doors: "Love Me Two Times"
Execution: 8.9
This track from The Doors' classic 1967 album Strange Days is one of harpsichord's most famous show-ups. It starts out like a droopy blues song, with electric guitar and a sneaky Jim Morrison suggestively asking his girl to love him "two times" before he leaves town. But then the song completely changes after the chorus. Harpsichord starts to show itself during the verses, followed by a flat-out, smack-down harpsichord solo. Never has baroque sounded so badass.
2. The Black Keys: "Too Afraid To Love You"
Execution: 9.4
The harpsichord on this Brothers track sounds rather suspicious, as does the song as a whole. What you may have once considered a cheesy sound effect is suddenly sensual and rugged as Dan Auerbach desperately sings, "I just do not know what to do / I'm too afraid to love you." I'd love to have been a fly on the wall in Muscle Shoals circa 2009 when someone in the studio said, "You know what'd be really dope right here? Some HARPSICHORD." Their idea paid off.
1. Vampire Weekend: "Step"
Execution: 10
Vampire Weekend know their way around a harpsichord, and that's not a revelatory statement. There's no telling whether the trusty harp will appear on the forthcoming comeback album Father of the Bride, as the always ambitious and now ex-member Rostam Batmanglij may have had something to do with its repeated appearances. But they've historically rocked the harp, both on Vampire Weekend and Modern Vampires of the City. "M79," from VW's debut, is fine, but it's not even in the same banquet hall as "Step," arguably the greatest song to ever feature harpsichord. I'm not saying this song would be bad without the harpsichord, but I'm also not not saying that. Somehow the lyrics are both Ezra Koenig's most ostentatious and earnest (an attractive balance in a Vampire Weekend track, if you ask me), but it's right there, about six seconds in, where the band achieves one of the most handsome harpsichord solos in rock. Like Ezra, you can feel it in your bones.