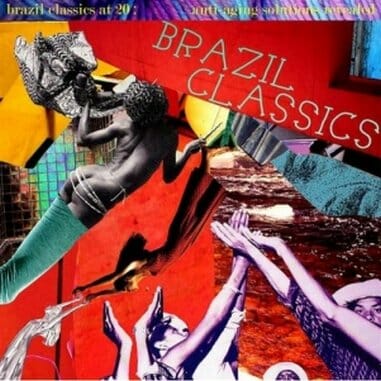 Arbitrary mix of great Brazilian grooves
Drew Friedman's Spy cartoon once depicted David Byrne peering from behind a tropical bush, only to discover Paul Simon peering back. But much of the former Talking Head's pan-global cultural acquisition initially—and authentically—took place at the record store. While the rhythms and strategies of Brazilian Tropicália and bossa nova have certainly found their way into Byrne's music, he has more significantly been what Malcolm Gladwell would call a maven.
Since 1988, when Byrne's Luaka Bop imprint first rose from Talking Heads' contract with Sire Records, it has miraculously survived numerous industry shuffles, acting as a conduit for Byrne to redistribute his obscure discoveries into the musical gene pool. While Luaka Bop presentations have included R&B auteurs, West African guitar jammers and South Indian film composers, the heart and soul of its catalog has always been in Brazil. With six volumes of Brazil Classics, an edition of Beleza Tropical, the rediscovery of both Tom Zé and Os Mutantes, and 20 years in an unstable boutique industry, there's plenty to celebrate.
But Brazil Classics at 20: Anti-Aging Solutions Revealed reflects far more about Luaka Bop's taste in Brazilian music than anything about the country itself. Some of Byrne's Americanized observations, written in conjunction with guitarist Arto Lindsay for Brazil Classics 1, exemplify this: "The 'lightness' of much Brazilian pop music is often mistaken or confused for our middle-of-the-road bland radio ballads. We associate lightness, subtlety and easy rhythms with shallowness and music without guts." What Byrne fails to mention is that there's plenty of Brazilian music that doesn't sound light at all (for example, Hermeto Pascoal's dense jazz or the hard beats of favela funk). Unfortunately, the light stuff is all Luaka Bop has compiled here.
Most of the 13 tracks included in the release's digital version—and the 10-song vinyl version—groove airily. This seems to be the main connecting point between the scenes and periods that the series documents, though the variation is legion. Where Gilberto Gil and Tom Zé both rose from the anarchic Bahia-bred Tropicalismo of the late '60s, Gil became a superstar, his song "Madalena" (collected on Beleza Tropical 2) floating with a cool grace amid double-tracked George Harrison-style guitar breaks. Zé, meanwhile, only got weirder, and his 1975 song "Ma" (from 1975's Estudando o Samba, which was reissued on Luaka Bop's ironically titled Brazil Classics 4: The Best of Tom Zé— Massive Hits) has horns and background coos that lock into an unclassifiable ?half-funky/half-robotic grid.
Luiz Gonzaga is an outlier, his accordion-lined "O Fole Roncou"—which sounds almost like mariachi with more overtly funky guitars—is the sole representative of Brazil Classics 3: Forró Etc. Still, there's an obvious link between Gonzaga's forró and the more urbane pop of Lenine's "Hoje Eu Quero Sair Só" and Jorge Ben's "Ponta De Lanca Africano (Umbabarauma)"—just as there is between bluegrass master Del McCoury and, say, Beck.
Comparing American and Brazilian musical cultures, pop star Caetano Veloso (whose sister, Maria Bethánia, duets with Gal Costa on "Sonho Meu") observed in his autobiography, Tropical Truth, that "rock in its essence was a rejection of all sophistication, and continually proves to be so whenever it seeks its own reaffirmation as the wildly commercial and regressive music it was from the beginning." Bossa nova, the building block of Brazilian pop, he wrote, with its complex rhythms, was "an almost antithetical impulse." Though this deep-coded maturity runs through all of Brazil Classics at 20, making the collection continuously lush to brutish American ears, by itself it isn't essential by any stretch. But with an infinite amount of Brazilian scenes to explore and expose, Luaka Bop is.