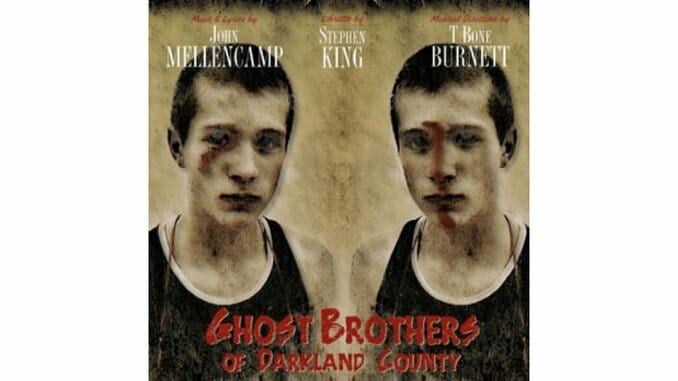 Ghost Brothers of Darkland County, a sprawling production authored by John Mellencamp and Stephen King that the press release calls a "Southern gothic, supernatural musical," has been about 13 years in the making. Those facts alone are enough to inspire considerable skepticism. To begin with, the principals are notoriously inconsistent, albeit gifted, artists. Beyond that, the production's grueling, seemingly interminable march to completion recalls the infamous, much-labored failures of similar hybrid projects (Lifehouse, The Who's attempted multimedia spectacle and planned follow-up to Tommy, comes to mind). Even the soundtrack album—featuring songs written by Mellencamp, produced by T Bone Burnett and performed by a glittering roster of Americana and roots music heavyweights—was a long time coming, with recording beginning in 2009 and writing presumably beginning well in advance of that. Taken together, all of this suggests a none-too-promising outcome. The whole project threatens to be convoluted, overwrought and all but incoherent.
This album is none of those things.
The devil himself kicks things off—and get this, he's an Englishman. Elvis Costello (credited as "the Shape" in the liners) tackles the opening track, "That's Me," and graces it with a subtly menacing, slithering recitation. Neko Case—sultry, sassy, and not to be trifled with—takes the lead vocal on "That's Who I Am" and nails it, lifting Mellencamp's lyrics (quite strong by themselves, it should be noted) to a rather sublime place. Dave and Phil Alvin, with some aching, plaintive bridge work by Sheryl Crow, spar over the barn-burning "So Goddamn Smart." Kris Kristofferson acquits himself well as the grizzled, struggling wise man of "How Many Days," and Ryan Bingham gives some welcome vocal grit to the wistful "You Are Blind." At the record's half-way mark, Taj Mahal nearly steals the show with "Tear This Cabin Down," an apocalyptic blues stomp that must be heard to be believed.
Each song here is punctuated by a snippet of dialogue from the musical proper, some of which takes place in the present day and some of which takes place several decades in the past. Close listening is required, but the two separate storylines do come together, particularly in the record's second half as the climax approaches. Similarly, the songs themselves begin to take on a cyclical, self-referential quality. "Away From This World" expands on the bridge of "So Goddamn Smart," and the climactic "So Goddamn Good" also recalls that number.
Musically, the record is very nearly flawless. Burnett's production lends the proceedings an appropriately gauzy, bruised ambience, and the featured vocalists turn in top-shelf performances. As for the writing, it might have taken him some 30 years, but John Mellencamp has found his voice. His two most recent releases (Life, Death, Love and Freedom and No Better Than This) suggested as much, but this confirms it. The songs work within the context of the musical's narrative, but what's more impressive is that they also stand up apart from it. No mean feat, and Mellencamp pulls it off with aplomb.
The dialogue is less successful. Too often, its theatricality doesn't translate, instead coming across as a contrivance. It's never so bad that it detracts from the music, but it is occasionally cloying. Mind you, this isn't necessarily a criticism of the play, which for the purposes of this review should be considered a separate but related entity.
It took more than a decade to get off, but Ghost Brothers of Darkland County is some kind of great record. Its aspirations are high, as are the issues and ideas to which it speaks. In pop music, there's no surer path to failure than such pretension. But on this album, the music meets and sometimes exceeds those ambitions. Mellencamp has called Ghost Brothers of Darkland County the "Sgt. Pepper of Americana." A hefty claim, perhaps even arrogant, but at its best this record lives up to it.