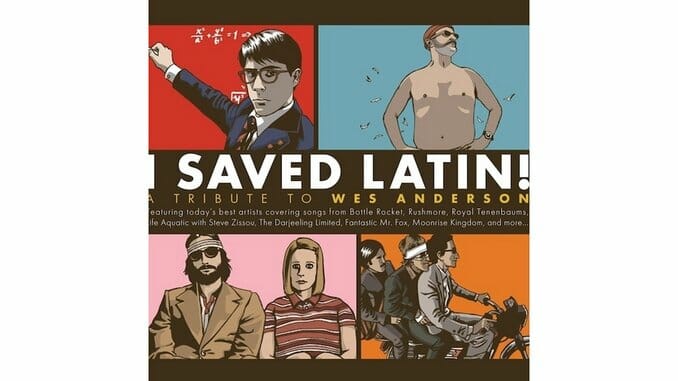 American Laundromat Records specializes in tribute compilations, having produced albums honoring bands such as The Cure, the Pixies and The Smiths and films such as Repo Man. For their most recent offering, ALR brought together 23 bands to pay homage to one of the most distinctive filmmakers of this generation, Wes Anderson.
For anyone who's ever seen a Wes Anderson movie, there is an unmistakable look and feel to all of his films (save for the stop-motion animated flick The Fantastic Mr. Fox, which was a departure from Anderson's normal fare). The narrative style and dialogue are odd, humorous yet insightful. Even though he uses many of the same actors from film to film, the characters he creates are truly unique. And few directors use music as deftly as Anderson.
You can tell Joe Spadaro, founder and president of ALR, loves Wes Anderson. The liner notes on the album read like the musings of a true fan: "The Royal Tenenbaums solidified Anderson's place as my absolute favorite filmmaker. He has never disappointed." The result of this admiration is a well-conceived musical meander through Anderson's films.
The aptly named I Saved Latin! is a 23-track, indie-laden compilation with generally positive results. Each song comes from an Anderson film's soundtrack and is covered by a different band. Overall, ALR did an incredible job of constructing a cohesive-sounding album despite using 23 different bands. The voices and instrumentation might change from track to track, but the tone and texture remain consistent throughout. Except for a couple of out-of-place songs (most notably "Play With Fire" and "Street Fighting Man"), everything sounds like a Wes Anderson film feels—an accomplishment to be sure.
I Saved Latin! is littered with beautiful and pure voices, especially on "A Quick One While He's Away," "These Days," "I Am Waiting," "The Wind," "The Way I Feel Inside," "Ziggy Stardust," "Oh Yoko" and "Fairest of the Seasons." These vocalists were a joy to listen to even if I always didn't love the songs.
In some of the tracks, there isn't a lot going on. Even though they came from Wes Anderson movies, and the tones fit the album nicely, the songs don't really go anywhere. Renditions of "Let Her Dance," "The Wind," "Nothing In This World Can Stop Me Worryin' Bout That Girl," "Fly," "Play with Fire," "Stephanie Says" and "30 Century Man" fall into this category. They're not bad songs by any stretch, but these versions just aren't noteworthy.
On the flip side, I Saved Latin! acted as a great artist discovery exercise. Some artists really stuck out with their inventive renditions of the titles they covered—so much so that I immediately went to Spotify to listen to more of their respective discographies. Saint Motel's take on The Who's "A Quick One While He's Away," Matt Pond's version of "These Days" and Trespassers William's rendition of "Fairest of the Seasons" all warranted the Spotify treatment. These artists were certainly the high points of the album, and it was great discovering them for myself.
Wes Anderson has a distinctive look, feel and sound to his movies. The highest praise I can give I Saved Latin! is that ALR and the artists involved did a great job of capturing the ethos of Anderson's films and translated it into an album successfully. On a track-by-track basis, there are some real winners, some forgettable yet pleasant songs and some real duds. If you listen to the album by the individual song, you might be underwhelmed save for a few personal favorites. As a complete album, though, the result is greater than the sum of its parts. In the end, I Saved Latin! does a great job paying homage to one of the more unique filmmakers of all time, a not-so-easy feat.