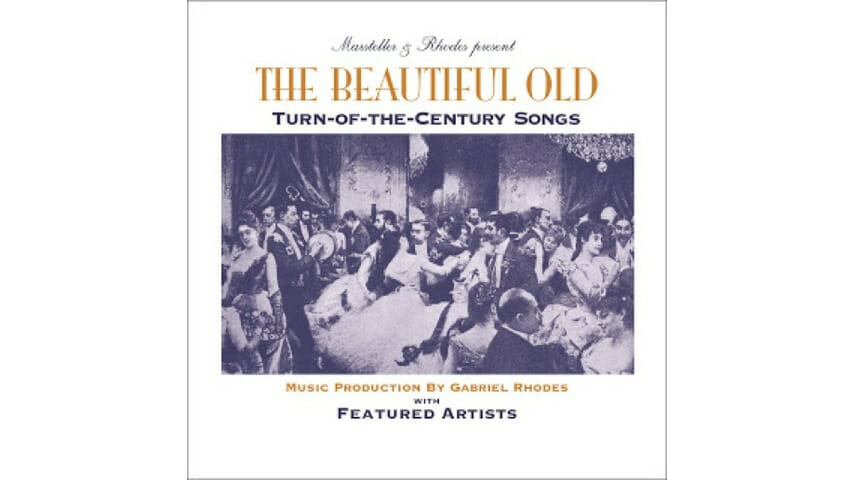 Born aloft by vigorous performances from Garth Hudson, Richard Thompson, Kimmie Rhodes and Dave Davies, The Beautiful Old is one of those grand ideas that truly had no business getting off the ground. Recruiting a scattered cast to record faithful, front parlor versions of songs from the sheet-music era? Yeah (condescending pause), good luck. Yet in defiance of logic, cynicism and geography, The Beautiful Old succeeds not only as a damn fine collection of music, but also stands as an enduring testament to overcoming the improbable.
The first barriers of skepticism are no minor obstacle. Scan the list of 100-200-year-old titles—ranging from familiar standards like "After The Ball" (1892) and "The Band Played On" (1895) to melodies last hummed during the Taft administration—and you'll likely suppress a yawn, expecting a dusty snooze through sepia-toned, preservation-society pieces. Even more cringe-worthy, the collection has the latent potential for pure novelty kitsch. With guest vocalists varying from young Irish folk singer Heidi Talbot to Austin lifer Will Sexton to acoustic blues traveler Eric Bibb, it's easy to envision quaint old tunes covered as an array of Pier 1 knockoffs.
Remarkably, The Beautiful Old coheres into something neither dull nor precious, assembling a melting pot of players who downplay their individual country, jazz, blues and bluegrass influences while never sacrificing an ounce of personality. Instead, emphasizing period-appropriate rhythms and instrumentation, the performers pinpoint the heartbreak, lust, loss and flirtatious play loaded within the original compositions. These songs were never meant to age as museum pieces; they were written to touch and to entertain (and to move hundreds of thousands of copies of sheet music).
Across the collection's 19 tracks, the artists tap into that stirring emotion and populist appeal. Kimmie Rhodes enfolds "A Perfect Day" (1910) with the soothing lullaby sadness that cuts across generations of exhausted mothers; Dave Davies croons "After The Ball" in an Old Country croak that waltzes from Fool to Lear at the turn of a phrase; Jimmy LaFave, Floyd Domino and Richard Bowden bring nearly 200 years of barnstorming craftsmanship to "Long Time Ago" (1839), using voice, piano and violin to stretch the wistful ballad back and forth across the centuries.
*
"Did the Colonel give you this CD?" asks my four-year old, referring to the 82-year-old grandfather who traditionally saves her a seat at his elbow for mid-day screenings of black-and-white classics.
*
The original spark for The Beautiful Old began in an unlikely carrel: while researching a musical project set after the California Gold Rush, 61-year-old San Diego songwriter Paul Marsteller became enamored with the songs of the period. The pie-in-the-sky notion to record a collection of archival songs may have fizzled then and there, but Marsteller happened to be working in a long-distance partnership with a younger multi-instrumentalist, Gabriel Rhodes, whose stepfather (Joe Gracey) helped shape Austin City Limits and whose mother (Kimmie Rhodes) has released a dozen solo albums and recorded with such Texas royalty as Willie Nelson, Joe Ely and Townes Van Zandt. Even then, The Beautiful Old may have been confined to the Rhodes' Lone Star connections, but Marsteller has a longer history in commercial real estate than popular music and knows a thing or two about the cold call.
Marsteller and Gabriel Rhodes made up a wish-list of guest performers. Then they wrote letters.
Legendary British pub-rocker Graham Parker was among the first to respond. "He didn't even ask who we were or what we'd done before, he just said yes right away," Marsteller says. Parker brings that headlong enthusiasm to "The Flying Trapeze," one of those tunes with a chorus lodged in the national DNA ("He flies through the air with the greatest of ease…"), even as few would recognize how the verses flesh out. Sung from the perspective of a man whose young lover has run off with a famous acrobat, Parker mugs through the lament like Dylan in his sinister Carny phase, swinging between Gabriel Rhodes' Big-Top pump organ and Garth Hudson's vertiginous piano.
While Gabriel Rhodes serves as the project's musical backbone, Hudson provides the seen-it-all soul of the traveling piano man. Already something of an anachronism 50 years ago with The Band, Hudson unifies the compilation by contributing his wry saloon keys and pitch-perfect accordion to over half the tracks.
"Most of the artists weren't initially familiar with the songs we sent them," Marsteller says. "But Garth, we'd mention a song on the phone to him and next thing he'd be off at his piano, tinkering out the melody right there in the middle of a long-distance call."
Richard Thompson never responded to Marsteller's original letter (the man is busy). But after one of his band members, Christine Collister, contributed her sweeping, ocean-wise version of "Home Sweet Home" (1823), she enlisted Thompson for a rousing duet on "The Band Played On." If the sheet music is true, the The Beautiful Old's version of the song hints that the original "Take Me Out To The Ballgame" may have been part of another great American pastime: opportunistic appropriation.
Or, perhaps the two songs—written a decade apart—simply share a common foundation.
*
"It sounds like Irish music," says my six-year old, who as an infant slept best in her car seat with Astral Weeks and A Woman's Heart playing on the stereo.
*
Similar to the BBC's fantastic Bringing It All Back Home soundtrack, The Beautiful Old further solidifies the root connection between Celtic folk and American bluegrass. From opposite sides of the Atlantic, ballads by Heidi Talbot and Christine Collister sit comfortably beside turns from Kimmie Rhodes and her daughter, torch singer/burlesque performer Jolie Goodnight, who tears into "Silver Dagger" (1907) with the gripping, old-soul verve of Alela Diane.
While the collection leans on family, friendship and pioneering optimism to bridge seemingly insurmountable gaps of time and distance, The Beautiful Old is ultimately fueled by the journeymen players who dig in and connect what came before to the next waiting note. Not just Hudson and Gabriel Rhodes, but also Richard Bowden, who played in East Texas garage bands with a young Don Henley and whose bowed-but-unbroken violin adds a dustbowl gravity across multiple tracks. There's Hunt Sales (Soupy's son and Bowie's Tin Machine drummer). There's Charlie Sexton's younger brother Will, born with a guitar in his hand. There's Scottish fiddle player (and Heidi Talbot's husband) John McCusker, from the great Battlefield Band. "The Beautiful Old" refers not just to the age of the songs or the august performers, but also to the tradition of craftsmen—more stories and histories than space will allow—all coming together for the joy and fellowship of song.