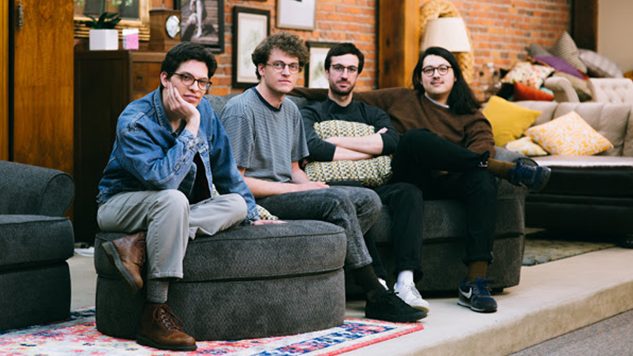 Daily Dose is your daily source for the song you absolutely, positively need to hear every day. Curated by the Paste Music Team.
Seattle four-piece Versing are living proof that college radio—in their case, Tacoma's KUPS—continues to serve as a breeding ground for bands and music nerds alike. Now, frontman Daniel Salas, guitarist Graham Baker, drummer Max Keyes and bassist Kirby Lochner are debuting "Tethered," the first single off their forthcoming Hardly Art full-length debut, 10000. The track is "about how people are tied together," Salas says in a statement. "It's a reminder of the interconnectedness of humans, to people who make excuses for not doing the right thing."
That specific message, and the sentiments of Versing's songwriting, in general, feel meant for our dark and dismal political times. Salas explains that their tracks are:
… critiques of centrism and conservatism, from a leftist perspective. That's a theme: committing to something or doing something that may be hard but is the better option. However, when I write politically, it's more allegorical and can be interpreted beyond the political realm. I find that more interesting to write about than my personal life.
Despite their previously released album being named Nirvana, the band don't sound all that much like their Seattle scene forerunners. The beginning of "Tethered," in particular, builds steadily with a new wave-esque lightness eliciting shades of The Cure, punctuated by hazy moments of shoegaze reminiscent of DIIV or Real Estate. Play it at your protests, play it in your basement until the walls shake, play it to curtail the sense of detachment evoked by the never-ending bad news cycle.
10000 is out via Hardly Art Records on May 3. Watch the video for "Tethered" (dir. Gordon De Los Santos) and check out the details of Versing's forthcoming record below.
10000 Tracklist:
01. Entryism
02. Offering
03. Tethered
04. Violeta
05. By Design
06. Vestibule
07. In Mind
08. Long Chord
09. 3D
10. Sated
11. Survivalist
12. Loving Myself
13. Renew
10000 Album Art: