Vivian Girls Are Back and Ready to Make You Cry on Memory
While we're delighted about their return, Jesus, someone needs to pass us some tissues
Music
Reviews
Vivian Girls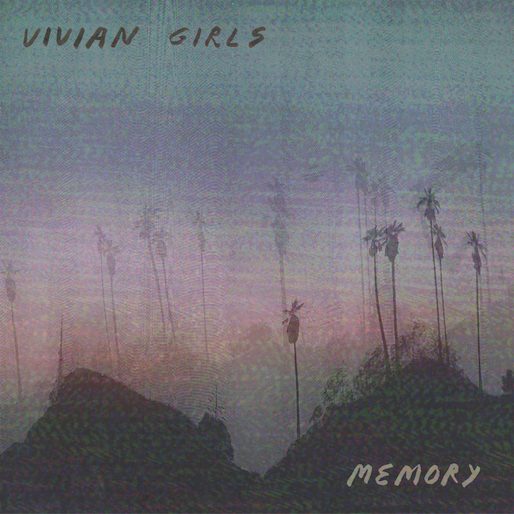 "Maybe it's safer for women to be at shows now, but it's not safer for women to be on the internet," Kathleen Hanna of Bikini Kill told Rookie back in 2013. This sentiment was especially true for Vivian Girls, who found themselves targeted by sexists in the BrooklynVegan comments section ever since they emerged on the New York scene in 2007. Hanna, herself no stranger to threats of violence from woman-hating assholes, found herself "horrif[ied]" by what the band was going through.
Now, the group is returning to a music world far different from the misogynistic melee that met them on the Internet prior to their 2014 breakup. The biggest names in alternative music these days include a roster of formidable women—Mistki, Angel Olsen, Snail Mail, the list goes on. This doesn't mean that the sexism which dogged Vivian Girls has been purged from indie and DIY scenes—far from it—but being a give-no-fucks band made up of women is thankfully no longer the anomaly it once was. Vivian Girls inspired groups like Potty Mouth to take to the stage, and now the punk trio find themselves in a community much more welcoming than before, in no small part due to their influence.
That said, their new album, Memory, is a perfectly adequate addition to the band's discography: Neither a huge departure from their earlier work (much of it is reminiscent of their moody sophomore LP Everything Goes Wrong) nor a disappointment to their legacy. Vivian Girls' haunting three-part harmonies remain a mainstay of their sound, nearly droning on opener "Most of All," but light and airy on later tracks like "Your Kind of Life" and "Lonely Girl." Many of the LP's dozen tracks are drenched in a darkness that has always permeated Vivian Girls' songs, and is fitting considering the album's sobering subject matter, from toxic relationships to mental health.
A few songs break this mold, though, including "Sick" and "At It Again," which kick off with the exuberance that drew audiences in on Vivian Girls' self-titled debut (though the lyrics are as melancholy as ever, with lead vocalist Cassie Ramone and her bandmates bemoaning on "At It Again" that "No one needs you / No one loves you / No one cares"). "Lonely Girl" is almost hymnal, beginning ethereally with choral backing and waiting patiently for the drums to come in until nearly halfway through the track. At that point, the vocals and crunchy guitar coalesce into a maelstrom of sound, haloed in reverb. The tune's religious tenor is also found in the lyrics, as Ramone sings, "Stare, see through time / Do my magic tricks / Turn water into wine." To her, solitude is spiritual.
"All Your Promises" proves the album's most emotionally crippling song. Listless "La la la las" are bookended by lyrics that aren't words as much as word-shaped knives to the heart: "After it all crashed down / The seeds of love were all around / And some of them caught in time / And all they said to me, 'You're nothing, worthless.'" Excuse us, we need to dry our eyes.
Memory's ultimate anchor is its bittersweet final track, "Waiting In the Car." Simultaneously upbeat and gloomy, Ramone recalls a rollercoaster of a relationship, one in which she was left bemused and in doubt of her partner's feelings. It's never clear if it's blind hope or a memory as she sings, "You're waiting in the car / You're waiting in the car and we're off together / Us forever / No one else will find out where we are." The image of a loved one just idling in the car for you is the perfect image to leave at the end of this album. It delivers a delicious stab of hope, just like Vivian Girls' return has to the music world. While this may not be their magnum opus, and they aren't reinventing the wheel—or even trying to—Vivian Girls keep us wanting more than just a Memory, but a bright future full of raucous tunes.