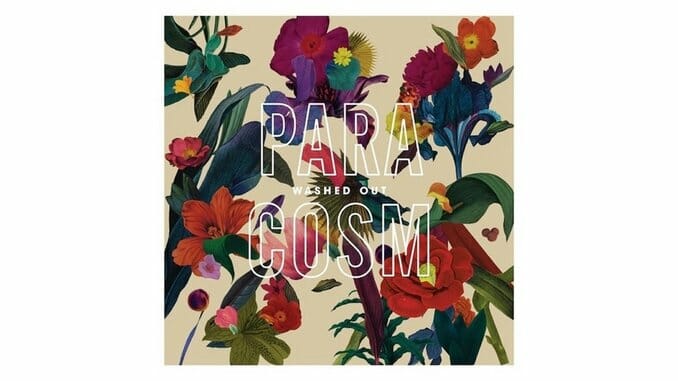 Ever since his 2009 EP Life of Leisure, Washed Out's Ernest Greene has been shrouding listeners in dreamy, reverb-drenched soundscapes that straddle the line between throwback new wave and forward-thinking electronica. Greene's music has been known to swell and roll through an ocean of soothing samples, digital beats, hook-minded arrangements and slow-motion synths. It's this methodology that has made Washed Out such an accessible and standout act. So when Greene capitalized on his strengths for 2011's breakthrough LP Within and Without, it proved that the godfather of "chillwave" wasn't just starting a trend but was building a foundation of something bigger and better. It was more than art; it was design.
Now Washed Out is back with a brand-new offering, Paracosm, which finds Greene dispensing another dose of sun-soaked synths, ambient hooks, digital beats and reverbed melodies that cling to you like smoke. However, while sticking to some tried and true practices, the album isn't necessarily business as usual. Rather, Greene has taken his formula a step further on Paracosm, thanks to an expanded armory of instruments. Among the swath of computerized layers and MIDI-laden textures, he's added live drums, guitars and bass to the record, as well a swarm of old-school keyboards (the Mellotron, Chamberlin, Novatron and Optigan)—all the while keeping the usual Washed Out tropes intact.
The expanded repertoire of instruments certainly adds something to the songs on Paracosm. The album feels warmer, more organic, less processed and, as a result, more sophisticated. It shows growth in Greene's songwriting. While his past releases are something to behold in their own right, they don't possess the same freedom that Paracosm has. The album is free to meander and unwind without restriction, no longer assigned to just digital compositions. The songs bend and weave and blur into one another. They reshape the mold without ever breaking it. It's an approach that gives a more human quality to Washed Out's otherwise mechanized music.
The result is nothing less than a catchy feel-good summer album that's crafted with plenty of attention, care and know-how. Tracks like "All I Know," "It All Feels Right" and "Falling Back" successfully marry old-world instruments with new-wave digitization. It suddenly becomes apparent that there are no limits, and thus, the album is decidedly sunnier, brighter, resplendent with all of the aspects and influences being hurled together into a genre-melding concoction that somehow manages to stay cohesive.
Part of the change in direction/approach could have something to do with Greene's relocation from Atlanta to the outskirts of Athens, Ga. But even with the added instruments, the strength of Paracosm comes from adhering to what Washed Out does best. Nevertheless, this album is the sound of taking that methodology a step further while still making it feel like Washed Out. It's no doubt the natural next step for Greene, and it further establishes his act's modus operandi: if it feels right, do it. Greene isn't reinventing the wheel here, but he doesn't need to; all he needs to do is create another solid LP. And Paracosm—as a stellar feel-good summer record that measures Greene's growth as songwriter and musician—has done exactly that.